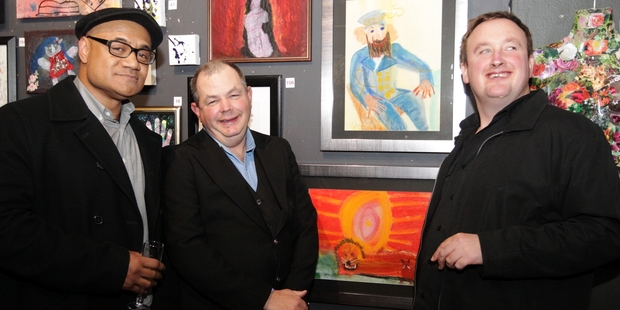 Ten aspiring artists from around Hawke's Bay and the lower North Island are in the running for a major national prize after being declared the "top 10" at the IHC Art Awards regional exhibition being staged in Napier.
Five of them are from the Bay.
After a long and intensive inspection of their works by guest judge, actor and writer Oscar Kightley, the nods went to Darryl Kennedy (Wellington), Pouui Sua (Wellington), Andy Bailey (Napier), Emma Lou (Wellington), Jayne Bruce (Levin), Caroline Wilson (Clive), Phillip Sisam (Clive), Alain Ndicunnguye (Palmerston North), Paul Stalker (Clive) and Scott Taare from Napier.
The works of Emma Lou, Phillip Sisam and Paul Stalker were highly commended.
One of the event organisers, Penny Harding, said the standard of the works was "stunning - amazing".
The awards, which have been running annually since 2004, have this year drawn a record response from artists ranging from high school students through to the residents of retirement villages.
They are open to all New Zealanders aged 13 or more who have an intellectual disability.
Ms Harding said the response to the competition, which will have its national finale in Wellington next month where the top three from across the regions will be announced, had been so enthusiastic extra temporary walls had to be set up at the Photographers' Gallery in Tennyson St.
"We needed a lot more room to get them all in."
Napier is hosting one of three regional exhibitions for the awards which had attracted 616 entries from throughout the country.
The other two are being staged in Hamilton and Dunedin.
"Last year we had 459 entrants so this year is well up," Ms Harding said.
The Napier awards exhibition drew 188 entries - well up on last year's 102.
Ms Harding said there was everything from paintings to drawings, wall hangings and sculptures.
"Just everything, and there is so much colour to it all - it really is something."
Mr Kightley said he was impressed by what he saw.
The 10 artworks will be packed off to the national event to be staged at the Michael Fowler Centre, while the rest of the works will be up for sale - with the proceeds going directly to the artists.
The exhibition opened to the public today and will remain on show between 9am to 3pm through until July 17, but will be closed on Sunday.