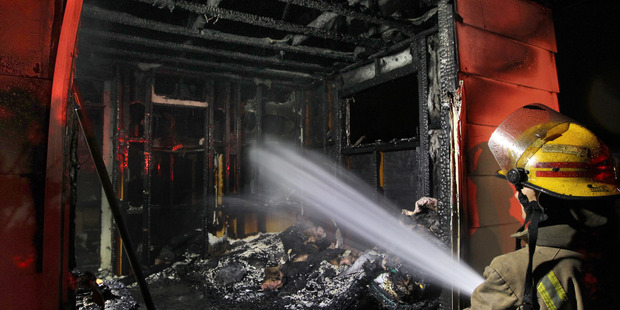 A four-year-old boy playing with matches has resulted in a Flaxmere family losing their home.
Lagi Kava said her children and their two uncles were at home in Oban St, when they noticed the fire about 7pm. The fire started in Ms Kava's bedroom where she said her 4-year-old son was playing with matches.
"My daughter ran out and said, 'mum, your room is on fire'."
The family escaped the house immediately and didn't have time to rescue any of their belongings.
"All our stuff's gone.
"It smashed the windows, it was very quick."
Hastings Fire Service Senior Station Officer Bruno Saathof said the fire was well-involved when the fire service arrived.
Mr Saathof confirmed the fire had begun in Ms Kava's bedroom and spread throughout the house. Three appliances attended and it took about 15 minutes to subdue the blaze.
"Nobody's hurt; everybody got out," Mr Saathof said at the scene.
"Smoke alarms went off, alerted the family and they made a timely escape."
When Hawke's Bay Today arrived at the scene about 8pm the Kava family was huddling in a shed on the property to keep out of the rain.
There was a bitter smell of fumes and the fire service was still damping down parts of the house's interior, which was charred and dripping.
A neighbour said he had seen "huge flames" coming out of the house while it was ablaze.
There had been extensive smoke and heat damage to most of the property.
The landlord of the house, who wished to remain anonymous, told Hawke's Bay Today he had cancelled his insurance on the house only one month ago.
The landlord said his premiums had doubled and during research he found the number of houses burning down in the region had dropped, so he decided he was "being ripped off".
The landlord fitted the house with a fire hose, smoke alarms and fire extinguishers to compensate for cancelling his insurance.
A fire investigator was examining the scene last night.
Ms Kava said she would be staying with neighbours on the other side of the street last night.