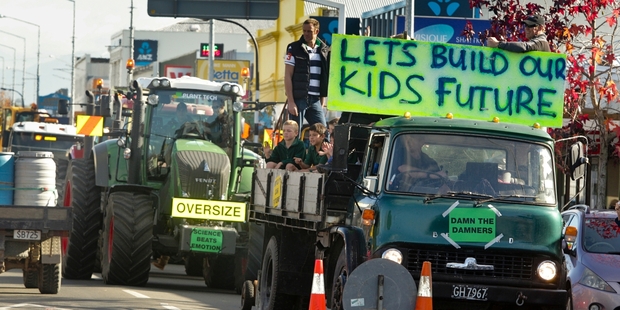 Central Hawke's Bay's town and country joined forces to send a strong message to the rest of the region and the country, at a large rally held in Waipukurau yesterday.
More than 400 vehicles and at least 600 people descended on the township by foot, by tractors, trucks, four-wheel-drives, motorbikes and by air to show their support for the proposed Ruataniwha Water Storage Scheme.
Organised by two Waipawa electricians, Gavin Streeter and Shane Heaton, the Don't Damn our Dam rally was a response to what the pair said had been "negative" commentary about the $275 million scheme that would provide irrigation for up to 25,000ha across the Ruataniwha Plains.
Placards festooned the vehicles that disrupted normal traffic in the township for about an hour.
"Without the dam we are up the creek", "Don't criticise farmers with your mouth full", and "Assure our Future NOW", they read.
Federated Farmers Hawke's Bay president Will Foley addressed a 300 to 400-strong crowd of farmers, contractors, business people and the general public that assembled after the vehicles dispersed.
"I think we just told the rest of Hawke's Bay and the rest of New Zealand what we want," he said to cheers from those gathered.
"The people making decisions on our behalf must take note of this.
"We are people who live here, work here and want to bring our kids up here - we need the security of the dam for our young people, and we also need to preserve the landscape and the [Tukituki] river.
"This opportunity does not come round often and we have to embrace it, which is what you all have done today."
Mr Streeter said he was "blown away" by the turnout that included representation from Manawatu, Wairarapa and Mauriceville.
"I support this project because the entire Hawke's Bay community needs it - I support water storage full stop, it just makes sense," he said.
The next few weeks would be critical for the success of the project and he asked people to email and attend next week's Hawke's Bay Regional Council meeting where councillors are due to vote on whether to invest up to $80 million in the scheme.
The investment will be conditional on a number of factors including "workable" resource consent conditions being handed down by a board of inquiry that has been considering the proposal and a related plan change for the Tukituki catchment.
The board is due to release it final decision before the end of next week.
National and Labour Party MPs and candidates were also at yesterday's rally.
National's Tukituki electorate MP Craig Foss said he would continue to take the message that irrigation was needed to Parliament.
"We have $400 million set aside in an irrigation fund and part of that is to be used on this project subject to the process - this is exactly what that fund is for - this is about 150,000 people who will benefit from it."
Labour's Tukituki electorate candidate Anna Lorck said that whether people were for or against the project, or felt they did not know enough, this was the kind of action needed to get their voices to the table.
"It must be driven by the grassroots," she said.