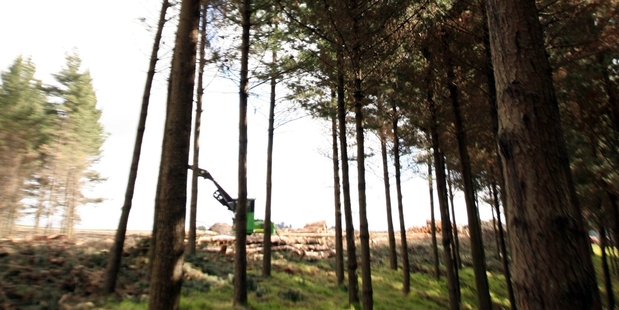 Hawke's Bay forestry operations have faced 13 health and safety enforcement actions in the past 10 months, says WorkSafe New Zealand.
The industry is the country's most dangerous, with 28 fatalities since 2008.
WorkSafe issued 13 enforcement notices since August last year to local operators, which can include written warnings, improvement notices, infringement notices and prohibition notices.
Enforcement action can be taken for a safety failing, such as a written warning for a tree-feller operating without an available radio for communications, or a prohibition notice for an unsafe digger.
The figures follow the release this month of the Independent Forestry Safety Review panel's public consultation document highlighting industry health and safety concerns.
Pan Pac Forest Products managing director Doug Ducker, in Napier, said his company's focus on safety was unquestionable.
"You have the old adage of sending people home tired at the end of the day but with all limbs intact," he said.
"We've left WorkSafe to do what they need to do. The co-operation of contractors is very strong."
Mr Ducker said Pan Pac carried out periodic employee surveys on health and safety, using an independent surveyor to eliminate any biased results.
Although results from the most recent survey were yet to be released, the last one about five years ago produced "low key" results.
"There was a general degree of comfort and satisfaction. It's not that we've been without our accidents or incidents of course, the industry is one that has elements of risk."
Almost 300 WorkSafe NZ enforcement actions had been taken nationwide since last August, including 25 partial or full shutdowns due to "imminent danger of serious injury or death", Labour Minister Simon Bridges said.
FIRST Union general secretary Robert Reid said a safety crisis had been unfolding in the forestry industry, with nearly 30 deaths and almost 1000 serious harm injuries in the past five years alone.
He was pleased the consultation document recognised that forestry health and safety problems were "driven by multiple factors and not just worker behaviours".
"For too long injured or deceased forestry workers have glibly been described as the architects of their own demise.
"The document makes clear that the problems in this industry are driven by multiple factors and not just worker behaviours."
The panel's discussion on worker participation and representation was critical, he said.
However, the Forestry Industry Contractors Association said the review lacked credibility.
Spokesman John Stulen said the panel had been unduly influenced by unions.
Most forestry operators were good, but WorkSafe NZ was under-resourced to catch "fly-by-night" farm forest operators, most of whom had never had an inspection, he said.APNZ