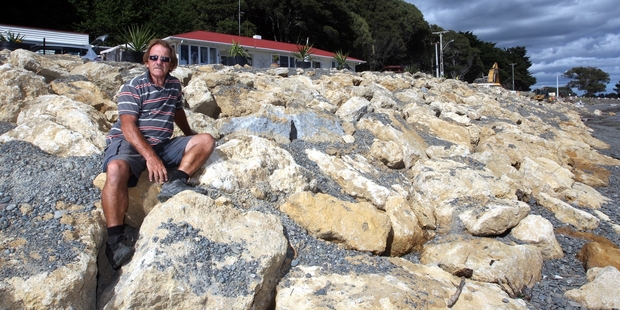 The safety of boaties and visitors to Cape Kidnappers will be put at risk if Hastings District Council does not fund further erosion protection at Clifton, a local marine club says.
Coastal erosion has plagued Clifton, prompting the council to spend more than $100,000 late last year on an 80m-long limestone sea wall, known as a revetment, which involved trucking in about 3000 tonnes of limestone rock.
The Clifton Marine Club and the Clifton Reserve Society have subsequently asked the council to extend the revetment by an additional 55m to secure the boat ramp and protect access to the Clifton camp ground.
"It is our view that this action will provide long term access to a wonderful existing recreational resource and would be far less costly than the council establishing a new facility to support the recreational boating fraternity," Dionne Thomas of the society told the council.
Marine club spokesman Paul Hursthouse said boat ramp access was vital because club members had been involved in at least five rescues over the past season and "without their participation the safe outcomes may have been very different".
But councillors last week declined to include funding to extend the revetment - estimated by staff to cost about $200,000 - in the council's annual plan.
The council, along with Napier City Council and Hawke's Bay Regional Council, was working on a "whole of coast approach" to erosion issues.
In a report for the annual plan hearings, council staff said the proposed strategy would identify coastal risks and hazards.
"The proposed regional coastal strategy will also consider a range of options for the management and/or mitigation of identified risks," the report said. But Mr Hursthouse said the strategy could take three years to develop and "the reality is we haven't got that time to wait" because erosion could eventually force the Clifton camp to close, putting the safety of boaties and tourists at risk.
"Because we have campers and a permanent custodian out there, they are giving advice to tourists all the time about when and when not to walk out to the cape to see the gannet colony. I can't recall how many times they would advise people not to go because the tides are wrong," he said.
The Clifton Marine Club and the Clifton Reserve Society have asked Hastings District Council to extend 55m north "so that the entire accessway can be protected".
During annual plan hearings, Hastings District Council and Hawke's Bay Regional Councils also heard from residents of nearby Haumoana which is also suffering from coastal erosion.
Lobby group Walking on Water asked the councils to support a groyne protection project it says would stand up to predicted sea level rises over the next 35 years and would cost about $10 million.