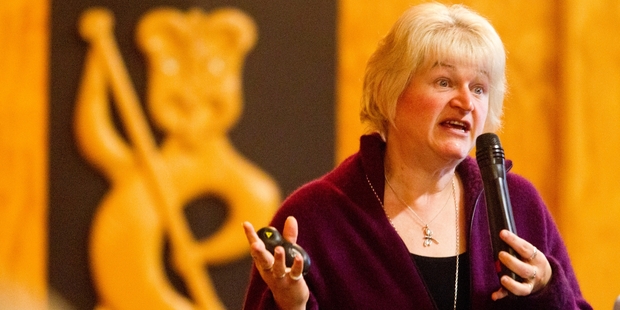 Another global financial crisis, more devastating than the last, is on the horizon, says a world renowned economist currently touring the region.
Nicole Foss, who has spoken about economic and energy issues internationally, was in Hawke's Bay to give her talk A Compass for Turbulent Times: Navigating the next financial crisis and energy scarcity.
About 70 people attended her free talk, hosted by Flaxmere councillor Henare O'Keefe, at Te Aranga o Heretaunga Marae, Flaxmere, last night. She also spoke at the Baptist lounge, Hastings, on Tuesday night.
Ms Foss said the global economy was coming to the end of a long period of expansion.
Economic growth was unsustainable and communities would need to prepare for deflation and depression.
"The bubble is going to burst.
"The 2008 financial crisis wasn't the main event. The main event is still to come."
Many nations, including New Zealand, had amassed too much debt, due to a debt-based monetary system.
Communities would need to band together to cope with the imminent crisis, by pooling resources and establishing local currency.
"We can't expect solutions to come from the top down."
While she was primarily a finance analyst, Ms Foss believed in a multi-faceted approach to global issues.
She ran the Agri-Energy Producers Association of Ontario, focused on farm-based projects and renewable energy.
In Britain, she was a research fellow at the Oxford Institute for Energy Studies and conducted research into electricity policy at EU level.
Her qualifications included a BSc in biology from Carleton University in Canada (primarily on neuroscience and psychology), a post-graduate diploma in air and water pollution control, the common professional examination in law, and an LLM in international law in development from the University of Warwick in the UK.
She was granted the University Medal for the top science graduate in 1988 and the law school prize for the top law school graduate in 1997.
Tour organiser Filipa Hope said Ms Foss' message was inspirational.
"Nicole puts it in terms that are simple to understand and yet come from a deep wealth of knowledge and expertise."
Originally from Canada, Ms Foss told Hawke's Bay Today she had given national lecture tours and was visiting the region for the first time. She had gained her New Zealand residency yesterday morning and was now living in an eco village near Motueka.
Ms Foss will give a talk with more of a focus on energy, rather than financial, issues today at 7pm at Waipawa School Hall, with the public welcome.