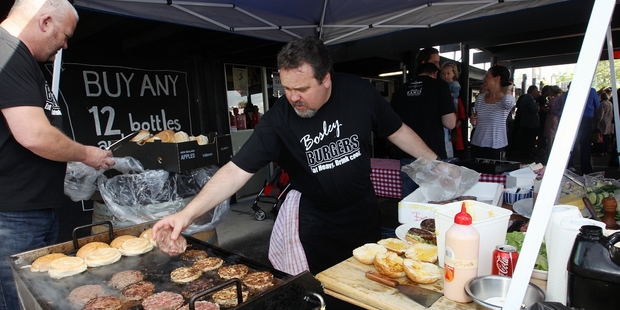 Celebrity chef Martin Bosley is taking people on a journey from rustic market to elegant table.
He will be returning to Hawke's Bay for a Winter FAWC! event, Market to Retreat, which will see dedicated foodies in seventh heaven.
The adventure begins at Hastings Farmers Market, followed by a light platter lunch at Black Barn and tasting with chief winemaker Dave McKee, on Sunday June 15.
"I am really excited, they are going to have to pry me out of there - I won't want to leave," Mr Bosley said. "Hawke's Bay has the most incredible produce, I own a Farmers Market in Wellington so that whole idea is very close to my heart, I think the Hastings market is truly special."
Guests then travel to the luxurious Black Barn Retreats where Bosley will use only local ingredients for an intimate afternoon cooking school and casual supper.
"It's going to be a hands-on demonstration, people can see a lot of chefs on TV, they can get the MasterChef experience at home.
"If I say 'mix until sticky', people want to know what that feels like, I want to get them talking and interacting."
He felt many New Zealanders had lost confidence in the kitchen - buying into the perception that they were too time-poor to make interesting meals.
"I want to help bring that confidence back, to get them in touch with their food."
Mr Bosley had not planned the menu as he aimed to structure everything around the latest and greatest produce available.
"A couple of years ago I was in Hawke's Bay and I bought everything locally, I brought nothing with me from Wellington. I made dinner for about 10 people and all of them commented, 'we wish we could get such wonderful produce here' I told them, 'you can'."
Places were limited for the exclusive Market to Retreat event, with ticket price including all food, wine, meals, transport to and from Black Barn Vineyard, as well as a goodie bag.
Mr Bosley had been involved with FAWC! since the beginning and was 100 per cent behind the local initiative.
"I'm genuinely excited to be coming back, it's one of those highlights on my calendar, that I look forward to every year."
Tickets are still available from: fawc.co.nz