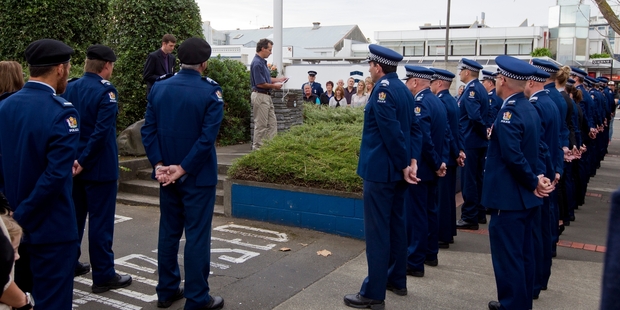 More than 70 police paid tribute to their fallen colleague Senior Constable Len Snee in Napier yesterday.
It was exactly five years to the day Mr Snee was killed by gunman Jan Molenaar during what had started as a routine house search for cannabis.
Among those attending were the two officers seriously wounded during the incident, Senior Constables Grant Diver and Bruce Miller.
"I can't believe it has been five years since we lost Len," Mr Diver said.
"It is so good to see so many people here paying tribute," he said, adding it was still a difficult time to deal with but the support of the police "family" was strong.
He was pleased to see new police recruits attending the service and learning about what sort of a man his late colleague had been.
As police began assembling before the memorial plaque outside the Napier Police Station, and with the flag flying at half mast, many passers-by also stopped to pay their respects.
Police chaplain Andrew Baldwin led the service while one of Mr Snee's old friends, Dave Coe, recounted a series of colourful tales about him - emphasising how the "quiet and unassuming" way he went about his policing drew both respect and results.
He told of how on one occasion, after uncovering a cannabis plot, Mr Snee noticed movement nearby and took off and tackled one of the growers - who had been carrying a rifle. He later got him and his companion to tear out all the plants, put them into sacks, and carry them out.
"Len made a significant dent in the cannabis trade - people knew not to get involved with it in Len's patch."
He said Mr Snee also left his mark on life by competing in sporting events, including the Kaweka Challenge.
The Kawekas were special to Mr Snee and his ashes were laid to rest at Sandy Ridge where a totara tree was planted in his memory.
"Like the mighty totara Len is king of the forest - he left such a huge impression on us all," Mr Coe said.
Wreaths were laid by Mr Snee's widow Vicki, who had since re-married, and former Napier Police Inspector Kevin Kalff.
"This was a pretty special day for me," Mr Kalff said.
"It was good to see all these guys here - to catch up and to remember Len - very special."
Senior Sergeant Mike Stevenson described Mr Snee as "a very special man who was held in such high regard".
He told of how in the wake of his tragic death local gang members turned up at the Napier Police Station with flowers, to express their sympathy.
"Everyone respected Len."