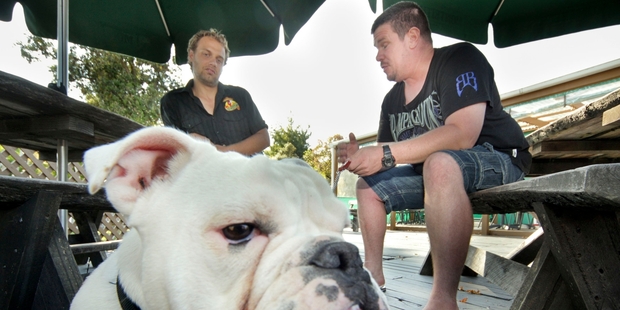 Ever wondered what's going through your pet's mind? No prizes for guessing it usually involves food.
In the case of Caesar - a young British bulldog who was stolen from Fajita's Mexican restaurant in Clive earlier in the month - it's McDonald's, TV and bow ties.
Psychic Medium Jay Dobson recently discovered an ability to communicate with animals - a talent he shared with New Zealanders on TV2's 20/20 this week.
One sunny Hawke's Bay afternoon, he sat down with the 6-month-old pup to reveal details about his adventure - and a few home truths.
"He's just said to me that he feels sorrow about what's happened, but 'I can't complain, they didn't mistreat me - I got treated better when it comes to food - everything else wasn't the greatest'," Dobson translates.
Owner Hayden van Hooff admits he's pretty tough when it comes to meals; lately the odd tid bit of McDonald's, sometimes used as a rare treat, had been banned.
"Dogs always moan about food, he wants to know why treats were taken away?
"He's asking can we come to some sort of a deal, where it's not all the time but he gets the odd chicken nugget?"
It seemed Caesar was taking full advantage of the opportunity to make cheeky requests, also querying why he had been promoted from his usual crate to the bed - and if it could become more permanent.
"The sleeping arrangements have changed - why? He knows it's going to change again. He's asking to work out a happy medium in the home - he's saying 'who is man's best friend?'."
For a breed which was typically thought to be intimidating, this tough Bulldog showed a softer side too.
"Just because of the way I am it doesn't mean I don't want to wear a bow tie, just because I'm a bulldog I don't love to attack all the time - I have class."
Class which he says comes from "royal" breeding, which is also why Caesar and Mr Dobson believe he was taken in the first place.
"He's making out that he's prized - he has a link to quality blood."
Time spent away from Mr van Hooff hadn't caused any lasting damage - rather proved to be a holiday, away from his everyday routine.
"He's giving me the impression he's not tainted by what happened - it was a bit of different scenery - he went to a different place. I believe he had more fun sniffing around there than you would imagine."
Mr Dobson was able to pick up on a past injury to Caesar's left front paw - the result of a tumble when he was a puppy - and predicted there may be more issues in future.
"I keep seeing vets, that's going to be a continuous thing I do see - vet bills - I think it will be one leg then a vet bill of a couple thousand then you will have to get the other leg done."
During the reading Mr van Hooff was able to ask a few questions of his own - in particular whether late nights working at a bar were a concern for his four-legged friend.
"'You always rush in the morning', but he knows you have to do the late nights, there's no one else to do them - he puts up with them. But he's asking 'when I get older you won't be doing it will you?'."
As for why he wanders? That came down to boredom and could be solved with the introduction of a television set which was non existent in their household at the time of this reading.
"He watches TV at someone else's house and I think he wants you to get one - 'it doesn't have to be a big screen'."
Caesar got his wish and had since been content watching shows and movies.
While most dogs Mr Dobson read complained about their owners - this Bulldog had nothing bad to say.
"He says 'I wouldn't be who I am if it wasn't for you, I do love you, I love being with you'."
Initially Mr van Hooff was skeptical as to whether the reading would reveal anything substantial - but said most things Mr Dobson revealed had been accurate.
"There was really nothing he got wrong."
Mr Dobson agrees being able to speak to animals sounds pretty far fetched. "It's weird, I can do it and I think it's weird - I expect people will take this as a joke," he said. "It's not like a proper conversation that you or I would have, sometimes they just [say] key words, others say full sentences."
He discovered the connection after doing a reading at a woman's home, where he instead picked up on the thoughts of her little dog.
"I told her all this stuff about cancer and arthritis, the dog was sitting on its bum staring the whole time - at the end of the reading the woman said, 'you're all wrong'.
"She got back to me a couple of days later - it was the dog that had something wrong - I went back to talk to her and the dog told me more."
Mr Dobson says he's not the only one with this special gift - just some don't make it public knowledge.
"Three out of 300 to 400 [mediums] I am in touch with on Facebook have said they are able to do it, they just won't tell anyone because they think people will laugh."