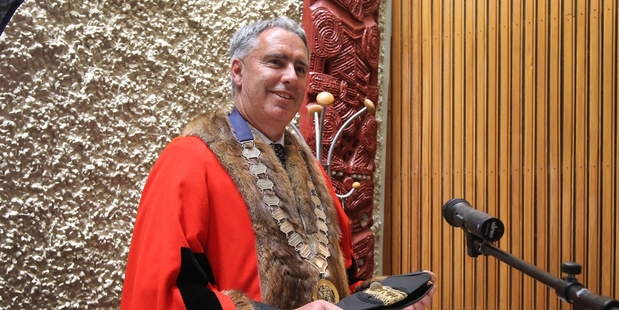 Hastings Mayor Lawrence Yule is considering seeking a third term as Local Government NZ president if the influential advocacy group changes its rules to make that possible.
A series of rule changes, including allowing the president to serve more than two terms, has been agreed to by the organisation's board and will be voted on by members at a special general meeting in a fortnight.
Mr Yule's second three-year term as president ends in the middle of this year.
He said he would be "potentially" interested in running for the role again, but would make a decision if and when the rule change was confirmed.
As LGNZ president Mr Yule is paid $80,000 a year on top of the $121,950 salary he receives as Hastings mayor.
One of Mr Yule's political adversaries said even if the rule change allowed him to seek a third term, the mayor should give up the national role to focus on governing the district.
Councillor Wayne Bradshaw, who ran against Mr Yule in last year's mayoral elections, labelled him a "part-time mayor" and said his focus outside the region was having a social, economic and community impact on Hawke's Bay.
Mr Yule rejected the criticism, saying his LGNZ role opened doors that enabled him to have an influence at a national level, which benefited Hastings and the region.
"I would argue I have very good connections with a lot of senior ministers, officials and MPs that are very useful to our region," he said.
An example was a meeting with Associate Health Minister Peter Dunne he had scheduled in Wellington on Monday where, as LGNZ president, he would discuss the controversial issue of the sale of psychoactive substances.
"While doing that in my national role, it's a huge issue locally that I have an ability to have some impact on."
He said he had been "completely transparent about my roles and my responsibilities" and, while part-way through his second term as LGNZ president, had won re-election as Hastings mayor with an increased majority over his closest rival compared to the previous election in 2010.
LGNZ provides advocacy and support services for the country's city, district and regional councils.
Mr Yule said the organisation's rules, including the time limit for presidents, were due for an overhaul.
"We are modernising and completely changing Local Government New Zealand to make it fit for purpose and these rule changes are part of that. These rules haven't been looked at for years."