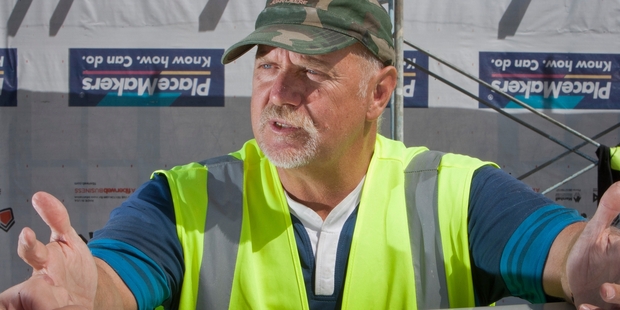 A former Hawke's Bay Prison instructor bashed across the head with a spade by an inmate wonders what it will take to recall the violent offender following his "aggressive" behaviour at his latest progress hearing.
Hylton Smith, 51, was unable to return to work as a tutor at the prison after Arai Whakaari Hema attacked him in 2004, sending the former engineer's life into turmoil.
Hema, 35, was released on March 27 last year after serving time for a variety of violent offences beginning in 1999, and including the 2004 assault on three prison officers.
"He's going to hurt someone, he's snubbing his nose at authority with these last two incidents. There are no grey areas when you're on parole, he knows exactly what he's doing."
The incidents Mr Smith referred to were the "deteriorated" relationship between Hema and his probation officer after Hema failed to mention his unpaid employment.
Parole Board documents from Hema's latest parole hearing on February 17 stated he did not tell his probation officer of his employment because he thought it was not a "high risk situation".
The board said Hema was "defensive" and "aggressive" in the hearing and serious consideration was given to making an interim recall order, re-incarcerating him.
Hema's violent record began when he was jailed as a 20-year-old in 1999, after a Napier home invasion where he attacked and repeatedly stabbed then 17-year-old Lynley McBride and then 78-year-old neighbour Bruce Butler while the pensioner attempted to rescue the teenager.
Arrested six months later, after Ms McBride recognised him in a supermarket, Hema was charged with attempted sexual violation and two counts of attempted murder. He was found guilty of trying to murder Mr Butler, but not Ms Lynley and jailed for 11 years.
His next violent episode was the November 2004 prison attacks.
Working in the prison joinery workshop, Hema filled a bowl with boiling water before throwing it over a prison guard and threatening the guard with a knife. He then hit Mr Smith across the head multiple times with a spade, as Mr Smith fell to the ground he struck his head on a workbench, causing life long head injuries and the permanent loss of short term memory.
Before he was restrained and dragged to the ground, Hema punched a female guard several times to the head.
He pleaded guilty to wounding with intent to cause grievous bodily harm, and two charges of assault with intent to injure and was sentenced to a further six years in prison.
However the attack wasn't the last of Hema's offences.
In 2009 he escaped custody by fleeing a work party outside Paremoremo prison, resulting in a further six months added to his prison term.
Mr Smith was concerned Hema's recent behaviour was a clear indication he is not willing to reform, given his history. "He's showing the same pattern of insolence.
"At his parole hearing he was combative, if you can't control yourself at a parole hearing what are you going to be like walking around town on a Friday night."
A New Zealand Parole Board spokeswoman said Hema had to be released on parole at his final release date of March 27, 2013, and the board's only role was to impose conditions.
"Mr Hema was sentenced under the Criminal Justice Act which requires offenders to be released on parole at their final release date, to serve the remainder of their sentence in the community until their sentence end date.
"These offenders are still able to be recalled to prison if they become a risk to the safety of the community, but only until the end of their sentence."
She said recalls occur when a probation officer, the chief executive of the Department of Corrections or the Commissioner of Police successfully applies to the Board to have a released offender recalled to continue serving their sentence in prison.
She added the Parole Board can not make that initial application.
Mr Smith, forced to give up his career as an engineer and now helps build houses, believed it was just a matter of time before Hema found his next victim.
Community Probation operations manager Alastair Riach said he could not comment on the management of individual offenders.
"All offenders are managed in accordance with their sentence. For a variety of operational reasons, offenders may be allocated a different probation officer during the period of their supervision," he added.
Special conditions noted in Hema's parole include attending psychological assessments and treatments, while he is also banned from entering Hawke's Bay or Bay of Plenty.