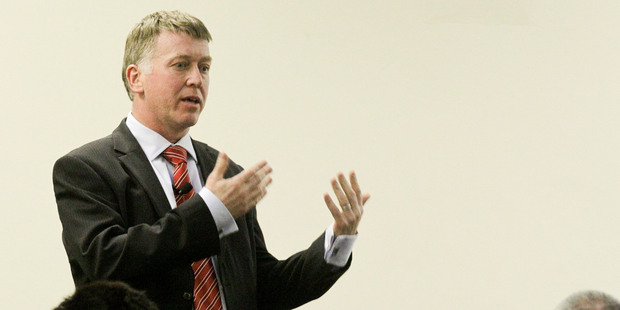 Hawke's Bay District Health Board (DHB) chief executive Dr Kevin Snee is refusing to send DHB staff to a hui about its axed diabetes service, and says a statement from lobby group Put Patients First is a personal attack.
Put Patients First issued a press release saying the DHB "should be ashamed its chief executive is not prepared to first listen to patients before axing health services" and it was "gutted" Dr Snee would not be attending a hui at Flaxmere's Te Aranga Marae on Monday.
The hui was called after the DHB did not renew the contract for the diabetes treatment and education programme of Dr Janet Titchener, who is a General Practitioner with a Special Interest (GPSI) in diabetes.
Businessman Andy Lowe was moved to back Putting Patients First after employee stories described how Dr Titchener's expertise had transformed lives.
The DHB said Dr Titchener's results were very good, but the $150,000 annual cost of the contract could have a wider health benefit if spent differently.
Mr Lowe said by making a decision before listening to patients, the DHB was setting a dangerous precedent.
"We have called a hui, as a way to give patients a voice, they have a right to be heard - this is their time," he said. "We are gutted that the chief executive Kevin Snee has decided he won't even bother to turn up to listen to patients at the hui. "I have met with Kevin several times, I have assured him, and his staff, that they will be respected, that the hui will be a safe environment. All we asked was for him to come and listen to the patients, to hear what they had to say. "Instead yesterday he has told us the decision was final, that the direction where the DHB wanted to head did not include the GPSI service and he wouldn't be coming. As far as the DHB was concerned it was over.
"Is this how the public of Hawke's Bay wants its DHB to work? It still won't provide the facts, what is it hiding? Where is the accountability?"
About 80 per cent of Hawke's Bay's 8000 diabetics are treated only by their GP. Some are referred to the Hawke's Bay Hospital's Diabetes Service and others were referred to Dr Titchener, who was funded by the DHB to treat about 100 annually.
The DHB said another reason for not renewing Dr Titchener's contract was because there was no clear clinical pathway regarding which patients were referred by GPs to Dr Titchener.
Her contract included training and support to GPs and practice nurses throughout the region.
Dr Snee said he had planned to send the people directly responsible for the diabetes service and the clinical pathways development, plus chief medical officer for primary care Dr Mark Peterson, to the hui. But he said because the statement was a personal attack he would not put staff into a position where they could not defend themselves.
"My staff work tirelessly everyday to provide the best clinical service possible for the people of Hawke's Bay and they do a fantastic job," he said. "I am not prepared for my staff to be bullied anymore by Mr Lowe. The decision not to renew the diabetes GPSI service was based on sound clinical advice and expertise to develop clinical care pathways that are international best practice and best for all diabetes patients in Hawke's Bay."