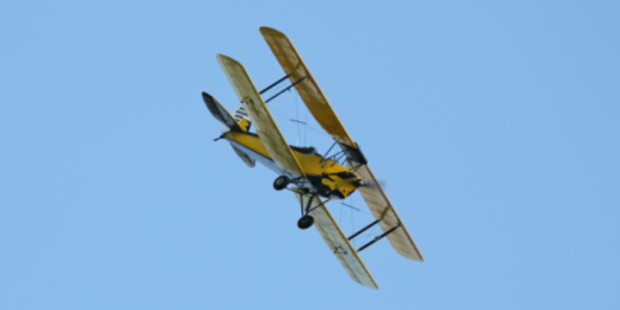 For 90-year-old Napier woman Joy Thornton it was a flight far from ordinary.
It was a flight in an aircraft she had, for many years, wanted to fly in - as it was the same type that her late husband Sam had learned to fly in during the late 1930s as he prepared for wartime duties with the Royal Air Force.
It was a Tiger Moth biplane.
Mr Thornton, who was born in Tolaga Bay and moved to Napier with his wife about 20 years ago, served as a flight lieutenant on Wellington bombers out of Lossiemouth air force station in Scotland.
Sadly, he passed away 16 years ago but Mrs Thornton, recalling her first Tiger Moth flight the family organised for her a fortnight ago, said she had no doubts at all he was with her.
"I thought I would have been nervous but I wasn't - I was fine - I am sure he was with me."
She was born in England and served during the war with the RAF bomber command in its operations room.
The couple met on a train when Mr Thornton had limped aboard on his way from a convalescence stay to another squadron - he survived two aircraft crashes during his service.
They chatted and he offered to buy her lunch, and the friendship and subsequent love grew from there.
They married in 1943 and came to New Zealand after the war.
"That was a bit tough on my family," she said, but she grew to love her new home downunder.
It was about 18 months ago that Mrs Thornton was in Christchurch visiting her eldest daughter Barbara Crawford and she took her mum to Mandeville Airfield in Gore to look at an aircraft display.
"She spotted the Tiger Moth and said to me 'you know, I'd love a flight in one of those'," Mrs Crawford said.
She figured it would be the ideal 90th birthday present so got in touch with other members of the family and the military-precision planning began.
With contacts at the CHB Aero Club in Waipukurau, Mrs Thornton's grandson Michael organised a 30-minute aviation adventure in one of the British Empire's most iconic aircrafts.
With the family all on hand, Mrs Thornton donned her jacket, leather flying helmet and goggles and climbed into a cockpit even those a third of her age sometimes find tricky.
"Oh no, climbing in was no problem," she said.
"I had my jeans on and I'm pretty fit ... I walk into Ahuriri once or twice a day (from the Princess Alexandra Retirement Village) so that was fine."
And the flight?
"I loved it. It was just great. It got a little cold around my ears when we did a couple of turns but it was really wonderful."
With a smile she added that she thought pilot Ross McDonald was spot on.
"A very nice-looking pilot."
Not as nice looking at her late husband though, and to make the day even more special she wore her Bomber Command badge and Sam's leather serial number tag which he had worn on all his bombing operations.
Her granddaughter-in-law Sarah Thornton described the outing as "just gorgeous".
So how about another Tiger Moth flight to celebrate her 100th birthday?
"Oh yes, but I'm only in my 91st year so there's a while to go yet."