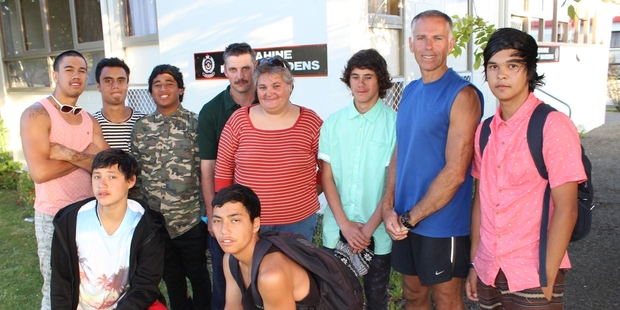 A group of at-risk Dannevirke teens are being hailed as heroes, after a dramatic Bear Grylls-type rescue of a 19-year-old at Lake Waikaremoana this week.
The three-hour rescue came on day two of a three-day adventure at the lake and has earned the eight Dannevirke teens, aged between 14 and 16, hero status.
The group were at the lake with Senior Constable Wayne Churchouse, the youth aid officer for the Dannevirke police, on a team-building camp sponsored by the Ruahine Maori wardens.
"I'd told these youngsters if they made some good choices, I'd share my passion of the outdoors with them," Mr Churchouse said. "I love the outdoors and it was my way of rewarding them for keeping out of trouble."
Alistair Dell, the 19-year-old son of Maori wardens Cecelia and Douglas Dell, also came after one youngster pulled out and they all spent the first day kayaking and swimming and working on teamwork and respect.
Little did they know they would have to put that teamwork into action on day two of the camp on Tuesday.
"The weather was too miserable for swimming and kayaking, so we decided to walk to the Onepoto Caves, a two-hour return walk," Mr Churchouse said.
"Halfway, the group posed on a rock for a photo at around 10.30am, but Alistair tripped on something and fell seven to nine metres down into a hole.
"He was lucky he hit soft, sloping ground, but it was extremely difficult to hear anything from him when we called out.
"Luckily I heard a faint groan and then called two of the boys to do a Bear Grylls mission to find another way into the cave, four or five metres away."
While the two, Rawiri Akaraina, 15, and 14-year-old Monty Bristow-Chase, made their way into the cave, 15-year-olds Caleb Kamura and Zafar Hussain sprinted 15 minutes through tough country to Mr Churchouse's vehicle to ferry ropes and equipment for the rescue.
"We knew we needed to get Alistair out, but I didn't like the spiders, they were big," Rawiri said.
Meanwhile, Douglas Dell rang the emergency services and was on strict orders to stay away from the rescue site. "The rescue seemed like an eternity," he said.
Mr Churchouse said Alistair was in a lot of pain and was having difficulty breathing.
"We suspected he could have had fractured ribs," he said.
"He had also fractured his thumb in a couple of places and every time he went to move he was in a lot of pain."
But despite having had no rescue experience, the young men worked together perfectly, Mr Churchouse said.
"They were all awesome. I couldn't fault them and I'm very proud of them as they gelled together as a team, listening and giving clear instructions all the time," he said.
"They were amazing."
The boys also had to help a paramedic who slipped while climbing the rope to the bottom of the hole. "My two young guys grabbed him," Mr Churchouse said. "They worked fantastically."
For Mrs Dell, the phone call from her husband left her in shock. "I was crying. I was a mess," she said. "He's our eldest son, but he's still my baby."
Mr Churchouse said everyone worked as a team throughout the three-hour ordeal.
"I'm blown away by what these guys did. It wasn't a particularly easy stretcher carry, with a lot of tree roots in the way, but they all knew what needed to be done," he said.
The boys carried Alistair on a stretcher to a waiting ambulance which then took him to a helicopter landing site.
The Lowe Corporation Rescue Helicopter flew him to Hawke's Bay Regional Hospital. He's scheduled for surgery on his fractured thumb today at Palmerston North Hospital.
Mr Churchouse was last out of the cave and had no qualms about the young men hauling him up to safety.
"They pulled me up by rope and I had total faith in them," he said. "They said a karakia when Alistair was pulled up out of the cave and an awesome haka as he was lifted into the rescue helicopter. Alistair said he could hear the haka and it lifted his spirits."
Tararua District Mayor Roly Ellis said the teens were "absolutely brilliant".
"They handled the situation fantastically ... Wayne [Churchouse] has given these young men the chance to shine and I hope it makes them want to go on to do other great things."