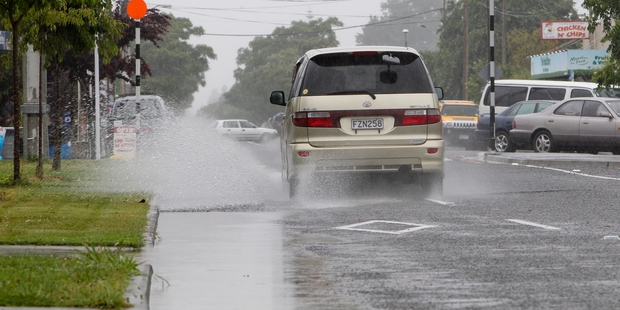 While eyes remained on the skies and ears on the latest MetService weather updates today, the highway watchers at the New Zealand Transport Agency were hoping the news on their front would continue to be fine.
"We have come through largely unscathed," NZTA senior planner Oliver Postings said yesterday afternoon as the rain turned to light drizzle, although the MetService forecast through to late morning today did earmark Hawke's Bay, Taupo and Wairarapa as being at moderate risk from heavy rain.
MetService meteorologist Daniel Corbett said about 80-100mm of rain was forecast to have fallen overnight, with the "lion's share" in the ranges, while about 30-60mm in Napier and Hastings was expected.
There had been no reports of serious slips or surface flooding in the Bay, except for a stretch of Seafield Rd near Bay View and surface-scouring damage at the intersection of SH2 and Kaimata Rd north of the township.
Warning signs were in place but the road was open.
Napier City Council road assets manager Jon Schwass said it would not involve a "major" repair as the water had simply lifted the surface from the base in patches.
A rain "bomb" descended on the eastern side of the Bay View hills and debris blocked a drain which flowed across the road, scouring the surface.
Esk Valley horticulturist Mike Saunders said the vineyard had come through the heavy rain relatively unscathed, after 50mm in 15min left pathways damaged but the vines unharmed.
"With this humid, warm, wet weather we are having there is a chance it can spread disease. That is probably our biggest concern right now, and that can impact not only on this season but next season as well. But so far, so good."
Like the NZTA, council service crews were keeping a watch on conditions today as the forecast wet weather was expected to clear, with northwesterlies developing.
Central Hawke's Bay District Council emergency management officer Graham Howse said he had not been made aware of any flooding issues in the region.
"It's been a more steady, soaking sort of rain. I've spoken to a few farmers and they are pretty happy with it.
"The sun will come out and the grass will continue to grow and everyone will be happy," Mr Howse said.
A Wairoa District Council spokesperson agreed: "The farming folk are pretty happy - we haven't been made aware of any problems from the rain."
Tomorrow's forecast for Napier and Hastings is for a warm 27C as northwesterlies arrive with sunshine, while Saturday is expected to hit 28C, although high cloud and strong northwesterly winds are expected to arrive.