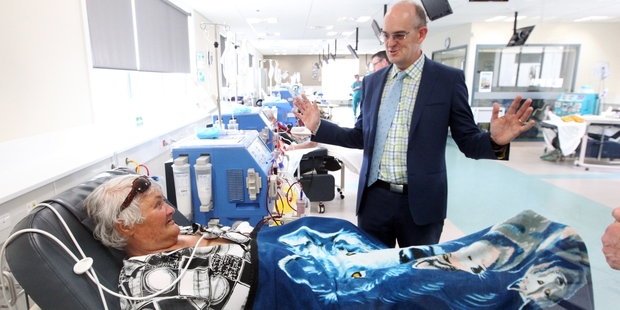 A repeat sacking of the Hawke's Bay District Health Board (HBDHB) is highly unlikely, with Health Minister Tony Ryall praising the performance of the organisation.
He said he had received a lot of positive feedback about its performance.
"The reason why I am always keen to visit Hawke's Bay because it has been a turnaround. Five years ago, the HBDHB was in the pickle, big time.
"All that anguish about what was going on, there were budget deficits for about 10 years - it was really tough.
"The board has done a great job in the last three years - the finances are right. When you get the finances right, you can afford a new mental health unit, a new dialysis unit, a new health centre in Hawke's Bay.
"We need to see some of the Hawke's Bay experience happen in other parts of the country."
Mr Ryall opened a $1.7 million dialysis unit, visited the site of a $22 million mental health facility and opened the Napier Alzheimer's Society's Wilding House day-respite centre before driving to Wairoa to open its $5 million Integrated Family Health Centre.
"I think Wairoa is a model of where the country is going.
"Wairoa was a leader in asking the community what they wanted and bringing it all together. That integrated approach is what you are going to see more and more of and I think you'll find a lot of people beating a path to Wairoa to have a look."
He said Hawke's Bay's demographic, with an increasingly high-need population for health services, would increase the need for elective surgery.
"It is true that not everyone who gets sent from their GP to the hospital will get an operation, because it is a priority system so the money goes on to those that we can afford to do within the timeframe, but there are more being seen.
"When we [National] started there were 118,000 elective operations a year, today there are 158,000 - an increase of 8000 a year on average.
"It used to be if you were booked in for your operation it would take six months, by the end of next year we'll have that down to four months."
The rise in dementia patients "will keep ministers up awake in 10 years' time".
At the opening of Wilding House, Mr Ryall said it would provide "a vital service" in offering support for those caring for family members with dementia.
"New Zealand has got an ageing population and the number of people over 65 has doubled over the last 30 years - we've passed 600,000 New Zealanders this year.
"That number is likely to double again in the next 20 years.
"So these people are leading active lives but as you know we will have more people in our community with dementia.
"It is expected in the next 30 years the number of New Zealanders with dementia will increase from about 48,000 people today to over 150,000.
"So this is a really big challenge."