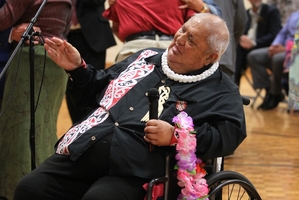 A Hawke's Bay man has become the first New Zealander to receive a Polynesian Cultural Centre lifetime award for services to the performing arts.
Tommy Taurima was presented with The Lei Pulama Aloha Living Treasure Award at the weekend amongst family and friends at the Latter Day Saints chapel in Bridge Pa.
The Polynesian Cultural Centre (PCC) is the largest and most profitable cultural attraction in the Hawaiian Islands and the third-most visited attraction of its kind worldwide.
The award was announced at the recent 50th anniversary of the PCC, at which seven others were also recognised for services to the centre, including Hastings man Takaputai Walker for his services to carving.
Mr Taurima couldn't make it to Hawaii to receive his award so PCC president and chief executive Alfred Grace, the first Maori and New Zealander appointed to the position, flew to New Zealand to personally present it.
Mr Taurima was among the original Polynesian instructors at PCC in 1963 and was there for a number of years, during the 1970s and 80s.
His show Horizons: Where the sea meets the sky was perhaps his most famous.
Horizons was so successful it lasted 14 years. The show commenced in 1995 and had its final performance at the conclusion of the 2009 season.
The Maori composer also has hits Te Rina, made famous by Sir Howard Morrison and The Ngati Kahungunu anthem, Rongomai Wahine.
He has written numerous other Maori songs and tutored many touring culture groups throughout Europe and the Americas.
A significant highlight in his career, Mr Taurima also has a QSM for services to the performing arts and an honorary masters degree from Te Wananga O Aotearoa for services to performing arts.