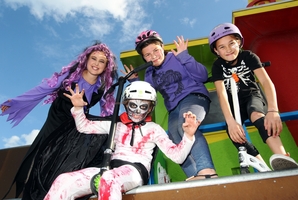 SO SAFE IT'S SCARY: Courtney O'Sullivan (left), 9, Akura Bailey, 10, Rylee Abraham, 10, and Miriama Davis, 9, from Napier, enjoying the Halloween event at Sk8Zone in Napier last night. PHOTO/PAUL TAYLOR HBT133915-03
Zombies, ghosts and ghouls on wheels took over Sk8 Zone last night as the park was overrun with dozens of costumed kids for its annual Halloween Scooter Disco.
The Napier skatepark was the scene of prizes and cash giveaways to those who attended the annual event in costume.
"The annual Halloween event is probably one of our bigger events because it's just that thing - kids want to do Halloween and dress-up but it might not be safe to go out trick or treating," club manager Pat McIvor said.
Two scooters, each worth about $400, were presented to the best dressed boy and best dressed girl, and a $100 cash prize was handed out for the best "monster trick".
In addition, those attending could test their nerves in the Haunted Circus themed walk-through maze.