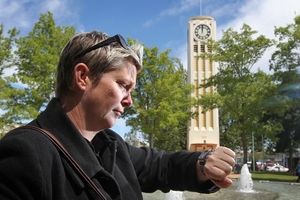 Time is standing still in central Hastings, leaving shoppers and city workers to ponder whether they are enjoying an endless lunch hour or a perpetual midnight.
The town clock, the city's most prominent timepiece since 1935, is out of action because of ageing mechanical parts.
Passers-by observing the clock, including Hastings City Business Association events and promotion manager Andrea Taaffe, say it has appeared to stop and start randomly over recent days.
Hastings City Council's parks and property services manager, Colin Hosford, says the hands on all four faces have now been placed at 12 o'clock in an effort to avoid confusion.
"The clock's mechanism dates from around 1935 and it has become difficult to source new parts. Our technician is searching around New Zealand and overseas to find a new part but the age of the mechanism means that this could take some time," Mr Hosford said.
"Our technician is reluctant to put a timeframe on the clock's return to normal service due to the scarcity of parts for the operating mechanism."
It is not the first time the town clock has generated timekeeping confusion.
When a magnitude 6.8 earthquake toppled buildings in Gisborne in December 2007, the shaking was severe enough in Hastings that it forced the bells in the clock tower to ring at 8.55pm, ushering in the hour five minutes early for more than 200 people who had gathered in the city centre to enjoy the annual Christmas concert.