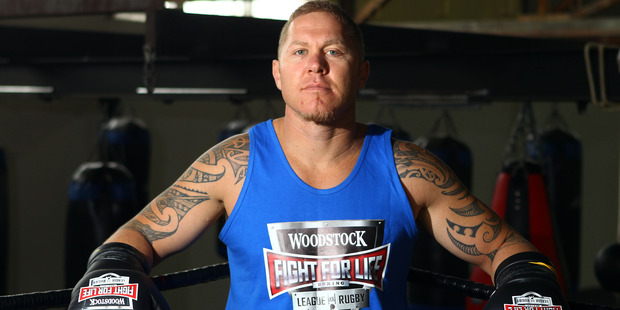 One punch. Yes, sometimes that's all it takes to get lucky in a boxing match.
No one knows that better than Shane 'Mountain Warrior' Cameron although he isn't prepared to accommodate thoughts of finding himself on the receiving end of one.
In an interview with Hawke's Bay Today yesterday, the 36-year-old professional pugilist announced his return to the heavyweight ranks although he's waiting for a promoter to name his overseas opponent for the December 14 feature bout in the Fight for Life event at Trusts Arena, Auckland.
"I'm 101 to 102kg and that's where I feel more comfortable. It's just too tough at the cruiserweight," Cameron said from his Auckland base.
"Even in one round [in the cruiserweight] I don't feel sharp or strong so I'm not that competitive at that weight anymore."
The burning question is whether Cameron is ready to enter the ring against fellow Aucklanders David Tua or young talent Joseph Parker?
"I'm not counting either of the guys out.
"It's great to see that when David and I will be going from the ring someone like Joseph Parker will be entering it.
"It depends on when it is. You can never say no in this business.
"This is, after all, the fight business and David and Joseph are both heavyweights but all I can tell you right now is I won't be fighting a New Zealander.
"He'll be an international opponent from either America, Argentina or Russia and we'll be announcing his name in two days," said the 2002 Manchester Commonwealth Games bronze medallist, adding he wanted a reputable fighter, not just any bum.
In October 3, 2009, in Hamilton, Tua knocked out Cameron in 20 seconds of the second round.
Billed as 'The Fight of the Century', the bout failed to live up to its hype.
Tua, who fights Belarusian Alexander Ustinov on November 16 in the Duco Promotions event, had twice decked Cameron to the canvas in the first round before a flurry in the opening 20 seconds of the second, against the rope, left Cameron in a bloody mess.
Cameron had subsequently relinquished his WBA Pan African, IBF Pan Pacific and WBO Asia heavyweight belts to the Tuaman.
Yesterday Cameron said it happened four years ago and he had achieved a lot since then.
"Good on David because he put me down on the canvas ... it shows what a good punch can do," he said, adding a rematch between the pair would come down to adapting to different fighting styles and who wants it most.
"I have nothing against David. He's a great fighter, a great man and a great athlete.
"When the bell goes off David will know I've come back to fight."
Needless to say, the purse will have to be right for all three parties before promoters will have their day.
Cameron, who hasn't entered the ring for a year but claims to have kept his fitness at optimum level while working at his Cameron Fitness gym in North Shore, said his ambition was to gradually graft his way back into contention for a shot at a world title after the 12-round bout in December.
"I'm ranked in the top 15 as a cruiserweight but that'll go out of the window now."
Another hurdle in Cameron's career has been the propensity to bleed profusely from cuts but he assures fans he's "not that bad".
"It's a lot better ... since I've had surgery. It's not 100 per cent fixed but it's nowhere near like before," he said of a procedure that involved opening his eyebrows strategically in relation to adjacent bones.
For Cameron, who has an 8-year-old daughter Georgia with wife Cara, the impending bout is all about making a statement.
"It'll be a goody," said the orthodox fighter who has 32 fights under his belt with 29 victories, including 22 KOs and three losses.
For the boxer who made his debut with a third-round KO over Winston Palu on November 28, 2002, the Tua defeat will always be etched in the minds of boxing aficionados.
Without doubt exorcising that demon has been the fulcrum of his professional renaissance, especially in the heavyweight division where it'll be most lucrative.
To a certain extent he has achieved that, particularly in his fourth-round KO win over Monty Barrett in July last year in the NZPBA title eliminator bout.
Four months later he lost to Australian Danny Green in Melbourne for the vacant IBO cruiserweight title.
Barrett was the first fighter to knock down Tua so, consequently, Cameron believes anything is possible in a rematch in a code where one blow can make or break a career.
Born in Tiniroto, a rural town about 50 minutes from Gisborne, Cameron always dreamt of shepherding and managing a farm.
With parents Polly and Graeme Cameron, who are today his No 1 fans and attend all his matches, he was realising that dream at 13.
It wasn't until he was 19, holidaying in Portsmouth, England, when a boxing match caught his eye on TV.
"I remember my grandfather [Bob Cameron], who was a boxer in the 1930s, telling me inspiring stories about boxing."
Ex-All Black Piri Weepu is in Cameron's undercard fight.