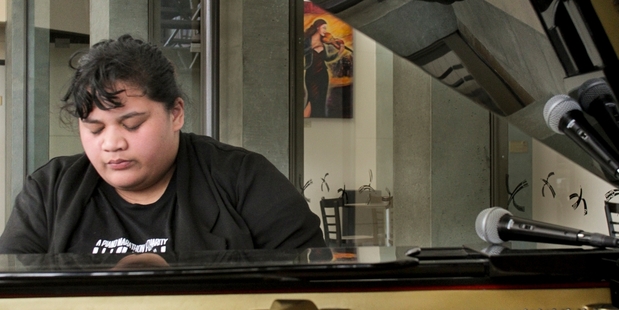 Massey University student and Hastings musician Shaqaila Uelese is already planning the sequel to the Piano Marathon for Cancer charity event she organised, inspired by her late father and Pacific community leader, Moapi Uelese.
Miss Uelese played 24 hours of music over six weeks in locations including Wellington, Levin, Palmerston North and in her home town, Hastings.
She played every Saturday, from August 31 to October 4, with no music sheets, just relying on improvisation, memory and a repertoire of contemporary pop piano, jazz, classical, big band, gospel music as well as requests from visitors.
She completed the marathon at Cranford Hospice in Hastings last week, exceeding the fundraising goal she had set of $5000.
The money will be split between the Cranford Hospice in Hastings and the Wellington Cancer Society, in recognition of her father who died a year ago, losing his 18-month battle against Multiple Myeloma cancer.
"We have raised $5412, and we've got the fundraising website going until the end of this week," she said.
"I am going to present the money to the Wellington cancer Society first and then Cranford Hospice in early November."
Cranford was particularly special because it was where her father was nursed during his final months.
"As a family every day we had a room where we could sleep, a room we could meet as a family to sing songs, a kitchen that had a cupboard with food donated from other families and what I remember most, is a room where I could play the piano whenever I wanted.
"I would like to give back to the Cranford Hospice. They are an amazing charity who have volunteers from all walk of life who helped us as a family cope and I know they continue to do so today."
Miss Uelese moved to Wellington at the beginning of this year to study at university. She had volunteered at the Wellington Regional Hospital, Newtown, playing the piano for staff, patients and visitors.
"I would like to give to the Wellington Cancer Society because I now live with a new sense of respect for any charities associated with cancer.
"Yes I am going to do the marathon again next year but maybe with a few changes.
"I'd have more pianists involved, playing at more venues and make it a national thing by extending it."
For more information, visit: