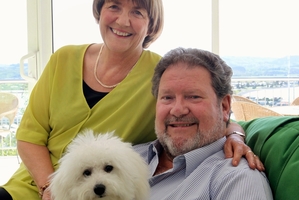 From the box-seat to the lounge chair, new Napier Mayor Bill Dalton's passion for motor racing was yesterday what he and wife Shirley reckoned might be one of his last chances to relax for a while.
With a 4921-votes majority over second-placed candidate and Positive+Change ticket leader Roy Sye on latest figures available last night, Mr Dalton had a provisional 42.51 per cent of the votes which were shared among six candidates.
Retired sharebroker Mr Dalton had spent Saturday afternoon and evening celebrating with family and friends, assured of replacing retiring Mayor Barbara Arnott without having to wait for the final figures.
An occasional weekend racer of a Beattie Clubman Sport, yesterday he found a sort-of domestic pit-lane, watching the bigger V8s of the Bathurst 1000 on TV, recharging the body before today's start on planning the work of a new council, which retains all seven who sought re-election to the 12-strong team.
News of his success came about 1.45pm on Saturday, with Mr Dalton at his home in Chaucer Rd North, in what has become Napier's equivalent of Downing St.
Mrs Arnott lives almost across the road in the narrow, dead-end Hospital Hill street, though she was away at the weekend, while others who've lived in the street include former deputy mayor and current East Coast MP Anne Tolley, former Napier MP Russell Fairbrother, late councillor Tony Brownlie and the re-elected and now six-term, longest serving councillor, Mark Herbert. Top-polling councillor Tony Jeffery, set for his fifth term, lives just around the corner.
Joining Mr Dalton and the new mayoress at their home were sons Ben and Mac, and daughter Jane, the latter two having come from Australia and Auckland respectively.
Mac, media manager for Ernst Young in Australia, was in his element, helping dad master the occasion. So too was ever-present 7-month old pooch pup Peggy, while the tonkinese family cat occasionally mingled.
Tipped a likely new leader in a snap poll at a Hawke's Bay Today mayoral candidates meeting, Mr Dalton doesn't admit to having been confident of winning the race on the day.
"You never really know," he said. "I was confident we [the campaign team of himself and his wife] had done absolutely everything we could.
"I was surprised by the margin - surprised and humbled. That was an outstanding margin. It's good to have that level of support."
He is, however, making no rash promises about what Napier will get, other than that he wants a "vibrant and prosperous city, governed by its own people".
He relishes the election of amalgamation-opposing mayors in Central Hawke's Bay and Wairoa to help challenge the merger hopes championed by re-elected Hastings Mayor and Local Government New Zealand president Lawrence Yule.
Challenged during the campaign on how he and Mr Yule might work together, he said: "In fact I get on really well with Lawrence. The fact is Lawrence and I want exactly the same thing - a vibrant and prosperous Hawke's Bay. It's just that we have differing views about how we would best achieve that."
He harbours hope they might sort some of the differences out in the sporting arena - speedway promoters have offered Mr Dalton a car for the next demolition derby at Meeanee and he says he looks forward "to challenging Lawrence Yule on the track".
More seriously, he hopes to work closely with new council chief executive Wayne Jack to stage more "significant" events in Napier, and it's understood an events co-ordinator is being appointed to target possibilities.
It's not where he'd indulge his passion, however, and he says: "You can rest assured I know what motor racing events cost, and I will not be having a motor race on the streets of Napier."
He conceded the council buildings "certainly need work", which is to be discussed, but he can predict some change inside, where committee structure and makeup will alter because there will be five new people on the team.
"The first thing every new mayor has got to do is call in all their councillors for one-on-one interviews to find out what areas of council activity they would like to contribute in," he said.
Another of the first things he will do is speak to other mayors to start formulating a "true shared-services programme", beyond the current 33 areas of councils activity where sharing already takes place.
As for how long he might serve as mayor, with six years on the council already behind him and the prospect of amalgamation hovering, he says: "I can make no predictions on the future at all. But I will serve as long as I feel I have something to contribute."
Not one for 'getting away from it all' easily - the tools of modern communication append every holiday - he shows a loyalty to the region with a tip of his shiraz and says: "I'm going to have to work at the relaxation."