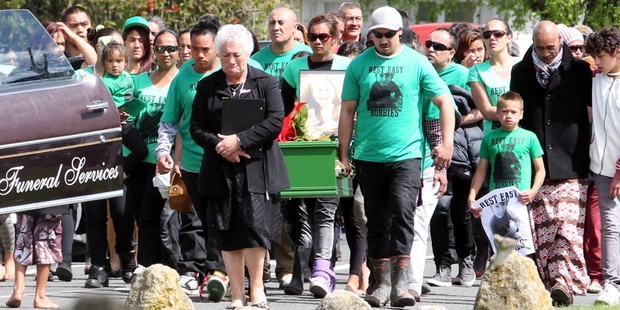 The grief stricken family of Uetaha Dahtanian Ransfield-Wanoa, who lost his life in a tragic tractor-mower accident last week, wore green T-shirts printed with "Rest Easy Bubbies" and released balloons into the sky as a tribute to their "cheeky" boy.
Hundreds of mourners, including four generations of family, gathered in Camberley on Saturday to farewell the 4-year-old who was run over by a council tractor-mower at Kirkpatrick Park in Hastings on Tuesday afternoon.
Children and adults walked with heads bowed, some carrying flyers featuring his smiling face, as a tiny casket was carried to the waiting hearse.
"RIP my little neph Uetaha. Sadly you leave us so soon. You've brought your whole whanau together here in Camberley, plenty more koros, nannies, aunts, uncles and cuzzies to arrive and surround you with tears of unconditional love," Angel Eriha-TePapa posted on Facebook.
Another tribute said it was a "sad" day to farewell "our little boy," adding that he would never be forgotten.
Uetaha's death has brought a community together, with many sending messages of love and support for the family.
"Kiaora to everyone for the aroha to my son and daughter in law on the loss of our son, moko, cousin, nephew, brother, great moko, RIP Uetaha, arohanui kia koutou katoa," relative Duncan Ransfield wrote.
Hastings District Councillors and staff were also deeply shaken by the sudden and shocking loss, with newly re-elected Mayor Lawrence Yule saying the past few days had been the hardest of his career.
"Dealing with the death of this little boy. I have watched every kind of emotion, mostly sadness, from viewing the boy, going to see the family."
There were tears at a final council meeting last week, as senior council staff expressed their emotions over the horrific incident.
"What you had were two staff who were upset, we went to view the body and they pictured their own children, about the same age. They have then seen the driver of the tractor, his wife and it's just very hard for everyone. We have offered support to both families."
Mr Yule attended the boy's funeral on the weekend.
"We now get into the investigation stage, which is going to be difficult, to find out what happened and what can be learned. "I said to the CEO we need to support the boy's family in some way and so we did financially by helping in terms of catering and those types of things around the funeral."