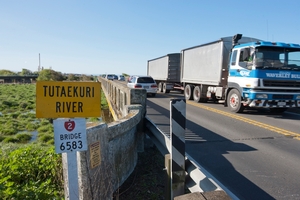 The NZ Transport Agency has announced plans to carry out a major safety upgrade on the Tutaekuri (Waitangi) Bridge on State Highway 2 between Napier and Clive.
Highways manager Chuck Dowdell said this summer would see the old concrete handrails replaced with a steel post and rail barrier about 200mm higher than the existing concrete barrier. The agency would invest about $800,000 in the project.
"We are providing a stronger barrier for motor vehicles and raising its height for cyclists. This will reduce the risk of injury resulting from vehicles breaking through, or cyclists passing over, the existing barrier," Mr Dowdell said.
Cyclists are still encouraged to use the existing, alternative scenic route on the limestone path around the bridge. However, those choosing to use the bridge will be protected by both the guardrail and a handrail fixed above the guardrail posts. In addition, cyclists using the bridge can trigger advanced information signs (notifying vehicle drivers of the presence of cyclists) by pushing the button as they approach the bridge, then proceeding by riding through the designated painted lines.
Mr Dowdell said it was important for motorists to give cyclists room and avoid all risky passing manoeuvres.
"If you see the cycle sign activated, then that's a signal to exercise some patience and preferably hang back and give the cyclists some room rather than make risky passing manoeuvres. Saving a few seconds is simply not worth risking another's life or limb for, and we ask that motorists put caution before haste."
The project would start in the New Year and take about four months to complete. "To complete this work, we will need to close one lane of the bridge which will cause minor delays. Where practical we will minimise disruption to road users by working outside of daylight hours as much as possible."