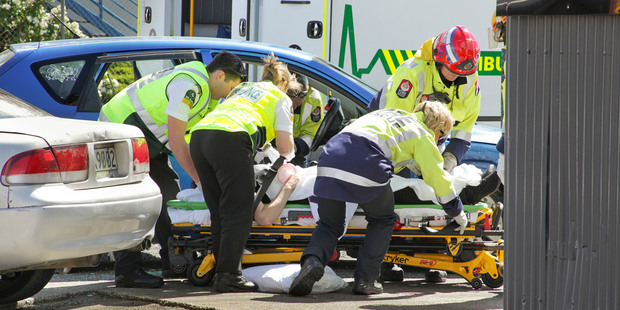 Emergency services were kept busy at the weekend attending to car accidents, fires, a cyclist hit by a vehicle and gusts exceeding 110km/h pulling down trees and damaging roofs.
The strong winds disappeared yesterday but triggered a number of callouts on Saturday for the Fire Service, including one to McLean Park to fix the grandstand roof.
At about 9am chainsaw-wielding firemen made short work of a tree blocking one lane of the Farndon Rd rail overbridge near Clive and soon after a tree in Ashley Clinton's Mill Rd fell on to power lines causing fears that arcing sparks would start a fire.
A 40-year-old woman was taken to Hawke's Bay Hospital with what St John ambulance staff described as "moderate to serious" head injuries after two cars collided on the corner of Hastings St North and Ellison Rd at 10.50am. She has since been discharged.
A man in his early 50s left Dundee Drive in Flaxmere and struck a tree.
After being cut from his vehicle, he was taken to hospital with serious injuries and ambulance staff said he could have been suffering from an underlying condition.
He remains in hospital in a stable condition.
Finally, a cyclist was taken to hospital with shoulder injuries at 6pm after being hit by a car in Napier's Kennedy Rd.
While there were several accidents, the strong winds kept the Fire Service busy with nine callouts.
Station officer Warrick Le Quesne said it was just "one of those days" but other brigades "were all over the place".
At 11.14am the Napier Fire Service was called to the corner of Hastings and Dickens streets after glass from a roof structure came loose and flew to the road below.
Mr Le Quesne said a ladder truck was used to gain access to a window with broken glass and the glass removed.
"It was blowing pretty hard," he said.
The ladder truck was again in use at McLean Park where a roof flashing had come loose. Using a cordless drill it was screwed back in place.
"It was in the lee of the building so they weren't blown around too much."
A fire in a pile of bark had to be put out twice in Thames St in the industrial Napier suburb of Pandora and a scrub fire off SH2 in Nuhaka was reported by a motorist at 6.48pm but left to burn itself out after it was not deemed a risk. While the winds died down in the evening a good breeze kept the risk of fire spreading so a bonfire in Riverbend Rd in Napier was extinguished.
Mr Le Quesne said the Fire Service trained for windy weather and working carefully and controlled.
Hastings Senior Station Officer Brain Dunphey said Saturday was pretty busy because of some wind events and vehicle accidents.
"We had some windows being blown out. It was pretty steady and reasonably busy."
Meanwhile, about 5pm yesterday fire crews responded to a house fire about 3km south of Tikokino in Central Hawke's Bay.
A New Zealand Fire Service spokesman said four fire appliances and three tankers had been called to the one-storey blaze, from stations including Tikokino, Norsewood, Waipawa and Hastings.
He said the house on State Highway 50 was unoccupied when the fire started and it was brought under control just before 7pm.