Hastings bid to restrict sales likely to pressure besieged retailers.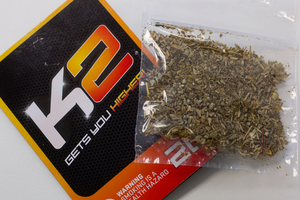 Hastings District Council has reluctantly voted to limit the sale of psychoactive substances to its central business district - an area already considered under pressure due to problems with youth crime.
If adopted, the council policy would restrict the sale of K2 and similar psychoactive substances to the Hastings Central Commercial Zone and its sale would be prohibited within 100 metres of any kindergarten or childcare centre, school, library or place of worship.
Despite the protestations of many councillors at a council meeting yesterday, a total ban on the products was not possible due to the Government's Psychoactive Substances Bill. Instead, the policy aimed to minimise the harm the products caused to residential areas.
The policy will be notified for public feedback on October 5.
Mayor Lawrence Yule said that, under the provisions, the council could "limit where it goes but we can't stop it altogether".
"This is us cleaning up the mess when actually the appropriate agency to deal with this, which is central government, should outright ban these products."
The move follows a recent outcry by Hastings retailers, many of whom say they work in fear, with large groups of delinquent youths taking control of the CBD amid rampant shoplifting, intimidation tactics and drug dealing.
Deputy mayor Cynthia Bowers expressed concern about the effect the policy would have.
"We're dumping it once again in our poor old Hastings CBD, which is already under pressure."
In a later meeting, Mr Yule said the sale of K2-based products was a major concern and central government had been "weak kneed" on the issue.
"It is definitely contributing to the problems we are having in the CBD. Communities in the suburbs have forced shops to stop selling the stuff, forcing kids to come into town to buy it in the CBD, and we can't enforce the legislation to stop it.
"I have heard that $20,000 worth of K2 products were sold in a weekend at a CBD store."
Councillors Sandra Hazlehurst and Wayne Bradshaw felt some responsibility lay with local MPs.
"I spoke to Chris Tremain about this, this morning, because I feel they have let our community down hugely with this," Ms Hazlehurst said. Mr Bradshaw said: "I think we're going to the dogs on this and members of Parliament need to be held accountable."
Councillors also voted to write a letter to central government expressing their disappointment with the Psychoactive Substances Bill implemented in July, and requesting a moratorium on the sale of the products.
Tukituki National MP Craig Foss said he shared Mr Yule's passion in trying to "run this stuff out of town" but said central government was attacking the problem.
"The period to apply to have the pyschoactive substances tested has passed.
"Police can now enforce the Act on places selling the stuff that has not been tested or has failed testing."
Yesterday's debate followed Napier City Council's decision on Wednesday to enact a near identical policy, which closes for public feedback on October 28.