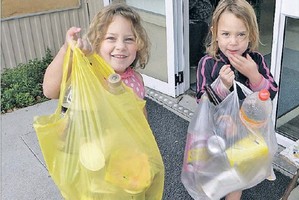 Two Hastings kindergartens have won prizes for their waste minimisation projects as part of a nationwide competition organised by Paper4trees.
Camberley Kindergarten and Frimley Park Kindergarten, both part of the Heretaunga Kindergarten Association, took out two of the top prizes for the Keep New Zealand Beautiful Beverage Container Recycling Project.
Four thousand preschools, primary, intermediate and high schools involved in the Paper4trees programme were invited to complete an interactive recycling project, which aimed to reduce litter, improve recycling rates, raise awareness and keep New Zealand beautiful. Camberley Kindergarten won the Best Overall Project Report award and Frimley Kindergarten's Christian Porcer was acknowledged with the Top Recycler award.
Camberley Kindergarten set up collection bins with large photos displaying the different types of recyclable containers by the entrance to the kindergarten.
Teacher Pam Standen said the children took on the project enthusiastically and helped to sort and count their containers before putting them into the collection bins.
"On several occasions we took a small group out into our community armed with collection bags to see what we could find," she said. "The children were very vigilant and we couldn't help but pick up all the other rubbish as well."
Each award-winning project received a prize pack including products from Eco Store, GreenCane, MyMojo, EcoTanka, LOVE NZ, FriendlyPak and Two Green Monkeys.
Paper4trees is the largest school based recycling programme of its kind in New Zealand.