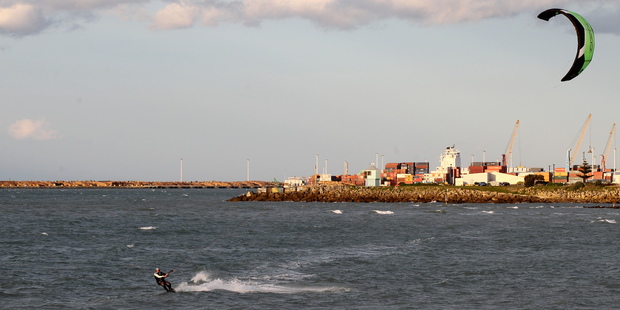 A severe gale warning has been issued for Hawke's Bay following the spring storm which lashed parts of the South Island in the past few days.
The MetService issued the warning yesterday, saying: "Northwest winds are expected to rise to severe gale, gusting to 120km/h in exposed places".
The warning remained in place today.
MetService meteorologist Daniel Corbett said that the high winds were shifting further north and east from the Wairarapa region and central New Zealand last night.
"The gales are moving into Hawke's Bay in the evening hours [last night], that is why there is a warning out for winds up to 120km/h for most of the night and the early morning hours," Mr Corbett said.
The severe winds were caused by an active front at the top of the South Island, as the damaging spring storm worked its way north.
"If you can imagine all the air trying to squeeze through a tight window, with the high to the north and the low to the south - it is squeezing all the isobars together," he said.
"Also sometimes the terrain helps the winds to blow stronger as well, as they come over and down the hills."
He said that, overnight last night, Hawke's Bay would have received some rain, however that would have been mostly in "fits and starts" with showers heaviest in the western ranges.
The rain was forecast to ease this afternoon.
"It's going to be a quiet Friday, with everything cleared all away. There will be the odd shower on Saturday but there will be a southerly change," said Mr Corbett.
The gales would not cause large swells on the East Coast because of the northwesterly direction of the winds, but a southerly change at the weekend could cause seas to rise.
WeatherWatch.co.nz weather analyst Aaron Wilkinson said the main concerns remained gale-force winds and heavy rain as the storm moved north.
"Hawke's Bay and Gisborne may see winds gusting to gale force at times from the afternoon also, while Wellington may receive severe gale winds for much of the day," he said.
Hawke's Bay Civil Defence Emergency Management group manager Ian Macdonald said they had a warning system in place to alert emergency services, Napier port and Hawke's Bay Airport if something eventuated.
"We just have to wait and see when it arrives, if it arrives. We have had ongoing watches, our first watch was on Tuesday and once the forecast is shored up they [MetService] issue a warning, which is what they have done."
Unison customer-relations manager Danny Gough said they were well prepared for any potential power outages in the region following power outages in Christchurch as a result of trees or branches falling on to power lines in the past couple of days.
"We have had plenty of notice. We have all our staff ready to go, our control room is fully staffed - but obviously our response will depend on the severity of the event."
Yesterday high winds toppled three trucks and a campervan in Wairarapa. Police and emergency services attended a crash in Masterton, where it appeared high winds had blown an empty truck and trailer unit over, partially blocking the road.
There were no reports of injury.
In Wellington, minor incidents relating to wind damage had been reported including trampolines being blown about and roofs being partly torn off.
Today the forecast is for the rain and wind to die in the afternoon with a high of 20C and low of 7C in Napier and 19C and 7C in Hastings.
Tomorrow should be mainly fine with evening cloud and light winds, with a high of 17C and low of 5C in the twin cities.