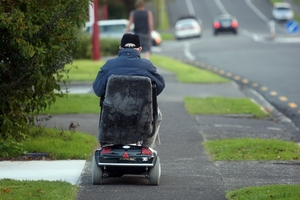 The number of suicides has plummeted throughout Hawke's Bay but new figures suggest more elderly people are taking their own life.
The Chief Coroner released provisional annual suicide figures yesterday showing the highest rate of suicide nationwide was among men aged over 85.
The Hastings coronial office dealt with 25 suicides in the year to June, down from 35 the year before and 37 in 2010/11.
The Hastings office also covers Dannevirke, Eketahuna, Gisborne, Napier, Ruatoria, Waipukurau and Wairoa.
Separate figures for Hawke's Bay were unavailable.
Hastings Grey Power secretary Marie Dunningham said the statistics didn't surprise her.
"Eighty-seven, on your own, on the pension, constantly worried about money, lonely, driver's licence taken away from you, unable to read, unable to see the television ..." Mrs Dunningham said, adding it was known that elderly people in Hawke's Bay took their own lives, but wasn't really talked about.
When an elderly person "died in their sleep", it often spurred conversation across the bridge table about whether that person had taken sleeping pills.
"There's a lovely old saying that says, 'Old age isn't for the faint-hearted'."
Chief Coroner Judge Neil MacLean said the rates were a surprise, and more attention would be paid to the elderly.
"It is a grey, uncertain area, but we need to know a lot more about it," he said.
Suicide among elderly was sometimes difficult to identify, particularly in cases of "slow suicide".
"That's the person that's starving themselves, refusing their medication, simply giving up the will to live. It merges sometimes with euthanasia and that's a very grey area," Judge MacLean said.
The figures also showed women were catching up to men in suicide rates, with more women and fewer men taking their lives in the past year.
Judge MacLean said the gender shift appeared to be the most significant emerging trend, and mirrored the rising number of women involved in violent crime.
"I wasn't surprised to see it because I'm aware of the same trend occurring with violent crime," the chief coroner said.
Suicides among women and girls increased from 142 in 2011/12 to 153 in 2012/13. Among men and boys, the number fell from 405 to 388.
While the female suicide rate per capita was still well below that of males, it had been increasing since 2007.
Suicides in Christchurch City had dropped since the earthquakes, something seen internationally following major disasters, but there was concern numbers would trend upwards again.
Maori youth suicide had dropped, with suicides among those aged 10 to 20 down from 46 to 26.
Judge MacLean said there would be continuing focus on youth, particularly on prompt action in schools, marae and communities after a suicide had occurred, as peers of the victim were at higher risk.
But it was hard to determine which initiatives, if any, were having an effect on suicide rates.
"We don't know and could never prove that a drop was the reflect of any one particular thing."
Judge MacLean said New Zealand's suicide rate remained high by international standards, and had stayed "stubbornly the same" for years. APNZ