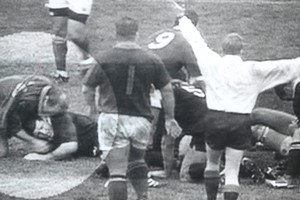 All Blacks will do anything to stay on the field as there is always someone on the sideline waiting to take your spot.
Pinetree's arm
All Black hopes of an historic series win in South Africa in 1970 suffered a blow when Colin Meads, suffered a broken arm when he was kicked early in the game against Eastern Transvaal. He played on and it was later found he'd fractured his ulna.
The saga of Pinetree's left arm became a national obsession with the mood ranging from hope - he'd be back for the second test - to despair; out for the tour.
Pinetree was was playing near the peak of his powers before breaking the bone and he ended up missing nine games, including the first two tests.
He was allowed to play with a leather armguard on his return but never regained his top form, much like the All Black side after their win in the second test. The Herald's T.P. McLean wrote Meads may have been an author of his misfortune by giving up his customary position at the tail of the queue when running on to the field against Eastern Transvaal.
He ran on to the field second that day.

Gary Knight's head
Manawatu prop Gary Knight was felled by a direct hit to the head from a flour bomb dropped from a protesters's light plane buzzing Eden Park during the third test against the Springboks in 1981.
As he was being treated by medics colourful Welsh referee Clive Norling advised: "For God's sake don't pour water on him, he'll end up battered." Knight was close to being knocked out but recovered. Norling asked the captains Andy Dalton and Wynand Claassen whether they wanted to continue; they did and the All Blacks won a thriller.
Knight said after the test that his series of rugby mishaps were complete.
"I've been hit with a post in Fiji, had an ear bitten in Britain and eye gouged in France - now this."
Fitzy's ear
All Black captain Sean Fitzpatrick had his ear bitten by South African prop Johan le Roux as he lay prone during the second test against the Springboks in Wellington in 1994.
Le Roux dubbed "Le Beast" for his rugged play during the tour was sent home from the tour and banned from rugby for 19 months. Although Fitzpatrick's ear bled it was not a serious injury and he played on.
After the game he said he was "disappointed" but hoped the incident wouldn't detract from the All Black victory. He and le Roux shook hands at the aftermatch function. The disgraced Springbok told a disciplinary panel he'd been prevented from rejoining a ruck and in a "moment of madness" attacked the All Black skipper.

Buck's scrotum
The 1986 "Battle of Nantes" is remembered for an All Black defeat but mostly for its brutality and the French boot that left Wayne Shelford with a torn scrotum.
The No 8 was playing in his second test and during the game suffered a blow to the head losing teeth and suffering concussion and a boot in the groin which left him with a tear that left a testicle hanging out. He played on until midway through the second spell but had no recollection of how he suffered the injuries.
"I think it was in the first half but then again it might have been in the second," Shelford said at the time.
"Remember Nantes" was used as a motivation for the All Blacks when they played Le Bleus for years afterwards.

Elvidge's collarbone
In the days when replacements weren't allowed in tests 1950 All Black captain Ron Elvidge played on after damaging his collar bone and suffering a gash to his face that needed stitches to score the winning try against the Lions at the old Athletic Park.
He left the field in agony following the injury suffered before halftime. Early in the second spell he returned to the match and adopted a roaming role among the backs despite being a virtual spectator.
He went back on only because the All Blacks had already been reduced to 14 men through a crippling knee injury to prop Johnny Simpson.
It was not until 1968 that the International Rugby Board allowed injury replacements in internationals. In 1997, replacements were allowed for tactical reasons, initially a maximum of four, which increased from six to seven, two of whom had to be specialist front-rowers.
Memorable moments:
Brian McKechnie saves the day
When Fitzy's Incomparables cracked code
Triumphant last gasps
Playing through the pain
Shock loss put NZ side in their place
Famous Kiwis share their greatest All Black moments