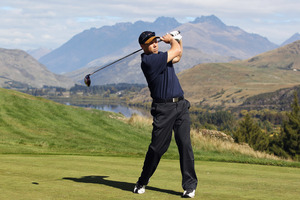 "George Gregan was a fantastic rugby player and I take a lot of credit for that," says All Black great Jeff Wilson.
His tongue-in-cheek recall of former Wallaby halfback Gregan's memorable tackle in the 1994 test that saved the Bledisloe Cup - electrifying Australia and shocking New Zealand - is a preview of another Gregan-Wilson clash, this time at golf in the New Zealand PGA Championship to be fought out in Queenstown next month.
They will possibly not clash directly but the team of celebrities being assembled for the 'am' part of the pro-am tournament is beginning to take on a distinctly transtasman, Wallaby-All Black feel.
In addition to Wilson and Gregan, there are two other halfbacks who will compete fiercely - former All Black Justin Marshall and former Wallaby skipper Nick Farr-Jones.
Marshall and Gregan are old mates - fierce rivals whose respect for each other developed into a friendship off the field and who have kept in touch.
But Wilson's introduction to Gregan included that last-ditch, breath-taking tackle which caused Wilson to spill the ball as he dived over the line for what would have been the match-winning try and the moment which returned the Bledisloe Cup to All Black keeping. Hence Wilson's crack about taking credit for Gregan's career.
"I run into George every now and then at Bledisloe Cups," says Wilson, who admits that his friendship with Gregan isn't as deep as that of Marshall's.
"We are not close mates but we get on well enough. I don't travel the world like Justin does so I don't get to see George all that much - but he knows it was me who launched his career. I know he is grateful to me for that.
"I'll look forward to having a beer with George. I'll get a fair ribbing but that's all part and parcel of it."
Gregan, who went on to record 139 test caps, the most of any Australian, is also well-remembered for his piercing verdict as the All Blacks slipped out of the World Cup semifinal in Sydney in 2003.
His "four more years, boys, four more years ..." sledge is recalled not only by many fans but also the All Black halfback of the day, Byron Kelleher. He admitted in 2006 that he would not be inviting Gregan round for a barbecue after the test in Christchurch that year, as Marshall had done previously.
Kelleher did have the solace of playing in a 32-12 victory that day in 2006, unlike Wilson's role in the 20-16 loss in 1994.
Marshall says his friendship with Gregan developed slowly from their days in their respective national under-19 teams but they are now firm friends who see each other regularly, staying at each other's houses.
"I guess it's a case of not wanting to be too friendly too fast with the guy you are trying to be better than," Marshall says. "But the friendship tended to overtake the rivalry and the competitiveness and we started catching up and having a beer after every game."
Marshall warns, though, that Gregan's competitiveness and ability to psych out his opponents is alive and well. At a game at Queenstown's Jack's Point last year - Gregan did not play in the NZPGA in 2012 - he asked Marshall what club he was using as Marshall was at the top of swing, teeing off.
"I said to him, 'are you like this in every sport you play? Do you have to get inside everybody's head'," laughs Marshall. "Of course, he beat me, the miserable p****. That didn't improve my mood at all."
Gregan plays off a six handicap, Wilson an eight, Marshall a 10, and Farr-Jones a 14. However, Wilson says standing at the first tee of the NZPGA - as he did when paired with New Zealand golfer Mark Purser - was one of the more terrifying moments of his sporting life.
"At least with rugby, I felt I kind of knew what I was doing, knew what to expect," says Wilson. "But on that first tee last year at The Hills, I was so excited, so nervous ... I got up there and thought: 'Oh, my Lord ...' There were people there watching me who said I was as white as a sheet.
"There were people well within driving range on the right-hand side and all I could do was hope I didn't hit them or embarrass myself. Talk about being out of your comfort zone.
"My brother had come up from Invercargill to caddy for me and just as well - I didn't even feel the ball leave the club, I was so nervous, and I had no idea where it went. My brother said, 'down there, on the left, in the rough ...' and I said, 'let's get down there; let's escape'."
As with most golfers who aren't professional, the nerves disappeared after that first-tee frightener.
Wilson picked up six or seven nett birdies, while Purser finished in a tie for 17th. This year, however, Gregan awaits.