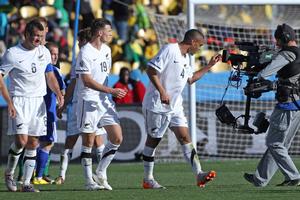 17/06/2010
Serengeti resort,
Johannesburg
After a day of reflecting on our remarkable achievement against Slovakia, it feels like the game was over in a flash.
From the minute I poured the milk over my coco-pops I could feel the energy, perhaps nervous energy, but it was still there from the evening before.
It was a quiet bus trip to the ground, most of the lads with head phones in. When we got to the ground it was a different story - music pumping, buzzing like bees. It always gives me butterflies when I see the all white kit laid out in the locker room, especially when "World Cup 2010" is embroidered on the chest.
I don't need to talk about the game; you shouldn't call yourself a Kiwi if you missed it. The mood was pretty good in the sheds afterwards - no champagne or anything over the top. We know we have made history with the country's greatest ever sporting result but we still have two massive games to plan for.
Rory Fallon and Andy Boyens still got the guitars out and sung us home. Not sure if Eddie Vedder would be happy with our version of his Pearl Jam songs.
We've created history in our first game, now we want to go one step further.
Success is addictive.
MOSSY