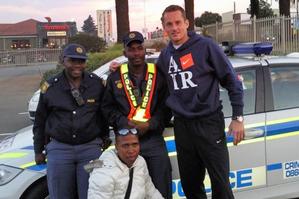 13/6/2010
Serengeti golf and wildlife estate
Johannesburg, South Africa
When deciding whether to play in goal or up front my under-12 coach told me "I'll select you as a keeper or you'll have to trial as a striker". Mum told me "If you really want to make the team, then play in goal. It's better to be safe than sorry". I still live by advice like that today especially when it comes to my safety and those I care about.
If you agree with me then you'll be happy to hear that we have a security escort that would rival the US president's. Well maybe I'm exaggerating but it's a good feeling to know that we are all in safe hands.
The estate is well guarded buy a handful of police at a gated entrance. Only staff, residence and those on a guest list can enter. Once you make your way to 'All White Avenue' there is another check point to pass before you can get close to the boys' digs. Before Dave Mulligan or Ivan 'the Godfather' Vicelich welcome you inside there are two more guards sitting by the door.
The team bus is escorted by two or three police cars in front and behind any time we leave. Onboard, I chat to Jackson, a close protection officer (CPO). He's not the biggest African you've seen but from the stories he's told us, not even Rory Fallon would mess with him. Jackson is that guy who jumps in front of a bullet for you and I'm sure he would. We keep daring Shane Smeltz to sneak up behind him in an attempt to check out his skills, but not even Smeltzy is that silly.
We've formed a close relationship with our security and CPOs - let's just hope we don't have to see them in action. Although, if my roommate Dave Mulligan keeps pinching my chocolate I may have a word to Jackson.
MOSSY