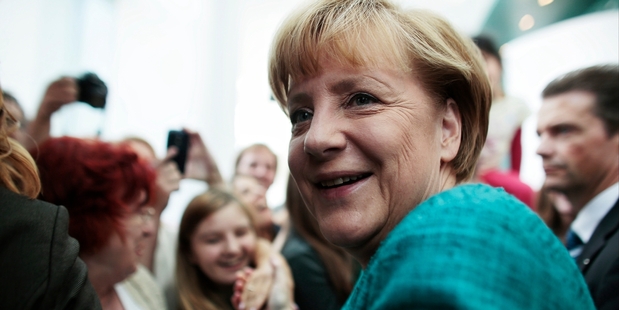 Schoolgirl Angela Kasner never wanted to draw too much attention to herself as she grew up under Communist rule in the East German town of Templin, according to her maths teacher, Hans-Ulrich Beeskow.
But this weekend, the face of the woman she became is on campaign posters the length and breadth of Europe's most populous nation - and she is about to win re-election in Germany for a third term as arguably the world's most powerful woman.
Nobody doubts - least of all those in her former home town - that Angela Merkel will be returned again as Chancellor.
Unusually in a German election, her team recently released private photographs, including one of her as a curly-haired 3-year-old playing with a doll at the family home. In the accompanying caption, she recalls a happy childhood with her brother, Marcus, and sister, Irene.
"We have gone our separate ways in life, but there is much that still binds us.
Our family's Christian values and openness to the world were formative for me," she wrote.
The Kasner family lived on the edge of Templin, in a sheltered housing complex run by a Christian foundation, with a sweeping view of farmland. The young Angela went to the Goetheschule, an imposing red-brick school building, where Beeskow gave her special tuition for her entry into the Mathematical Olympiad.
Sitting on a bench in Templin's cobbled town square last week, Beeskow, 74, recalled a driven and highly able pupil.
"She was gifted - exceptional among the girls in that she kept up completely with the boys. She was eager, determined, but never unhealthily so. It was ambition, but healthy ambition. She never made snap decisions. It was always with prudence, circumspection."
But her family was seen as politically suspect because her father was a pastor. Like many other East German children, she joined the Communist youth movement, the Free German Youth (FDJ) because, said Beeskow, "she didn't want to stand out".
With three weeks to the election, Merkel dominates the polls. In the latest survey polling firm Forsa puts her Christian Democrat party on 41 per cent and the opposition Social Democrats on 22 per cent. Her personal approval ratings are much higher, routinely topping 60 per cent.
The campaign of Opposition challenger Peer Steinbruck has been dogged by gaffes, including a suggestion that Merkel's East German upbringing meant she "lacked passion" for the European Union, as well as criticism over his income from speaking fees.
If the German elections were a presidential vote, Merkel would be home and dry.
She was born in Hamburg, West Germany, the daughter of Horst Kasner and his wife, Herlind. But the Kasners moved east in 1954, a few weeks after their daughter was born, at the urging of church leaders who feared a shortage of pastors behind the Iron Curtain.
According to a biography of Merkel, the family enjoyed a degree of freedom and privilege in the German Democratic Republic; they were able to travel freely to the West, and had access to two cars.
Beeskow recalls it differently. "A pastor's daughter was discriminated against," he said. "It wouldn't be easy to get a place at university. She needed to be an outstanding achiever."
At school, she excelled in Russian as well as maths, and studied physics at the University of Leipzig before working as a researcher at the Academy of Sciences in East Berlin.
Her first marriage, to physics student Ulrich Merkel, ended in divorce and in 1998 she married Joachim Sauer, a quantum chemistry professor with two sons from a previous marriage. He has kept a low profile; in 2005 he didn't attend his wife's first inauguration as Chancellor. Merkel has no children of her own.
Her home town once had a state-owned clothing factory that turned out East Germany's jeans, but these days the shops stock denim made in China and Vietnam, and many young people have headed west in search of work. Nearly a quarter of the town's population is over 65. It now pins its hopes on tourism, advertising its lakes and forests as the ideal destination for hikers and cyclists.
In his stationery store in the high street, Karl-Ernst Lootz, 72, described the town as a warning to the rest of the country.
"We are the seismograph," he said. "We have no industry, just holidaymakers - tourists from the West. What happened here will happen later in Germany. It is globalisation: jobs will go to the countries where wages are low."
Templin is a reminder of Germany's problem of a low birth rate and ageing population, and the threat all Europe faces from declining competitiveness. It's a danger of which the Chancellor is acutely aware.
"I've experienced the collapse of a country," she said this year. "The economic system failed under the aegis of the Soviet Union.
"What I really don't want is to look on, eyes open, as Europe as a whole slips back."
Since first elected Chancellor, her appeal has rested on pragmatism, not ideology. Responding to the financial crisis, she invoked the prudent southern German "Swabian housewife [who would say] you can't live permanently beyond your means".
In her party's manifesto, Merkel has promised extra spending on roads and education and, in a nod to Germany's low birth rate, raising the child benefit.
She has vowed no new taxes, and opposes the Social Democrats' plans to raise the top rate of income tax on workers earning more than 100,000 ($167,300) a year.
Her re-election chances are boosted by Germany's strong economic prospects. Business optimism is at its highest level since April last year, and unemployment is low, although one in five Germans is in a tax-exempt "mini-job", earning 450 a month or less.
In Templin, about 9 per cent of the labour force is unemployed, compared with 5.5 per cent nationally.
"Living here is lovely," said Jutta Lootz, wife of shop owner Karl-Ernst, praising the region's idyllic landscape. "But you must have work, and there's no work, no opportunities."
There are a few glimmers of hope, however. Antje-Angela Uibel, head teacher of a school run by an evangelical foundation, says families with young children have started moving out of Berlin in search of a quieter life in the countryside. Some have even returned from western Germany.
"The people who come here are artists or small-scale businesses, trades like joiners," she said, and many who once left Templin were coming back. "When you go away and come back, you know what you missed," she said.
But, other than a passing visit, a return to the town where she spent her childhood will not be a prospect for Merkel for several years.