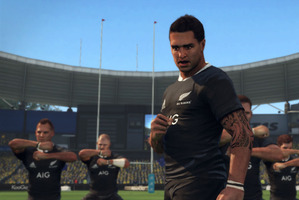 In development pretty much since the release of its predecessor, All Blacks Rugby Challenge 2 is a sequel in the mould of the IRB's seasonal tinkering: no revolution, but it carries various adjustments to the rules here and there for the sake of balance and the enjoyability of the spectacle.
In fact, some of Sidhe's changes simply reflect these IRB rule tweaks, keeping the game up to date with where rugby is today. For instance, there's an extra spot on the bench now (even for the 2013 Super Rugby season, which in reality only allows the traditional seven reserves) and a time limit on using the ball from the back of the ruck. You can even hear the new scrum calls being used.
One tweak is cosmetic. It was announced today that the All Blacks would appear in their current strip which includes the logo of insurance company AIG.
Other changes to the on-field gameplay include a rebalancing of offloads in the tackle.
Offloading is now a rather more risking option. It can still open the defensive lines up, but in the absence of a close support player, it's much more likely to result in a loose ball and the possibility of a counter attack by the opposition. Sidhe identified the ridiculous success rate of offloads as common complaint from Rugby Challenge fans, but I like to think this change is also a way of showing that Sonny Bill has made his exit from rugby union.
Rugby Challenge 2 also offers new ways of organising your AI teammates. There's no sudden change of direction from dynamic and fluid backlines to the rigid set moves of the HB Studios rugby games, but with new 'user strategies' you can do more advanced stuff with your offensive and defensive lines.
The game's fluidity is enhanced by the new advantage rulings. Granted, the ref doesn't always make the best calls (in particular, the calculations of when to come back for the penalty can be frustrating), but that's part of the game of rugby. The key point is that the game keeps moving.
And move it does. Despite building the role of the forwards and attempting to muscle up on defence, Rugby Challenge 2, like its predecessor, is at its heart a back's game. It plays the fast paced 'running rugby' of the All Blacks and Wallabies ...and with the South African teams still being a notable absence - who cares about their traditional playing style anyway, right?
There's also been some fine-tuning in the rucks. The basic mechanic of quick and heavy binding remains, but if you sense the battle is lost, you can now make a decision to unbind players and get them back into the defensive line (provided you're quick enough). For fans of our man Richie, there's more scope to push your luck at the breakdown with some 'creativity', too. But be careful: the penalties will flow thick and fast.
Just like the IRB, Sidhe and HES are also trying to expand into new territories. It is no secret that the big trophy licence this time around is for the British and Irish Lions. And this is more than just an added team. The 2013 Lions Tour mode takes you through this year's test series of Australia plus the warm-up and mid-week matches against Aussie Super Rugby Franchises, the Barbarians, and a Combined NSW and Queensland Country XV (all licenced). It's fantastic to see the whole tour and not just the three match series. However, a mark against this area of the game for me is that, while you get control of the match-day line-up, you can't actually select the 37-man touring squad yourself (so there's no chance to switch out Owen Farrell for steady boot Jonny Wilkinson).
As well as the Lions, I'm excited to see a big push toward the French market. The inclusion of the Pro D2 (French second-division) in addition to the Top 14 shows that there's a serious interest in France (which could possibly turn one of the fiscal powerhouses of the real sport into a game-changing market for digital rugby). There's even French commentary, featuring former 'Bleu' Thomas Lombard and sports journalist Éric Bayle, which I think I prefer to hearing Grant Nisbett and Justin Marshall all over again.
Unfortunately, it looks as though there might not be any other new licenses this time around (aside from doubling the number of world stadiums). Sidhe weren't able to confirm or deny, but it looks like the constituent nations of the Lions haven't been nabbed this time around, and neither have the French and Italian national sides. Rugby Challenge 3, maybe? In the meantime, the frustrating restrictions on customising national teams using the players licenced through their club sides (introduced in a patch for the first Rugby Challenge) appear to still be enforced.
Back and better than ever however, is the career mode. While it was nice just to get this at all in the first Rugby Challenge, the mode was not very well fleshed out. It had very limited transfer options and no budget-management or anything of that nature. In Rugby Challenge 2 though, you'll be able to make offers to whichever players you like during the transfer window (although if you're controlling a minor club, Dan Carter probably isn't going to return your calls). You can really pretend you're Toulon's Mourad Boudjellal, putting together a team of veteran mercenaries... provided you can fit them all within your salary cap. And if your recruiting drive gets you nowhere, there's a very real risk of getting fired.
Assigning monetary values to players will apparently also facilitate new options for online play, with players able to compete in a 'fantasy rugby'-type competition: picking a dream team and then duking it out with other virtual coaches around the world.
There's also some more peripheral improvements: more options in player customisation (particularly boot colours and the previously-lacking hairstyle options), new team customisation option, and a complete overhaul of the original game's clunky squad management interface.
Is it enough? Well, I don't think Rugby Challenge 2 is going to convert any of the first game's haters. Love it or not, the core gameplay is still the same. But for those who enjoyed the first season of Rugby Challenge (and who in many cases would have been thrilled just to fork out for revised squads) there's a lot to be happy about here. Not just in the expanded content, but also in the commitment to improving the overall experience of each match.
* All Blacks Rugby Challenge 2 will be released on Xbox 360 and PlayStation 3 on June 13.