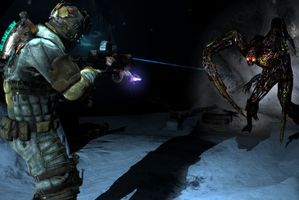 Dead Space 3, no matter how you slice it, is going to be controversial. The controversy stems not from any particular sequence in the game, nor does it come from the gore (which is definitely present).
Instead, fans of the series are up in arms about the fact that the franchise - once a stalwart bastion of the survival horror genre - seems to be marching ever onward to something more like an action shooter, perhaps, abandoning the scares in search of a larger audience.
Based on what I've now played of the game, I'd say that people who are hungry for frights are probably quite justified in their concerns; there weren't many on offer in the three levels I played through. But - and it's a big one - the experience, low on cheap thrills as it might have been, was fantastic nonetheless.
To start off with, for reasons unknown, I found myself aboard a spaceship that was currently undergoing some sort of catastrophic failure. My first task, then, was to escape alive - by way of hunting down the series-signature space suit and welding gun.
This was accomplished by striding meaningfully through a debris-strewn environment where, thanks to the disaster of unknown origin, the walls were often the floor and peril (such as death by vacuum in space) was seemingly no more than a cracked pane of glass away at any given moment.
So not exactly survival horror level of scary, but certainly tense. It's all delivered in the big-budget, blockbuster format we've come to expect from the best games at the business end of the console cycle, too. Loads of special effects were layered on top of the game assets, and, as a result, it all looked quite convincing. Linear as it was, finding my way out was great fun.
From there, things became even more movie-like as, now in space, I had to follow a fleeing escape pod through a cloud of debris and - once again, for reasons unknown - mines. This sequence is pure action game, with your goal restricted to merely dodging things (you can shoot mines if you want to, but there's no need) and your reaction times well tested. Again, it's hardly going to be the kind of news that excites the kind of fan that likes to be scared by their Dead Space experience, but as someone who's less enamored with survival horror games, I enjoyed it.
Once I arrived at my destination (and I'm being deliberately vague as even minor plot spoilers are no fun), I embarked on the third sequence of the session. This, the hardcore will be pleased to hear, was a much more traditional Dead Space experience.
Traversing the innards of a different spaceship, my goal was primarily rooted in simple survival. It is here, you see, that I first encountered the series' signature Necromorph baddies. While at no point did I leap back in horror, they're certainly not attractive to behold, and - on numerous occasions - their approach meant survival was far from guaranteed.
As usual, the Necromorphs can be tackled in a variety of ways; shooting their limbs is typically a good strategy, as you can actively impede their ability to close on you by selectively removing their legs (for example).
Weapons can be upgraded - a new feature to the franchise - by utilising the various parts you find on your adventures. This is done at a fairly rare "tool bench", only one of which I found on my romp through ship two's underbelly. Unfortunately, I found this before I found any parts, and was therefore unable to actually upgrade anything. It's an interesting idea, though, and having the ability to customise your weapons is rarely a bad thing.
After completing the central objective for this section of the demo, I was confronted by some sort of pro-tier Necromorph - a quicktime sequence which, in cinematic fashion, resulted in my total dismemberment. Presumably, in the full game, you'll be able to win this bit, but it was a nice way to close out the demo, because it was scary as hell - it wasn't until I played through it all again (and again...) that I remembered that the rest of it wasn't particularly frightening.
Is it everything you want from a Dead Space game? Chances are good that's a question that will have a wide variety of answers, depending on who you ask. As for me? I liked it, a lot. The fact that it also has full co-op support (which I didn't get to try) is similarly exciting, as this is an experience I'd like to share with a friend. But as I said earlier, I'm not a survival-horror nut, so take from that what you will.
* Dead Space 3 is out on February 8th, 2013, for Xbox 360, PC, and PS3.