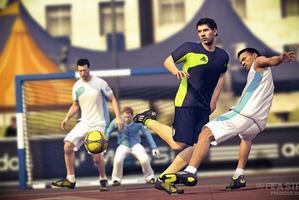 It was a bold move on EA's part to simply title this game FIFA Street, considering it is technically the fourth game in the franchise. But upon learning how far removed this game is to the original FIFA Street series, taking the line of the 'reboot' and forgetting the previous ones becomes logical.
While FIFA Street 3 (released early 2008) featured insane physics and grotesque caricatures of famous players, this latest rendition is based more firmly on reality. The ball isn't cemented to your boot-laces anymore and Peter Crouch almost looks like a human. This is all thanks to FIFA Street coming from the same studios who delivered us the near-perfect footballer, FIFA '12. Their tiresome work in character animations, ball physics, and deft controls have all come together beautifully in FIFA Street.
Imagine the beautiful game as we know it, shrunk down to suit a pint-sized pitch and set in urban playgrounds. As kids, knocking a ball around the backyard or down a dark alleyway (we all did this right?), with half a dozen mates was football at its rawest. No referees, small goals made out of cans, and a bunch of kids trying to pull off moves they just saw in a Nike advertisement.
FIFA Street brings all of this innocent, twinkle-toes magic together, while combining the actual sport of Futsal to give it a professional edge.
Because of the condensed playing surface and smaller team sizes, FIFA '12 and FIFA Street play in a completely different manner. While passing and through passes remain intact, lobbing and shooting the ball have been tweaked to suit the reduced pitches. Veterans of its bigger, older sibling FIFA '12 will need to adjust their usual playing style significantly.
Just like with normal Futsal, playing the ball along the ground direct to feet is key to quick and effective attacking play. Attempting to lob the ball, or even crossing it in front of goal, will often end up with lost possession and a quick counter attack.
The same goes for shooting, where accurate and light touches are more effective than attempting long range power shots. Especially due to the small goal sizes, which are a quarter (and sometimes even smaller again) than that of your traditional full-sized goal.
The changes in gameplay even filter down to the 'trick mechanics', which are obviously a large part of FIFA Street. Although it still revolves around the right analogue stick and trigger, many players will find themselves having to adjust to the more complicated and much larger array of tricks available in FIFA Street.
As you would expect, most of the tricks in this game have no real place on a proper football field either. We're talking double heel kicks, standing on the ball and rolling the ball between your shoulder blades. But unlike the previous Street title, all of these tricks are grounded in reality. There are no flaming power balls here. In fact, chances are half the population of Brazil's street kids can probably pull them off with ease.
While FIFA Street lacks the depth of FIFA '12, it still packs in a decent amount of gameplay. The Freeplay Mode is broken down into four game types; 5 a Side, Panna Rules, Futsal, and Last Man Standing. The 5 a Side is self-explanatory, except the courts you play on are usually walled off, meaning there are no out-of-plays except for big deflections. The end result is frantic non-stop end to end football.
Panna Rules requires a serious amount of flair to your game as players are rewarded for pulling off tricks to pass opponents, with special bonus points for knocking the ball through their legs or using the walls to your advantage. The more opponents you successfully blitz past before scoring a goal amplifies how many points you score. As soon as a goal is scored, both teams have their trick count reduced to zero and the process starts again.
Futsal is the official sport of indoor (or half) football and takes place in proper arenas, with two five-man sides including a dedicated goalkeeper. In Futsal, positioning is more important with defending and attacking players keeping some light formations. Because of the keepers, the goal sizes are larger and wider, but still a quarter of the size of normal football goal mouths. There are also side lines where the ball can go out that restrict mad runs down the wings.
The last preset mode, Last Man Standing is probably one of the more interesting ways to play FIFA Street. Each side starts off with four players (no goalie) and, upon scoring a goal, the goal-scoring team loses a player. The game ends when all of YOUR OWN team have been eliminated, or thusly have scored 4 goals. As you can imagine, losing players gives your side a handicap so the end result is nail-bitingly close scrambles as you eventually get down to one on one showdowns.
On top of these four preset modes, FIFA Street also includes Custom Matches where players can tweak any number of options including number of players, no goalkeepers, time based or scoreline based matches and so fourth. Adding to the customisation options is a massive wealth of unlockable items like clothing, hats, glasses, boots and so fourth to kit out your team with. As you progress and earn points from winning matches, you'll also be able to unlock (or purchase) extra skills, tricks and celebrations.
In terms of campaign mode, FIFA Street has a simplified, but worthwhile World Tour storyline where players work their way up from the suburban backyards to sponsored Futsal tournaments around the world. You and your custom team will be jet-setting around the globe visiting places like Rio, Dubai, Shanghai or New York and competing in a range of game types, combining the four modes previously mentioned. Naturally you'll meet some of the world's best players, with the likes of Messi, Rooney and Beckham all making an appearance in random teams. FIFA '12 players can import their Virtual Pro players, or create new identities within the game and as team captain, you can name your team, design your own emblem and recruit new players to join the cause. For all of these modes, including World Tour, FIFA Street includes up to four player multiplayer, both local and online.
There's no question that FIFA Street is a great knock-around game and a perfect option for those who don't want the serious, simulator-esque nature of FIFA '12. However there are elements to Street that lack that high level of polish that we've come to expect in FIFA games. The soundtrack is solid, but is without the big artist names of previous games. However more importantly, the in-game vocal effects are insanely repetitive and without any form of commentary, end up dominating your game experience. Instead of background banter like yelling and cheering on an urban basketball court, you'll be hearing the same yelp over and over again. "Focus, focus.... nice finish...nice finish.... focus, focus....", etc. We recommend turning down the volume and thankfully FIFA Street lets you adjust each audio layer.
The settings aren't nearly as diverse as FIFA '12 either, with only 3 difficulty settings and a restrictive 2 camera views to try out. The celebrations engine seems to have disappeared, replaced instead with a single animation preset that you can select before each game. Strange considering FIFA Street is all about over-the-top theatrics.
Furthermore the menu structures in the game are clunky and poorly thought out, often with different options available from the front menu, as opposed to the ingame menu. With some searching around, players will find out they can 'lock on' to a single player in a match, like Virtual Pro mode, rather than control the whole team. But this setting needs to be activated every time you start a match, rather than revealed as a proper mode. A frustrating and an oddly amateurish move on EA's part.
And lastly, I've always had a gripe about FIFA's AI. While FIFA '12 was brilliant and a welcome improvement, there is still that frustrating element of intelligent play amongst your own team. Instead of finding space or running down the sideline to anticipate a pass, they'll stand in your way and look confused. This lack of intelligent movement off the ball puts a dampener of FIFA Street and is compounded by the fact that there are only a couple of other players in which to pass it to. Because of this, FIFA Street is definitely a game best enjoyed with human teammates, who will hopefully be positioning themselves for passes and attempts on goal rather than standing around like a lemon.
It was issues like this that made me feel that FIFA Street could instead be a part of FIFA '13 as an extra game mode (or as DLC), rather than a full retail game. Maybe it still will be, but until that time, FIFA Street is going to keep fans satisfied. It's far better suited as a quick kick-around, 'pick up and play game' than it's older and far more serious FIFA sibling - especially with friends. It's also a welcomed change from the previous over the top arcade 'big-head' nonsense of FIFA Street 3.
Stars: 4/5
Platform: Xbox 360/PS3