• Rolling coverage of the 100th anniversary of the Gallipoli landings in New Zealand and Turkey from our team of reporters and photographers. All times in NZST.
• Your Anzac Day, your photos: The New Zealand Herald wants to share how you are commemorating the centenary and build up a permanent digital record of the day. Share your Anzac Day photos here. Or tweet or Instagram your Anzac Day photo with @nzherald and the hashtag #YourAnzacDay
Kiwis reactions at Chunuk Bair
Anna Hughes, a 24-year-old farmer from Rotorua living in Scotland, was blown away by the Chunuk Bair service.
"It was so special to be here," she said.
After what was a "pretty wow" dawn service, she joined the thousands of other Kiwis and Australians who walked from Anzac Cove up Artillery Road to Lone Pine, and on to Chunuk Bair.
"It was like a pilgrimage - it was really nice."
She stopped at "four or five" cemeteries. The thing that really struck her was that many of the dead were younger than her.
"So many people wanted to be here and couldn't, so it's been a privilege to be here."
Josh and Jaylene Young visited Gallipoli as part of a World War I tour that also includes Passchendaele and Belgium.
"It was really nice. It was a little bit less formal than the Dawn Service," Mr Young said.
"It's about the sacrifice our boys gave."
Amy Wade said visiting Chunuk Bair and Gallipoli was a trip of a lifetime.
"When the Youth Ambassadors sang Welcome Home by Dave Dobbyn. That made me a bit homesick and I remembered why I'm proud to be a Kiwi. I even got a bit misty eyed."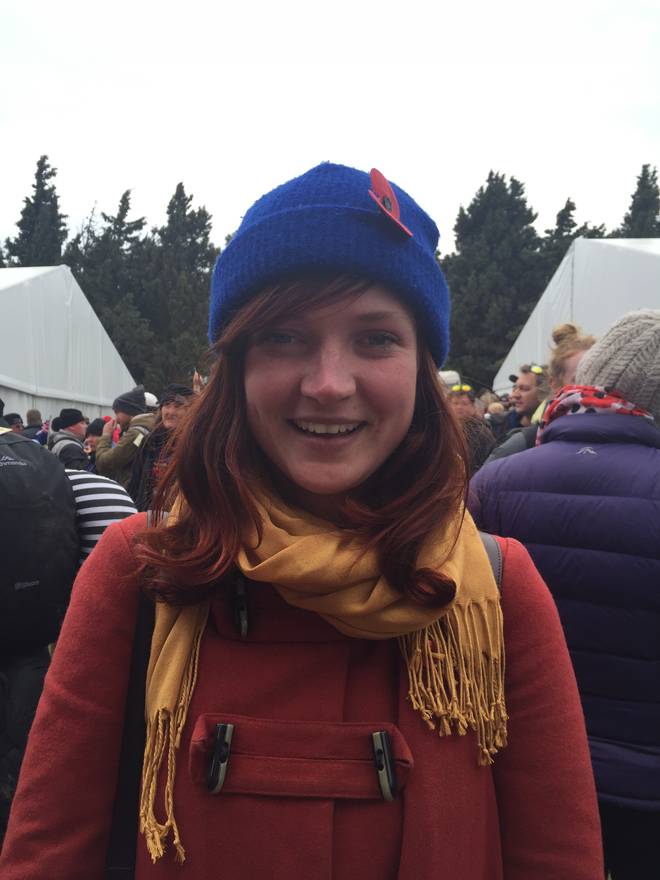 11.44pm
The official part of the service has now concluded, and once again the crowd is standing to sing the final waiata, Pö atarau (Now Is the Hour).
11.41pm
As the crowds, veterans and distinguished officials continue to stand, the New Zealand national anthem is being played.
The Catafalque Party is now being dismounted.
11.40pm
The Revielle was then played, and the Turkish national anthem is now being sung.
11.35pm
Tama Andrews from the New Zealand Defence Force, and President of the Royal New Zealand Returned and Services Association Barry Clark recited the Act of Remembrance.
The last post is now being played by a bugler.
The crowd have taken a minute of silence.
11.25pm
The crowds, veterans and distinguished officials are led in prayer.
11.25pm
His Royal Highness the Prince of Wales is first invited to lay a wreath in honor of the fallen.
The second wreath was laid by New Zealand Prime Minister John Key and his wife, Bronagh.
A wreath was then laid by Volkan Bozkir, on behalf of the Republic of Turkey.
Australian Prime Minister Tony Abbott, and his wife Margaret, then laid a wreath on behalf of the Government and people of Australia.
Wreaths are being laid on behalf of Ireland, The Republic of Bangladesh, Canada, the French Republic, and the Republic of Germany.
This is followed by wreaths being laid by representatives from the The Hellenic Republic of Greece, The Republic of Hungary, as well as The Republic of India and the Islamic Republic of Pakistan.
A representative of United Kingdom and Northern Ireland has laid a wreath.
Rear Admiral Ken Doonan has laid a wreath on behalf of the Australian Veterans, and Sir Joe French has laid a wreath on behalf of the Commonwealth War Graves Commission.
11.23pm
"I know you will never forget me or let the dear children do so. I am prepared for death and hope that god will have forgiven me all my sins.
"My desire for life so I may see and be with you again could not be greater."
Chief of the New Zealand Defence Force, Tim Keating, is reading an extract from the reflections of Dan Curham.
Dan Curham was a member of the Wellington Battalion, and one of a group of men ordered to bring a machine gun up to Chunuk Bair.
In the extract, Mr Curham explained how "speaking of Gallipoli, especially Chunuk Bair, brings sorrow to my heart."
11.20pm
Minister of Veterans' Affair, Craig Foss reads Lieutenant Colonel William Malone's last letter to his wife.
Lieutenant Colonel William Malone commanded the Wellington Infantry Battalion at the assault on Chunuk Bair on August 8, 1915.
He was killed in the battle that ensued, and remains among the many New Zealanders with no known grave at Gallipoli.
"My sweetheart in less than two hours we move off to a valley where we will be up all night and tomorrow in readiness for a big attack which will start tomorrow night.
"Everything promises well and victory should be with us.
"Dear wife if anything untoward happens to me you must not grieve too much there are our dear children to be brought up."
11.15pm
Prince Henry of Wales is delivering the second reading, an excerpt from an unidentified member of the Canterbury Mounted Rifles, from August 17, 1915.
11.08pm
The crowd is now standing, to sing the first waiata, Whakaaria Mai.
11.04pm
Prime Minister John Key begins his commemorative address, on behalf of the nation:
"There are places on this peninsula whose names will never be forgotten.
Each country remembers where their soldiers fought, and where they fell.
Places where extraordinary bravery was shown, in unspeakable conditions.
For New Zealanders, nowhere in Gallipoli is more special than here on Chunuk Bair.
It was not the scene of a great triumph.
But it was the closest the Allied forces came to making a breakthrough in the whole Gallipoli campaign.
And it was led by a few hundred Kiwis, 10,000 miles from home.
We are the descendants and countrymen of the New Zealanders who fought and died on this hilltop.
From here we see the terrain that Colonel William Malone and his men in the Wellington Battalion made out as the dawn rose, almost 100 years ago.
We do not come merely as sightseers.
We come to feel closer to those who came here before us, 100 years ago.
By being here, we can imagine them climbing this hill with rifle in hand, squinting in the dark. Alert. Apprehensive.
We can see why this range of hills was so important - it's the highest ground for many miles.
Australian and New Zealand units began attacking this range, and the approaches to it, on August 6, 1915.
The Auckland Battalion tried to take Chunuk Bair but was forced back with heavy casualties.
Next in line was the Wellington Battalion, but its commanding officer, Colonel Malone, refused to send his men to their certain deaths in a daylight attack.
They waited until night fell.
Shortly after 3am the New Zealanders, together with some British soldiers, reached the summit where we are now standing.
For the next day they held this position against repeated attacks.
They fought with their rifles and their bayonets, with only one trench for shelter.
Almost all of the Wellington Battalion were killed or wounded including, Colonel Malone.
He was but one of the 2700 New Zealanders to die on this peninsula during the Gallipoli campaign.
One more telegram bearing the news that one more family prayed never to receive.
As night fell, the survivors were relieved, but the hilltop was soon recaptured by Ottoman Turkish troops.
Their commander was Mustafa Kemal, who later became a great leader and the first President of Turkey.
On a hill by the sea in Wellington there is a monument - the Ataturk memorial - that remembers the man and the soldiers who died defending their homeland.
Like the New Zealanders, they were brave, and were mourned by their grieving families and friends.
Today, I want to acknowledge them, as well as the young men from many other countries who fought and died on this peninsula.
And I want to thank the Turkish government and people.
It is their understanding and generosity that enables us to come to Gallipoli each year and it has made possible this one hundredth commemoration.
There is no way to sanitise what took place here in Gallipoli and nor should we try.
Over a few months, 100 years ago, tens of thousands of men died on the hills that surround us and on the beaches below us.
The geography helps us understand the military campaign, but it is the historical and cultural significance that is more enduring.
The sacrifice of so many men from such a small country as New Zealand was harrowing.
Our losses and achievements here and elsewhere in the First World War, had a profound effect on New Zealand's view of its abilities, its identity and, ultimately, its sovereignty.
Over the past century, our country's role in this and other campaigns has been widely debated.
But what can never be doubted is the fact that the soldiers who fought here, on both sides, served their countries with great courage and honour.
No more could have been asked of them then than what they gave.
And there is no more we can give them now than our respect.
And to renew the pledge we make on this day, every year - that we will always remember them."
10.59pm
The New Zealand Ambassador to the Republic of Turkey, Jonathan Curr, is delivering the welcoming address.
"You are here today on sacred ground. It has been sanctified by the shedding of blood. The blood of soldiers from all nations who fought and died here 100 years ago. It is in their memory that we gather."
He said Chunuk Bair was a place where men gave their lives in a battle that lasted only two days.
"That so many of you have made this journey to share in this occasion with New Zealand and her people speaks to the importance of this place and to our shared history and experiences.
"Where once without allies we may have been enemies, we are now, all of us, friends.
"This place, this sacred place, now represents peace and remembrance."
Lieutenant Colonel Michael Duncan from the New Zealand Army is delivering the first reading.
10.54pm
The mounting of the Catafalque Party is now taking place.
10.45pm
The New Zealand Service at Chunuk Bair has kicked off with a Karanga in front of the New Zealand memorial. It is 1.45pm in Turkey.
A welcome and opening prayer is taking place.
9.58pm
9.50pm
The New Zealand service at Chunuk Bair in Gallipoli is due to start at 10.45pm (NZT).
9.42pm
Watch video highlights from today's Anzac Cove ceremony, compiled by Alan Gibson, here:
Video will play in
Play now
Don't auto play
Never auto play
9.36pm
9.23pm
9.16pm
Britain is officially commemorating Gallipoli as a national event for the first time.
9.05pm
Prince Harry said it was difficult to imagine the carnage and desperation of the fighting that took place at Lone Pine.
"But it was in this spot that many acts of valour were witnessed and despite the number of Victoria Crosses awarded for the fighting here, most of these acts went unrecognised," he told the crowd.
Prince Harry, who spent a month on secondment with the Australian army, said the most sacred bond between soldiers was the unspoken pact that if the situation demanded they would lay down their lives for each other.
"This great bond, these self-sacrificing actions, display the extremes to which soldiers will go to for their duty and for each other," he said after reading an account from a member of the First Battalion.
"While we honour their bravery, we must also remember the emotional cost, the guilt, the sorrow, and mental anguish of those who survived."
8.48pm
Speaking at Lone Pine, Australian defence force chief Mark Binskin said the Anzacs squared their shoulders and prepared to confront the enemy again at Lone Pine on August 6, 1915, 104 days after the Gallipoli landings.
Those who survived the first 100 days had already endured the terrible reality of war, he said.
"As the August offensive began, some remarked that it felt like 25 April all over again," Air Chief Marshal Binskin said.
"The Gallipoli campaign exacted a heavy toll that left an indelible scar on our nation."
The more than 8000 Australians who died here were ordinary men who found extraordinary determination and bravery on the sands of Gallipoli, he said.
"And while we will never fully understand what they suffered in the name of duty, we honour them and the actions that inspired the Anzac spirit: unconditional loyalty to mateship, endurance in hardship, courage even in the face of certain death, sacrifice in the name of service.
"These are the enduring values that emerge from the Gallipoli campaign. They are characteristics of those who fought here and the values we continue to honour and admire."
8.34pm
8.29pm
The landing of Australian and New Zealand troops at Gallipoli was a watershed moment in Australia's history, a service at Lone Pine has heard.
Veterans Affairs Minister Michael Ronaldson said those at the service stood in awe of the efforts of the first Anzacs.
"We are rightly proud of their achievements," he said.
Australian Prime Minister Tony Abbott, his New Zealand counterpart John Key, Prince Charles and Prince Harry are at the Australian service at Lone Pine after attending the Gallipoli dawn service.
Veterans in the crowd and serving defence force members stood up at the beginning of the service to long applause.
8.02pm
The service at Lone Pine is set to begin, where guest Prince Harry has been met with a standing ovation from the crowd.
7.58pm
Prince Harry has charmed 10 Australian widows whose husbands served in the First World War when he met them at an event in Turkey to mark the doomed Gallipoli campaign.
"The age gap must have been quite something," he said. "You look as if you're in your thirties now."
Prince Harry and Prince Charles were given iconic Akubra hats by the group.
Harry delighted 91-year-old Ruth Littler by giving her a peck on the cheek in return.
"I'll never wash it off," said Mrs Littler, the second wife of Lieutenant Guy Littler, who won the Military Cross in Flanders.
"He served for King and country - that's what it was all about," she said. "So all this would have meant a lot to him."
7.53pm
Some are commemorating Anzac Day at mass. Here are a couple of tweets from churchgoers in Australia.
7.32pm
Hawke's Bay Today photos from the Anzac military parade in Hastings today.
7.21pm
On April 25 in 1916, exactly 12 months after the Gallipoli landings, King George V joined thousands of Londoners at a ceremony to honour the force that became known as the Anzacs.
At dawn on Saturday, on a cold and drizzly London morning, close to 5000 men, women and bleary-eyed children thronged to the Wellington Arch at Hyde Park Corner to remember the soldiers who served and died in that most bloody of campaigns.
Emily Bonney, 29, and 30-year-old Amanda Morris from Brisbane live and work in London and queued together from 2.30am to grab a good spot.
"It's a really Australian thing, patriotic, and it brings us all together to remember the efforts of the Anzacs," Ms Bonney told AAP.
"For me, it is uplifting and important to remember what people who came before did for us and the sacrifices made," Ms Morris said.
Princess Ann represented the royal family at the service, which was also attended by Attorney-General George Brandis and Australian High Commissioner Alexander Downer.
Senator Brandis told the crowd the Anzac legend remains a founding epic of Federation itself, and forged and cemented the relationship between Australia and New Zealand.
Sir Lockwood Smith, New Zealand's High Commissioner, said no family escaped unscathed from the horrors of the Great War.
"My own grandmother's first fiance, the first real love of her life, lies buried at Lone Pine - a Kiwi alongside his Australian mates," he said, his voice audibly catching with emotion.
As the last notes of the The Last Post played and silence descended over Hyde Park Corner, a lone seagull cried out in the light of the dawn.
The Queen, the Duke of Edinburgh and Prince William will on Saturday attend a wreath-laying at London's Cenotaph to mark the occasion.
A service of remembrance at Westminster Abbey will also be attended by the Queen and the Duke of Edinburgh.
Speaking after the ceremony, Mr Downer said Princess Ann had found the ceremony very moving and he was very proud and pleased with the event and the size of the crowd.
- AAP
7.08pm
Giant poppies, roaring jets and a rum-spiked latte - this was Brisbane's unlikely recipe for an unforgettable Anzac Day march.
A huge crowd lined Adelaide Street to cheer on veterans, current troops, descendants and other service personnel.
The throng easily numbered more than 40,000, RSL South Eastern District president Wendy Taylor said.
"If you looked back, there were people six deep," she said.
"It's bigger and better than it's been for a long time."
- AAP
6.50pm
6.45pm
"When the French think about the Anzacs, they think of their courage, and they are eternally grateful."
France has paid homage to the Anzacs, saying it is eternally grateful for the courage of the hero diggers.
Speaking on behalf of the French Government at a wet and sombre dawn service outside the village of Villers-Bretonneux, local politician Pascale Boistard said in the daily horror of the Western Front, the Anzacs had forged a legend.
"When the French think about the Anzacs, they think of their courage, and they are eternally grateful," Ms Boistard told those at the Australian National Memorial.
"They were heroes. France understands what it owes them. French people will never forget those who came to fight at their side on their soil."
Villers-Bretonneux was the site of one of the key battles in World War I where the Australians stopped the German forces advancing towards Paris, turning the course of the war.
Their success however came at a huge cost. More than 1200 soldiers were killed or wounded in the battle which began on the night of April 24, 1918.
The casualties made up heavy losses suffered on the Western Front, with 46,000 of the 295,000 who served in France and Belgium never making it home.
- AAP
6.33pm
More photos from Herald photographer Alan Gibson in Gallipoli.
6.15pm
Tinui: Home to the world's first Anzac Day service
5.40pm
Record numbers celebrated Anzac Day in the historic village of Tinui today.
The Wairarapa township was the first place in the world to commemorate Anzac Day, at 7.30am on April 26, 1916 - just a year after the Gallipoli landings.
More than 2000 people attended today's 10.30am service, compared to the usual 1000. Organisers expect attendance to double again for the centenary next year.
Tinui Anzac Trust chairman Alan Emerson said more than 500 people walked to the hilltop cross where the first service was held 99 years ago.
"We always say, if you can't get to Gallipoli you're more than welcome at Tinui.
"Up there [by the cross] it's an absolutely panoramic view of the area. The feature is very similar to Chunuk Bair in Gallipoli."
Key speaker Sergeant Major Bob Davies made a real impact, Mr Emerson said.
Sergeant Major Davies served in Vietnam, Malaysia and Singapore and as a United Nations peacekeeper in Sinai before becoming Sergeant Major of the Army.
He was made a Member of the Most Excellent Order of the British Empire in 1987 and received the Meritorious Service Medal in 1993.
The Manawatu Pipe Band opened proceedings and three vintage World War I aircraft flew over the service.
It was a momentous occasion for both visitors and locals, Mr Emerson said.
"It was a beautiful day in Tinui. The pub was fair booming afterwards with people coming in and having a coffee or a beer and meeting the locals.
"It went really well."
5.32pm
A selection of #YourAnzacDay tweets from our readers.
5.19pm
5.15pm
"Time and the perspective of history have cast the Gallipoli campaign, and some of the military decisions that were made, in a different light.
"But 100 years ago, both sides were doing what they believed was right, and what they believed was necessary.
"There was something else the Anzac troops landing here at Gallipoli did not know as they first struggled onto this foreign soil.
"It was that their bravery and unity would help to forge the Anzac bond and reputation that endures to this day."
Read the full text of Prime Minister John Key's speech at Gallipoli here.

4.55pm
Neither rain nor terror threat stopped Victorians turning out in record numbers to remember sacrifices made in wars at Anzac Day centenary commemorations.
In a show of unity following a foiled terror plot aimed at Anzac Day, about 100,000 people huddled under umbrellas in the chilly dawn at Melbourne's Shrine of Remembrance.
Shrine of Remembrance chief executive Denis Baguley said the crowd showed Victorians would not give in to threats.
"There was always a concern [of terrorism], especially with the dawn service where people arrive in the dark," he said.
- AAP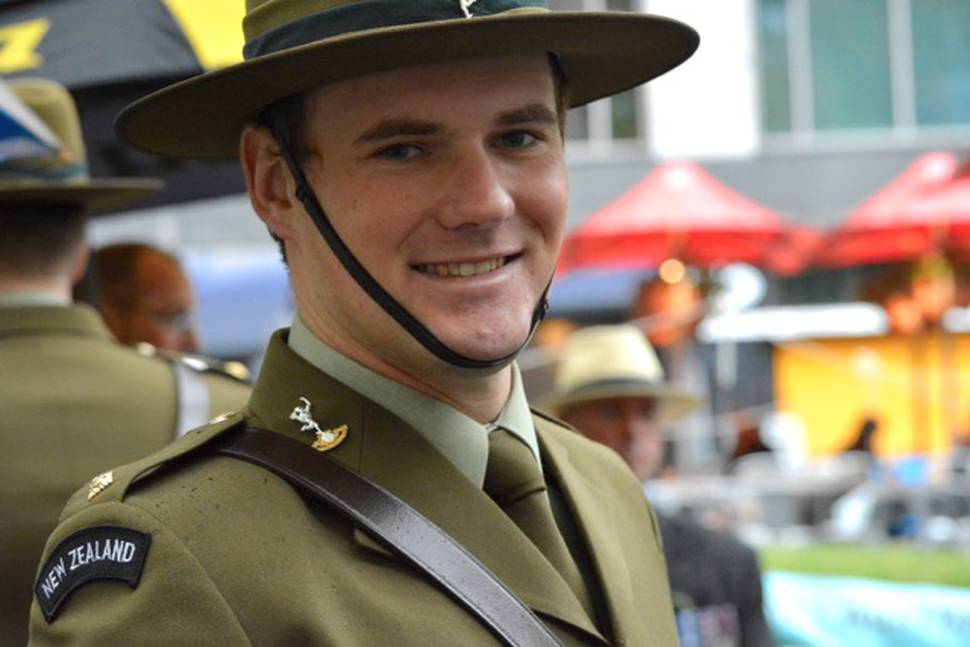 4.39pm
Herald photographer Alan Gibson captured these images at the Anzac service in Gallipoli this morning.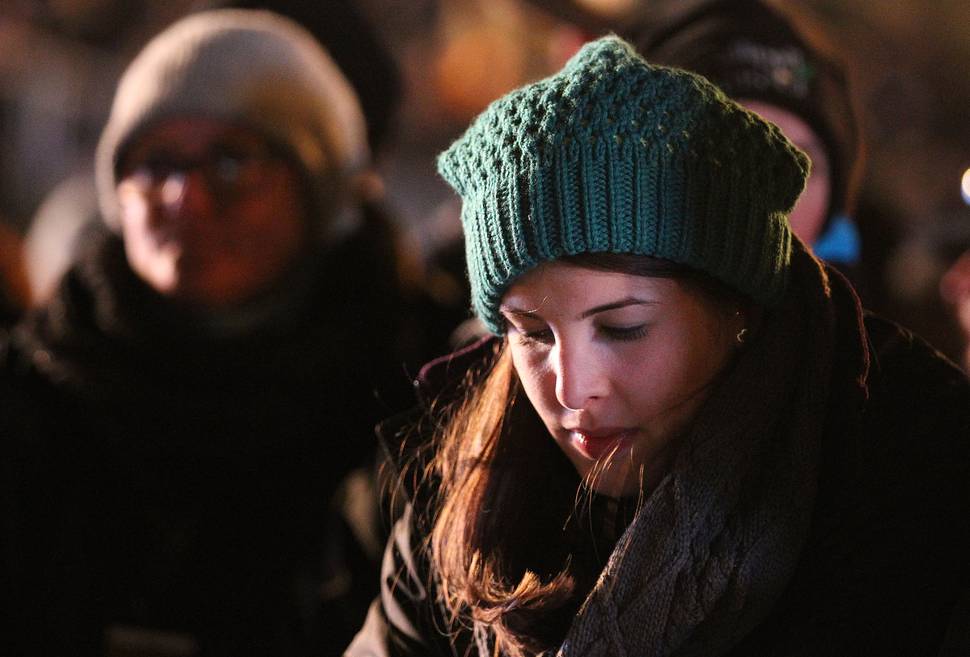 4.30pm
Kurt Bayer reports from Gallipoli
David Comerford, a 43-year-old from Christchurch who has been living in Holland, felt a "powerful" patriotic connection after the service.
"Having been away from home for a year, it felt like a true New Zealand experience," he said.
"I was holding back, I suppose, tears... emotion.
"It was something I always wanted to do. It's a very big New Zealand experience to do at some stage in your life."
4.29pm
4.27pm
Tens of thousands of Queenslanders have converged on Brisbane's CBD to mark the Anzac centenary.
Up to 30,000 people were expected to line the streets in a record turnout.
But RSL officials said it was likely at least 10,000 more than that came to watch as veterans, descendants and troops from local barracks marched.
A similar crowd - one of the biggest in Brisbane's history - had already crammed into Anzac Square for the dawn service.
All up, about 10,000 people took part in the sun-soaked parade: 153 units and an historical display of tanks, horses and army bands filing through the city.
- AAP
4.15pm
More from Kurt Bayer in Gallipoli
Stuart and Allison Nicol from Wellington were "overwhelmed" by the dawn service.
Mr Nicol's father Harold served at Gallipoli with the South Canterbury Mounted Rifles.

"I thought I would've soldiered through the service but... I wish he could've been here," an emotional Mr Nicol, 77, said.
"I always meant to come and now I can imagine it as he saw it.
"I have a whole new appreciation of what he went through and I feel this service has paid him and the others a great honour."
4.13pm
From the Anzac Day parade in Perth
The applause from the crowd was non-stop for Perth's Anzac Day parade marchers, while the veterans enjoyed the chance to reunite and catch up.
The loudest clapping during the one-and-a-half hour event was reserved for the older diggers who rode in jeeps, one bearing the sign "atomic survivors".
HMAS Stirling warrant officer Scott Campbell said the rest of the day would be spent having a family lunch then watching the football.
But it was not a day to drink excessively, he said.
"There's a change in culture. It's no longer seen as respectful to use the day as an excuse to drink too much."
- AAP
3.59pm
3.56pm
The latest from NZME. news service reporter Kurt Bayer in Gallipoli
Paul and Karen Thurston from ngaruawahia were impressed by the service.

Mr Thurston said it was nice to see the princes here, and the New Zealand and Australia prime ministers laying a wreath together, showing the "Anzac bond".
His great grandfather Andrew Peters served with Wellington Mounted Rifles at Gallipoli.
To return a century after his long lost relative was a "very humbling experience", he said.
"Bring the centenary and all, I feel very privileged to be here," said Mr Thurston.
"The whole thing lived up to expectations... And then some."
3.41pm
The dawn parade in Wellington was led by Governor General Sir Jerry Mateparae and Australia's Governor General Sir Peter Cosgrove who spoke to the thousands attending.
Also among the crowd were deputy Prime Minister Bill English, Labour Party MP Grant Robertson, representing the opposition and Victoria Cross holder Willie Apiata.
3.36pm
3.30pm
The Turkish, Australian and New Zealand national anthems are sung.
The New Zealand national anthem is sung by Rebecca Nelson before the service closes.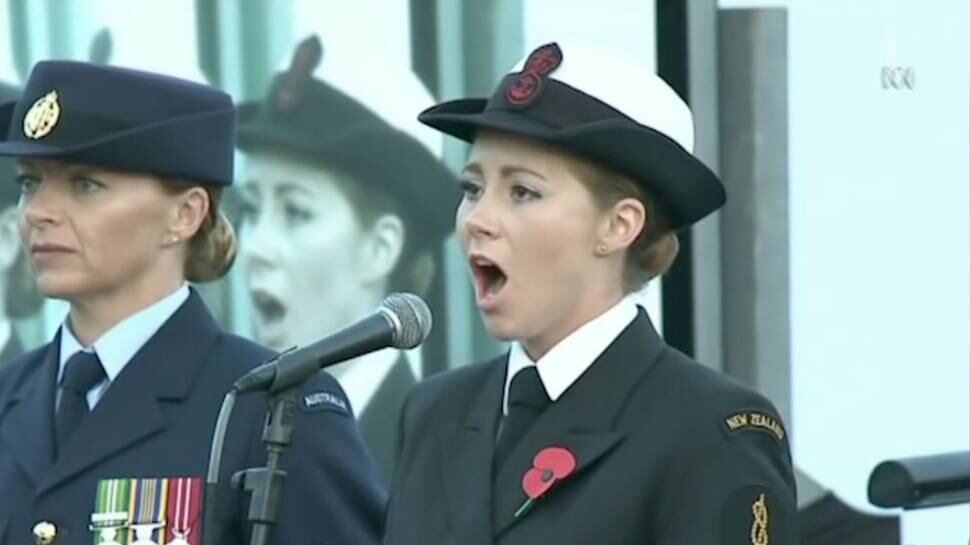 3.28pm
The Reveille is played as the New Zealand and Australian flags are raised.
3.27pm
The Last Post is played by a bugler, followed a minute of silence. All that can be heard is the lapping of the Aegean Sea.
3.25pm
New Zealand Chief of Defence Lieutenant General Tim Keating recited the Ode of Remembrance to a silent and waiting crowd.
"At the going down of the sun and in the morning we will remember them. Lest we forget," he finished.
3.22pm
The sky lightens as wreaths are laid on behalf of Turkey, Ireland, the French Republic, Canada, the Republic of Nepal, India, the United Kingdom, Greece, Germany, Pakistan, Hungary and Bangladesh.
3.19pm
The latest in our #GallipoliFlashback series.
3.15pm
Australian Monsignor Glynn Murphy leads the Prayer of Remembrance.
"We remember all who have suffered the horrors of war in our world."
Bagpipes are heard as the official wreath-laying is opened by Prince Charles of Wales.
The second wreath was laid jointly by Australian Prime Minister Tony Abbott and New Zealand Prime Minister John Key.
3.13pm
3.07pm
Prince Charles of Wales delivers a reading from a letter by Lieutenant Ken Miller.
"There was the question of our dead mates. We lived at Gallipoli with our dead alongside us."
Prince Charles said today was about looking back.
"Here today we remember his sacrifice and that of all those who served and suffered in this far away place on the other side of the world in Antipodes."
3.02pm
Australian Prime Minister Tony Abbott says people journey to Gallipoli, year after year, to honour the soldiers who died for their countries.
"It is 100 years since Australians and New Zealanders splashed out of the sea right here.
"So now we gather in the cold and dark before dawn wondering what to say and how to honour those whose bones rest in the hills and the valleys of others and whose spirit has moved our people for a century."
Mr Abbott said the soldiers who fought in Gallipoli became the founding heroes of modern Australia.
The survivors of Gallipoli went on to become some of the world's greatest soldiers, he said.
"Ordinary men did extraordinary things. They lived with death and dined with disease because that was where their duty lay.
"If they were not still emblematic of the nation we think we are, none of us would be here. But like every generation since, we are here on Gallipoli because we believe that the Anzacs represented Australia at our best."
Mr Abbot said the Anzac soldiers served an example for everyone in modern Australia.
"So much has changed in 100 years but not the things that really matter. Duty, selflessness, moral courage - always these remain the mar of a decent human being. They did their duty now let us do ours."
2.57pm
An inspired and original interactive community art installation, The Giant Poppy, has been completed in the Auckland Domain for ANZAC Day with the laying of 59,000 red metal poppy petals (honouring those wounded and killed in WW1) which include 25,000 personal messages from Aucklanders who have visited the Domain or online donations from New Zealanders all over the country and the world.
Herald app users tap here to watch The Giant Poppy timelapse.
2.54pm
The hymn God of our Fathers is being sung in the darkness.
2.49pm
Mr Key says he will not say "Lest we forget" this year.
"Usually at these services we say lest we forget...but today I will not say lest we forget because after 100 years we can say on this day, April 25th 2015, we remember."
2.45pm
Prime Minister John Key addresses the silent crowd of thousands.
"On this beach, on this day, at this hour, exactly 100 years ago the first Anzac troops came ashore.
"Time and perspective of history have cast the Gallipoli campaign and some of the decisions that were made in a different light. But 100 years ago both sides were doing what they believed was right and what they believed was necessary."
Mr Key salutes the bravery of the troops who fought on the shores of Anzac Cove.
Every place a New Zealander has died serving the country is a part of its history but today was about the New Zealand troops lost at Gallipoli, he said.
"The very name is evocative.
"While this was a place of courage, heroism and duty it was also a place of fear and waste and loss."
2.41pm
The Gallipoli dawn service has kicked off with a welcome by Major General Mark Kelly. It is 5.30am in Turkey.
The mounting of the Catafalque Party is taking place by members of Australia's Federation Guard and the New Zealand Defence Force.
Australian Chief of Defence Mark Binskin delivers the Call to Remembrance.
"Today we honour all those Australian and NZ soldiers who landed at Gallipoli especially those who gave their lives in the service of our countries. It's our promise to remember them always and it is right that we do it at this time on this day at this place. This is where the Anzac legend was born, at great cost.
"Here, they lie in sacred soil. Here we honour their spirit that lives amongst us. And here, we will remember them."
- Lauren Priestly in Auckland

2.40pm
Remember to care
Help us raise funds for the RSA
#PinAPoppy and honour the memory of those who have gone before by caring for those still with us. Donate and pin a poppy on your social profile to show your support for the RSA.
#PinAPoppy and Show Your Support
Text "PINAPOPPY" to 4662 to donate $3 and receive your digital poppy. Or donate online

2.39pm
2.35pm
The Anzac service in Gallipoli has begun. App users watch the live stream here.
2.33pm
A letter from Lieutenant Charles Hamilton Loughnan describes the "bloodiest bit of fighting in history" at Gallipoli in 1915.
The former New Zealander travelled to England in 1914 to study law but arrived to find war had broken out, his grandson Bill Werry said.
He landed on the shores of Gallipoli in 1915 and took up defence positions with the New Zealand and Australian Army Corps.
"I say glibly, in one great rush, but it was a whole night's desperate fighting and cost I dare not say what?"
2.25pm
2.21pm
Prince Charles, heir to the British throne, and his son Prince Harry pay their respects to the tens of thousands of British troops who died at the Battle of Gallipoli, laying wreaths and recalling the suffering of the soldiers.
App users tap here to watch 'Britain's Prince Charles remembers suffering of Gallipoli troops'
2.15pm
People show up for Anzac services around Australia
Sydney
Canberra
1.58pm
Chilly autumnal weather did not stop about 500 Westport people from turning up this morning to commemorate the 100th anniversary of the Gallipoli landings.
Westport's municipal band led the Anzac parade from Palmerston St to the Gates of Remembrance.
Buller District Council Mayor Garry Howard gave the opening address, telling the crowd 2779 New Zealanders gave their lives to Gallipoli.
The four ponies that were dressed in medical uniform and towed carts during the parade were a reminder that it was not just men and women who lost their lives, but many animals as well, he said.
Mr Howard said he was "very impressed" with the amount of respect Westport children had displayed in the days leading up to, and day of, the service.
He said there had been a "near continual stream" of children visiting the Gates of Remembrance.
Guest speaker HMNZS Hawea commanding officer Lieutenant Anthony Norris said in 1915, 10 percent of New Zealanders responded to the call from the British Empire to join them in fighting the war.
New Zealanders at the time were very proud of their association with Britain.
Four years later, however, when one in three New Zealanders were seriously and directly affected by the grief and the trauma of war, the country's "idea with being British" weakened.
Mr Norris said New Zealanders began identifying as New Zealanders, when it became clear just how large the scale of tragedy was.
We united as a people in shock and in grief, he said.
Pupils from all four of Westport's schools spoke, some reading poems about war.
Buller High School pupil Tony Carleton reflected upon the fact that many of the soldiers were his age when they left.
"If this were 100 years ago, we would have been asked to serve," he said.
1.56pm
Our #GallipoliFlashback tracks the sequence of events during the first day of the Anzac landing minute by minute.
1.51pm
Photos: Dawn services from Australia and New Zealand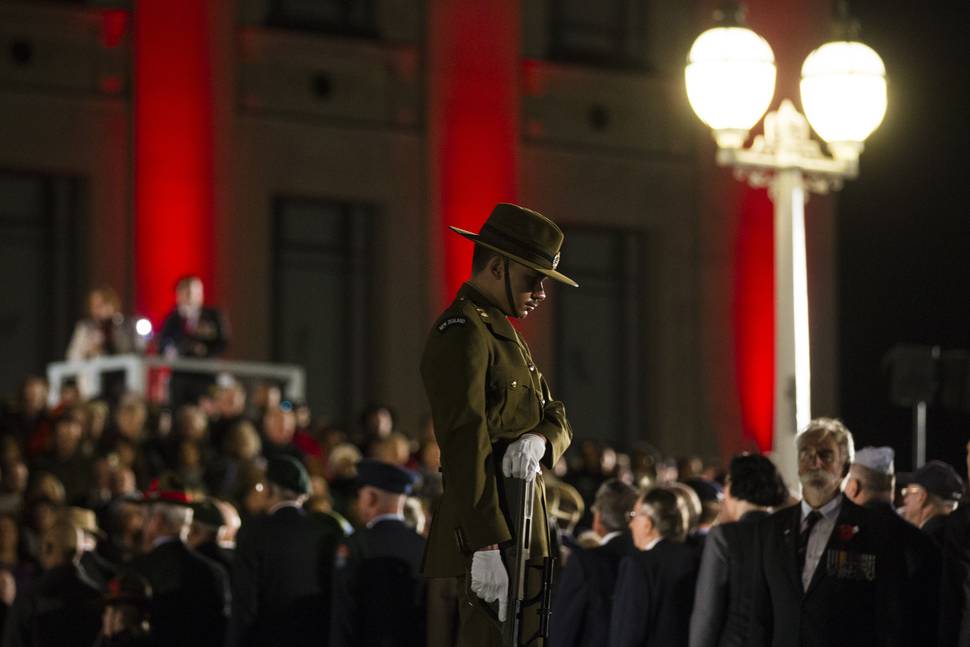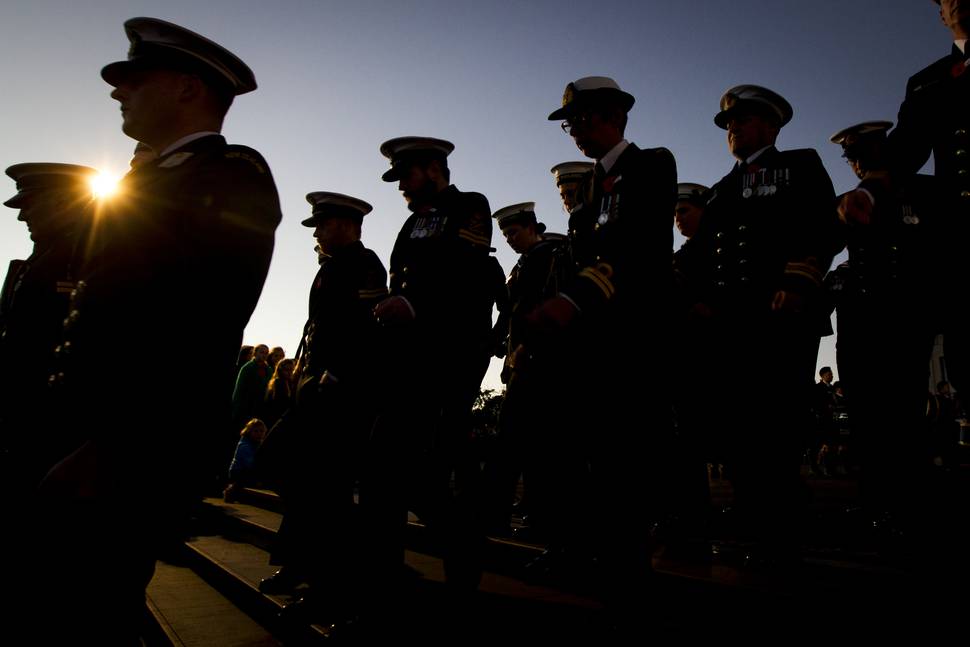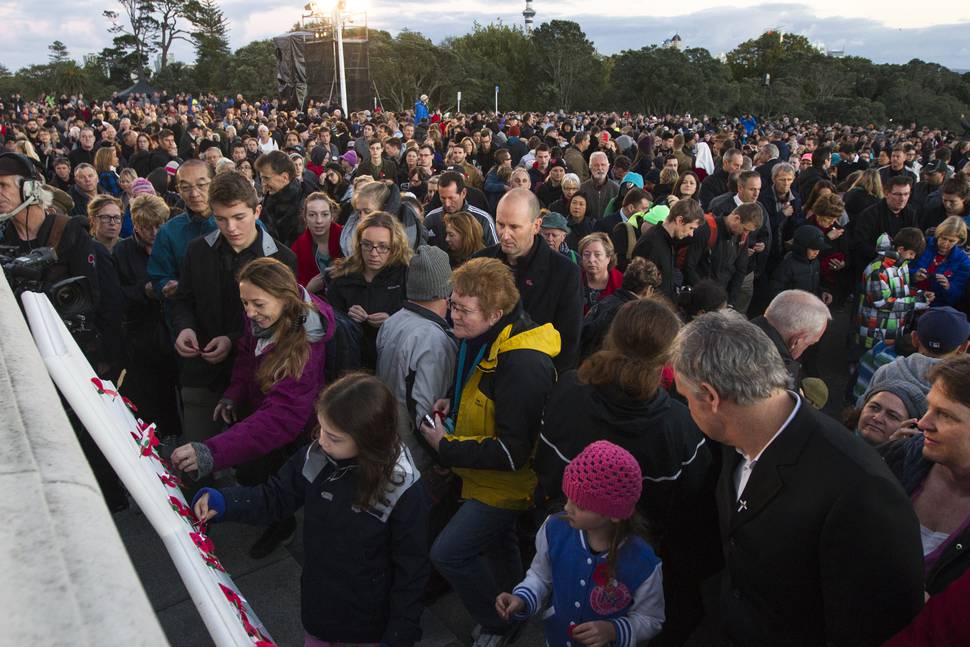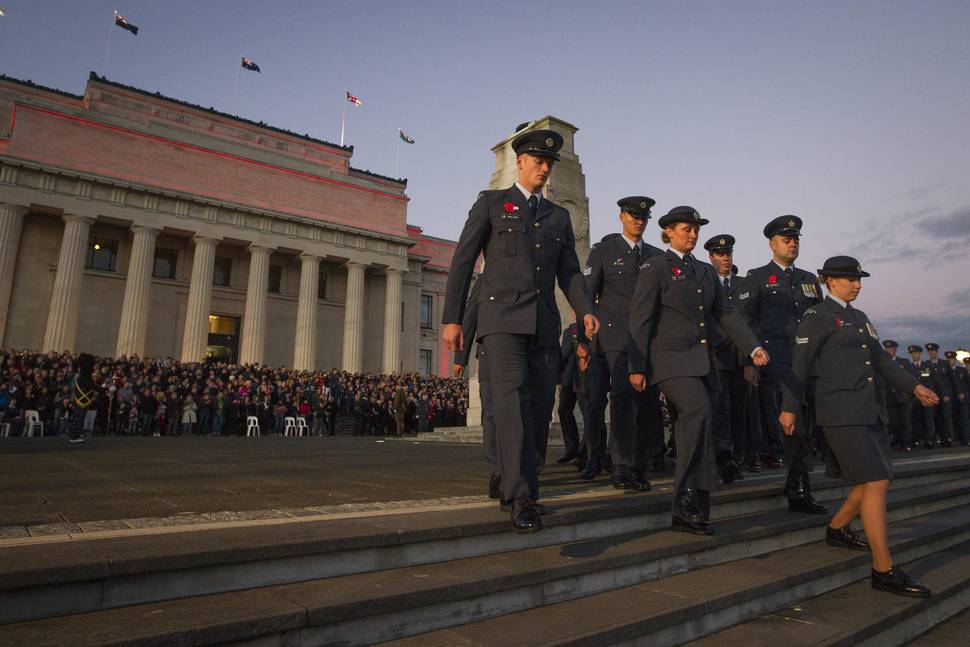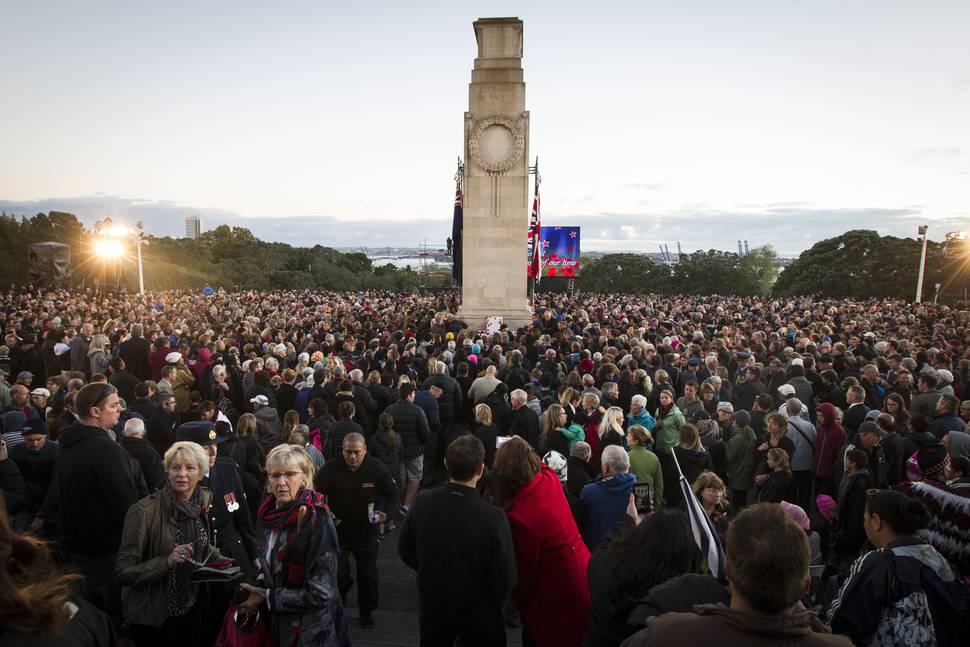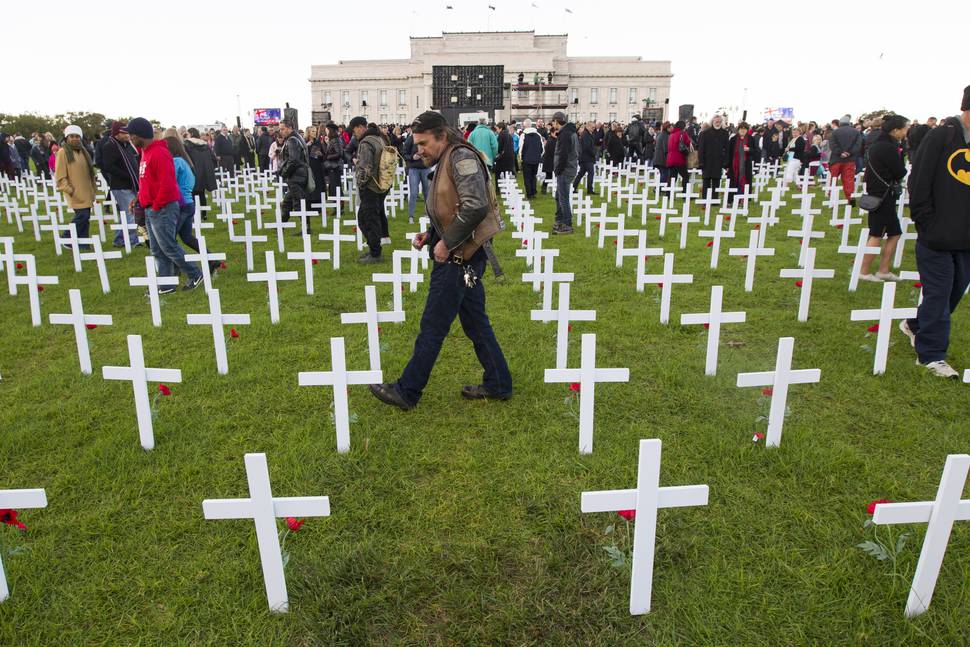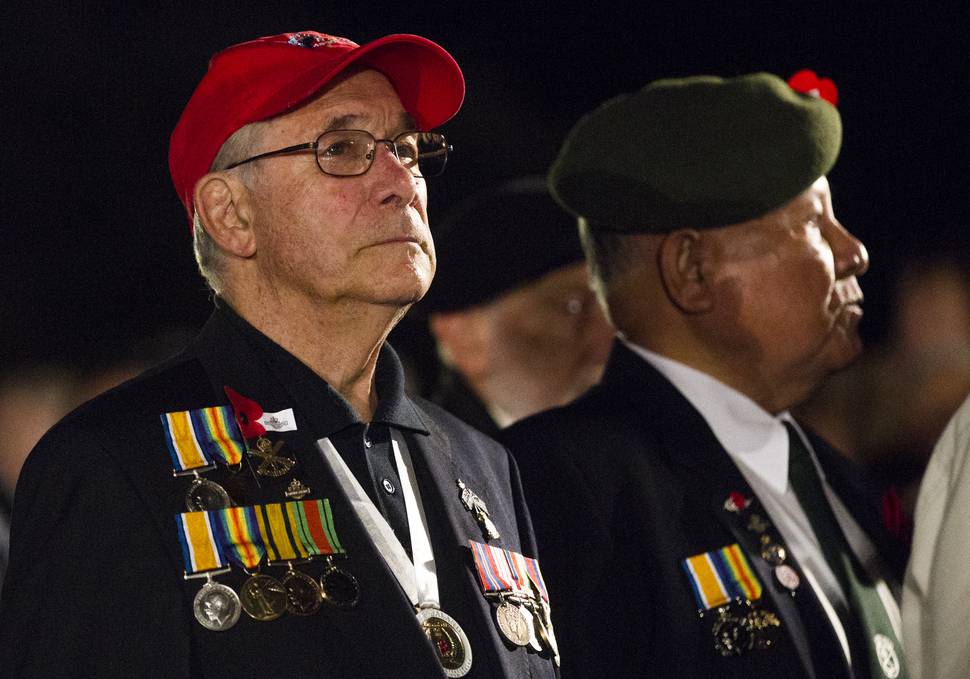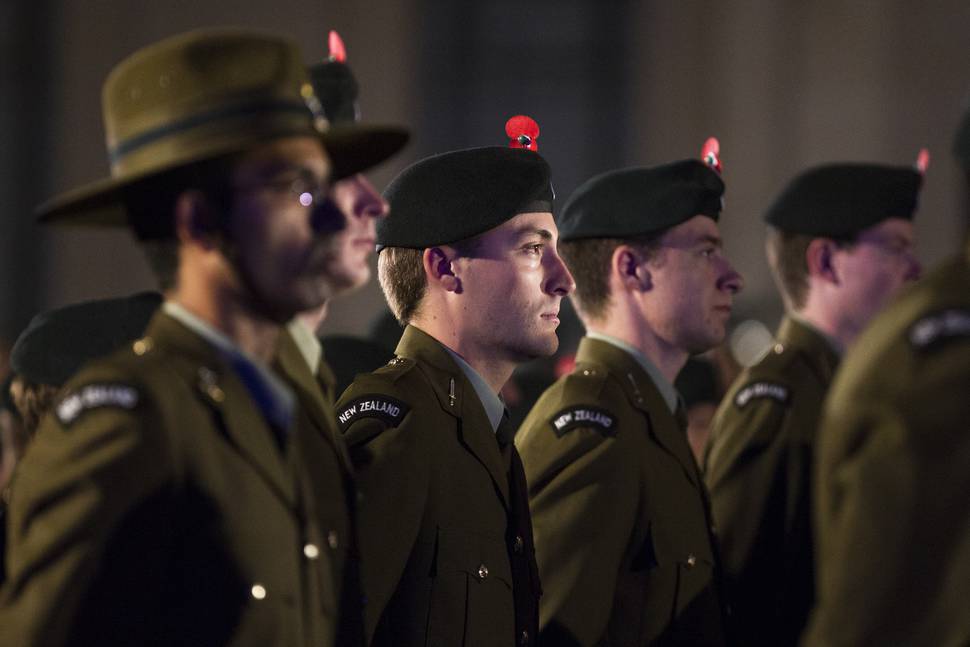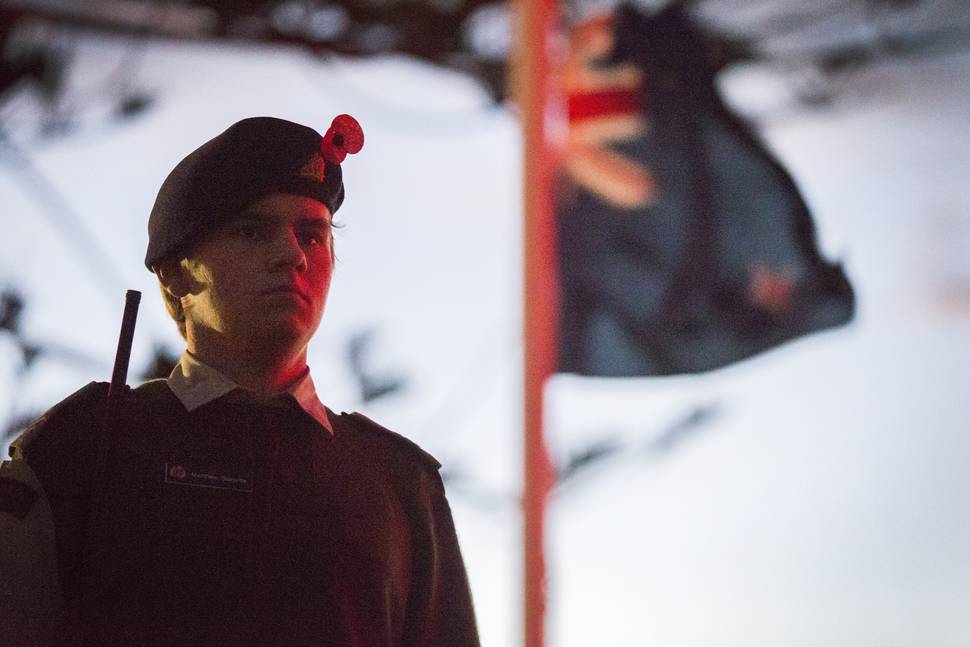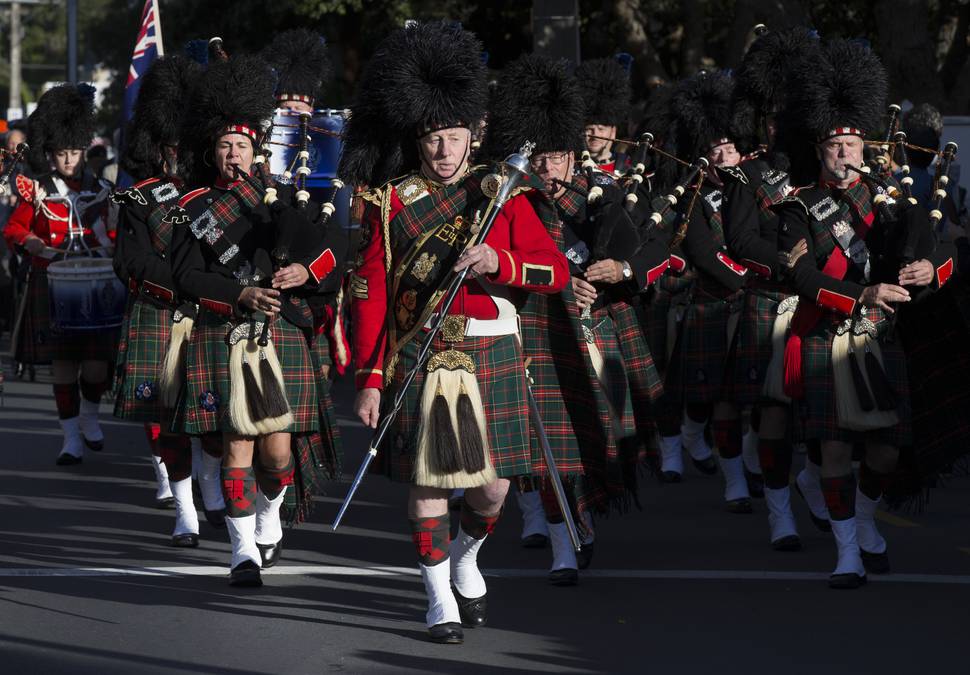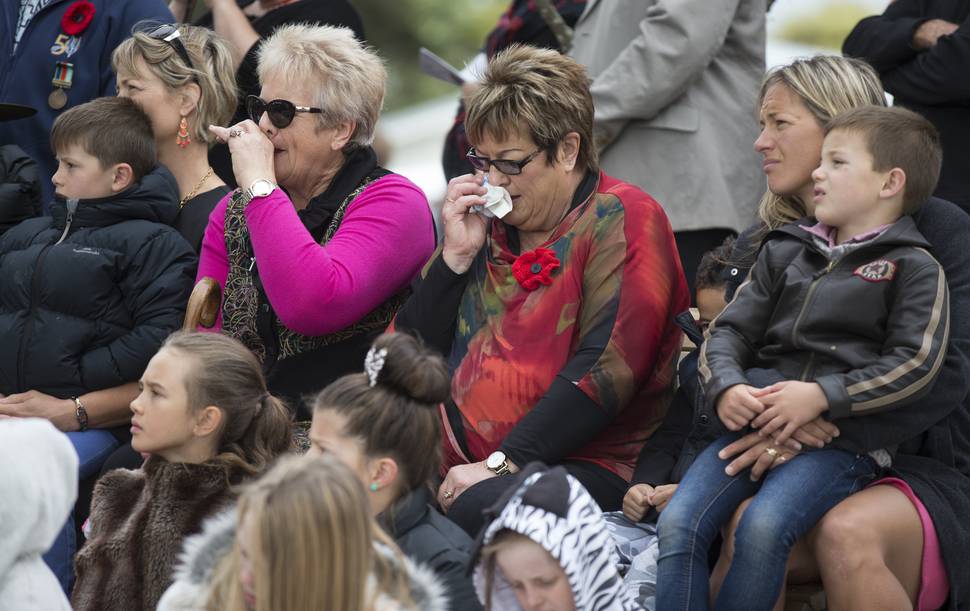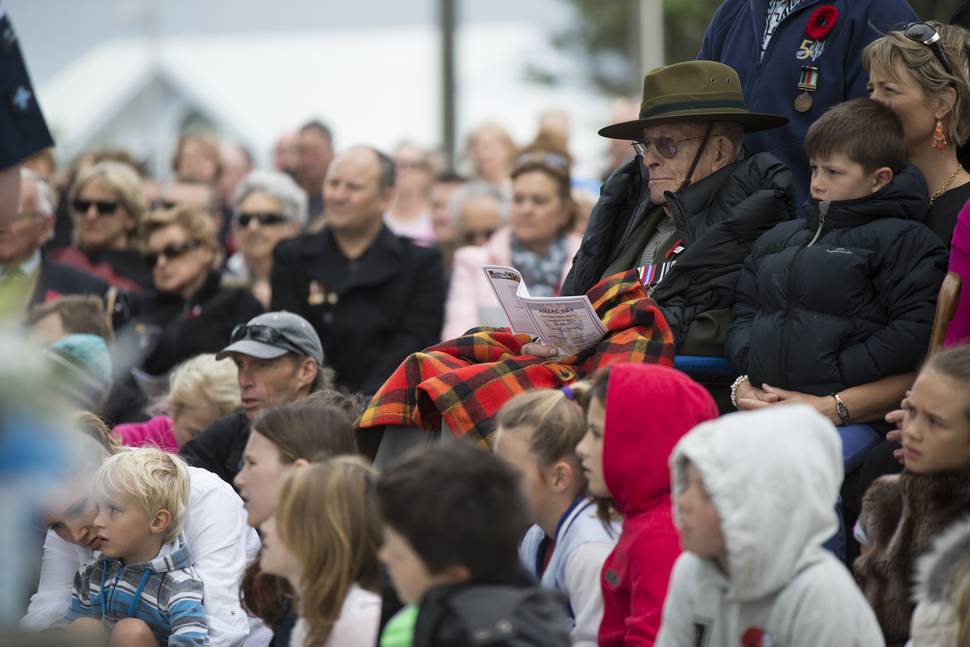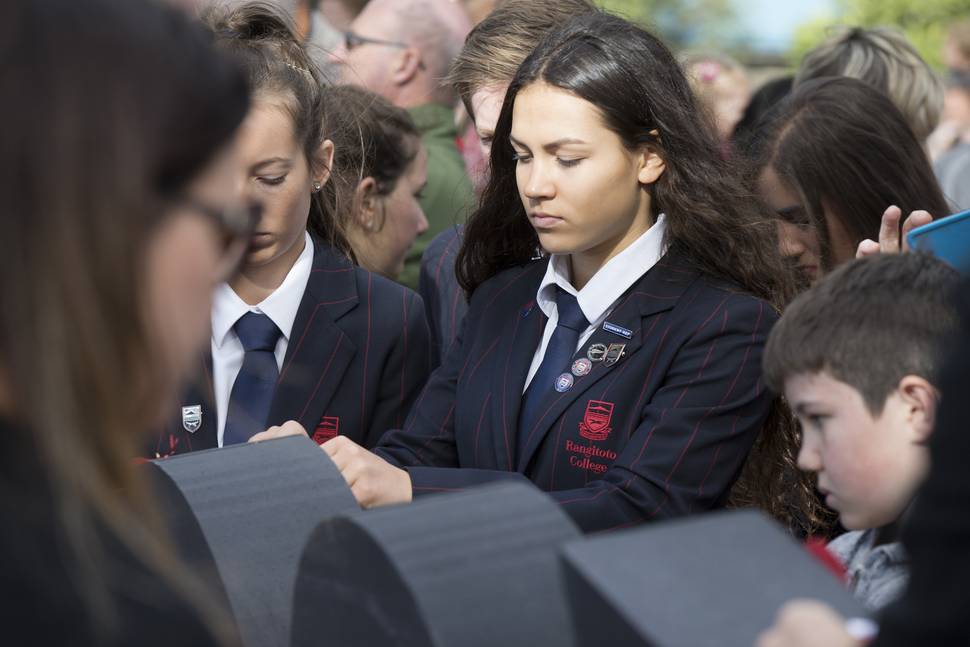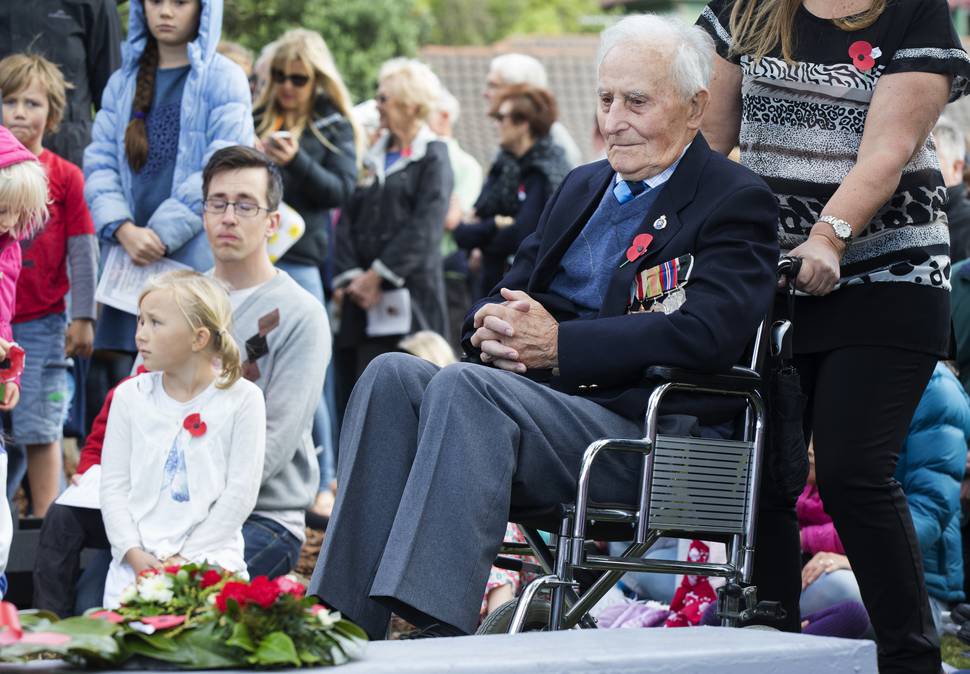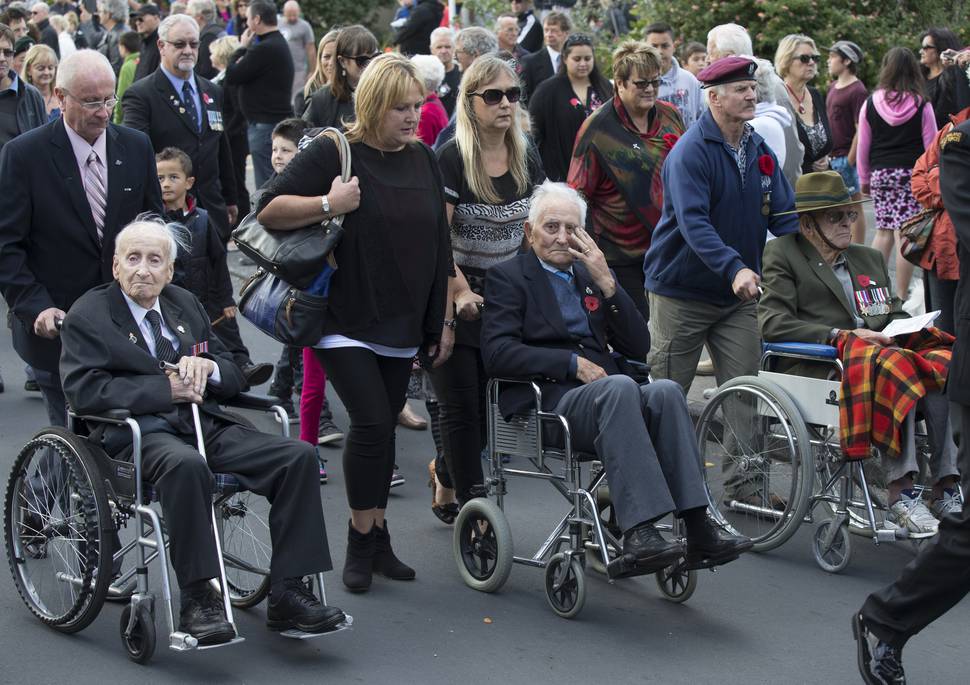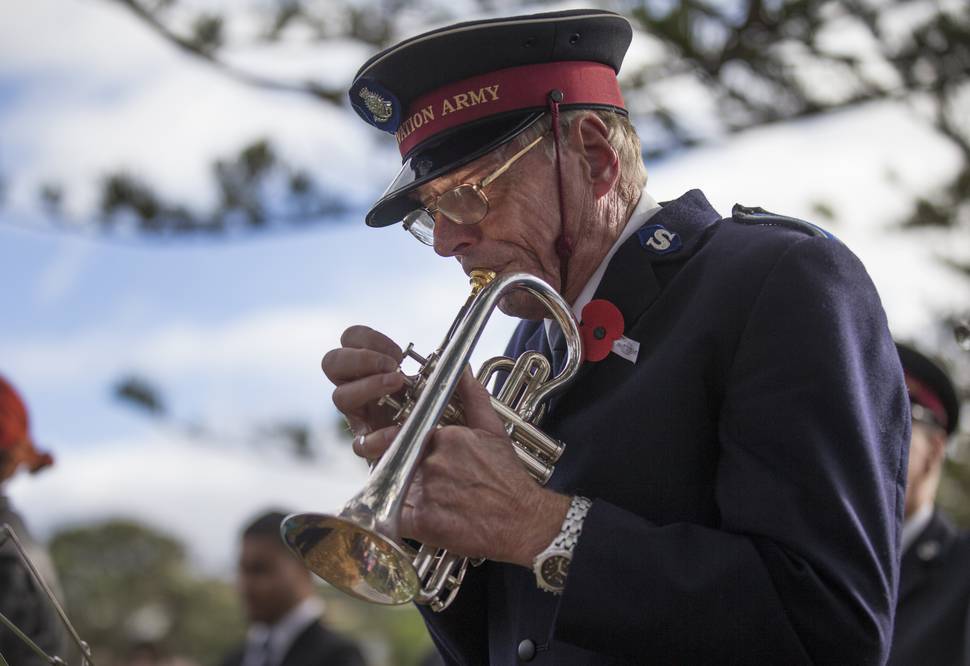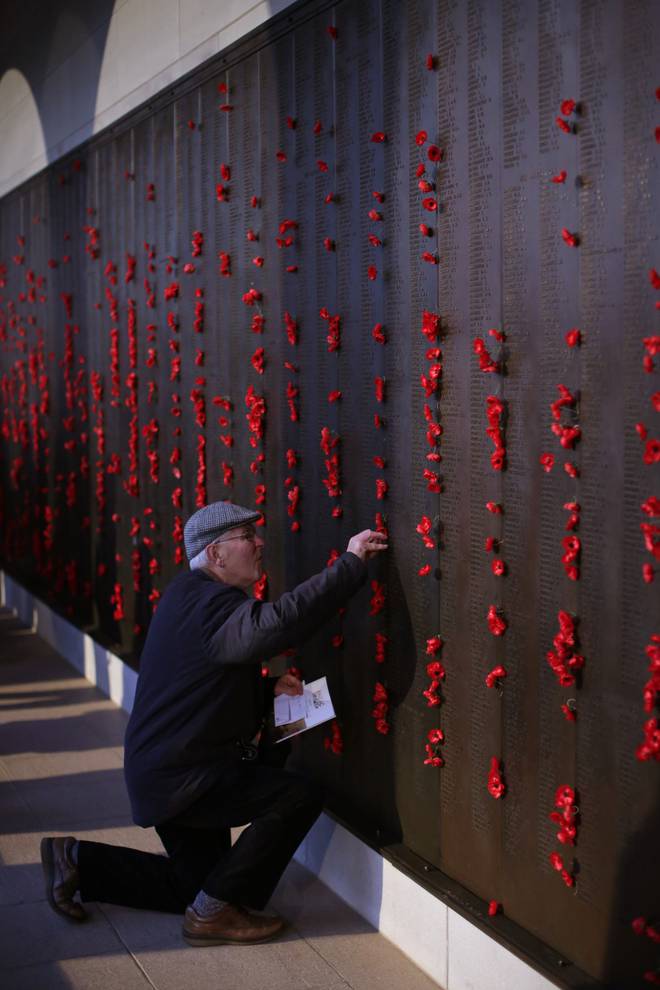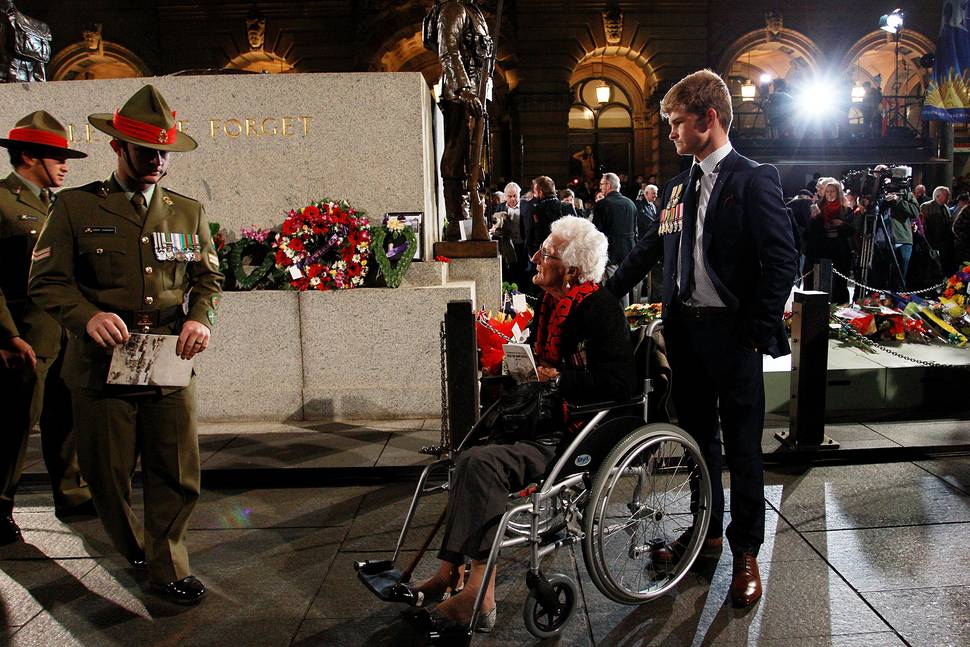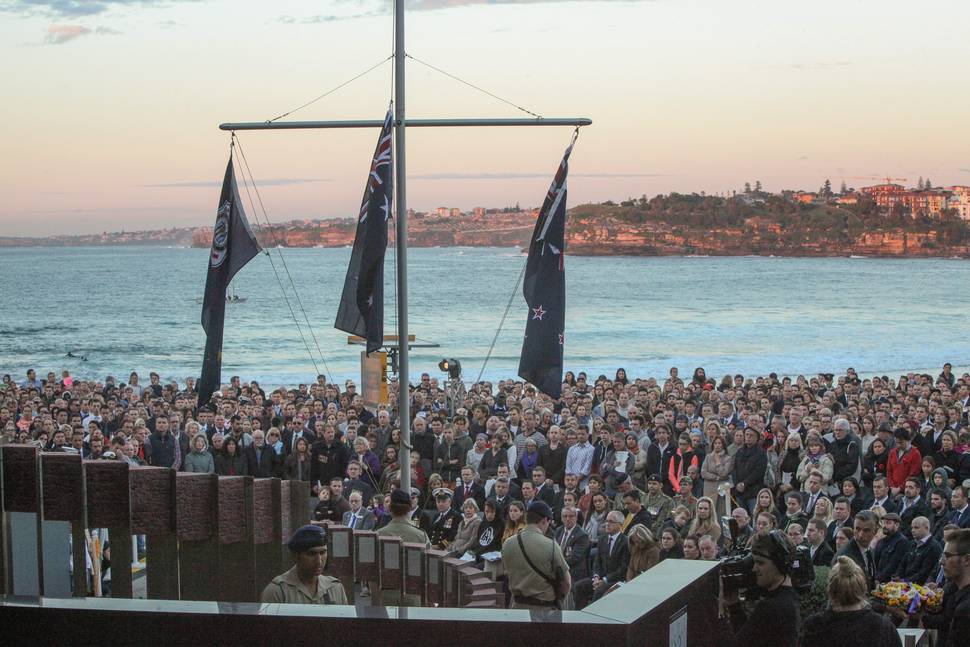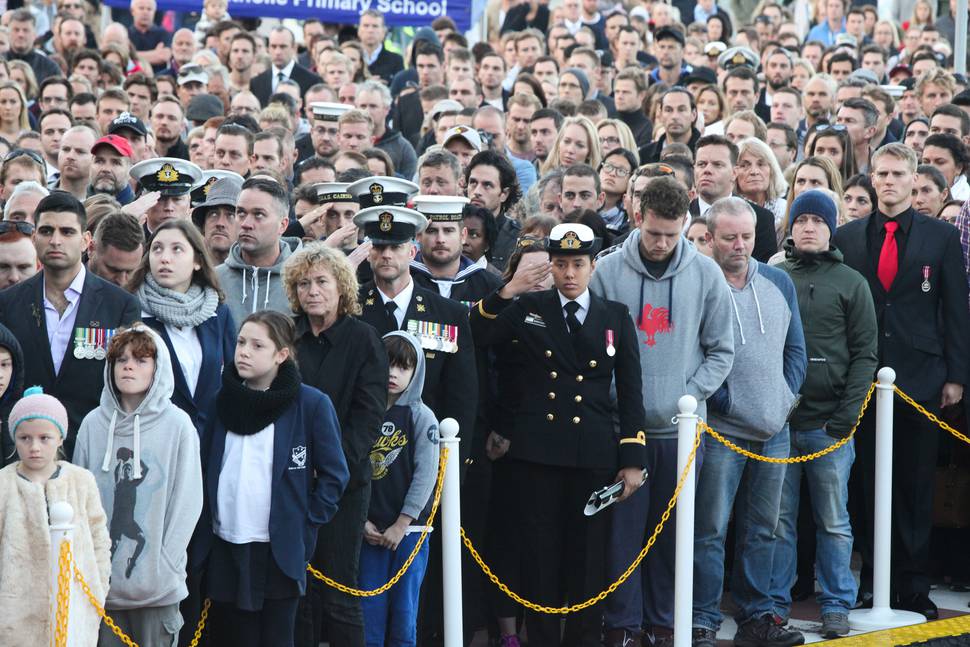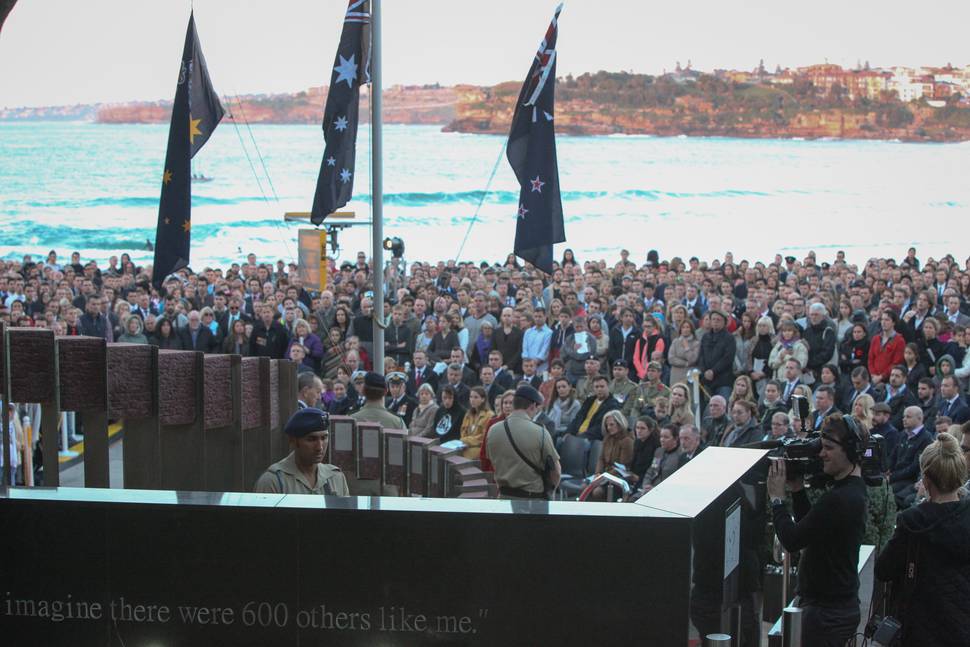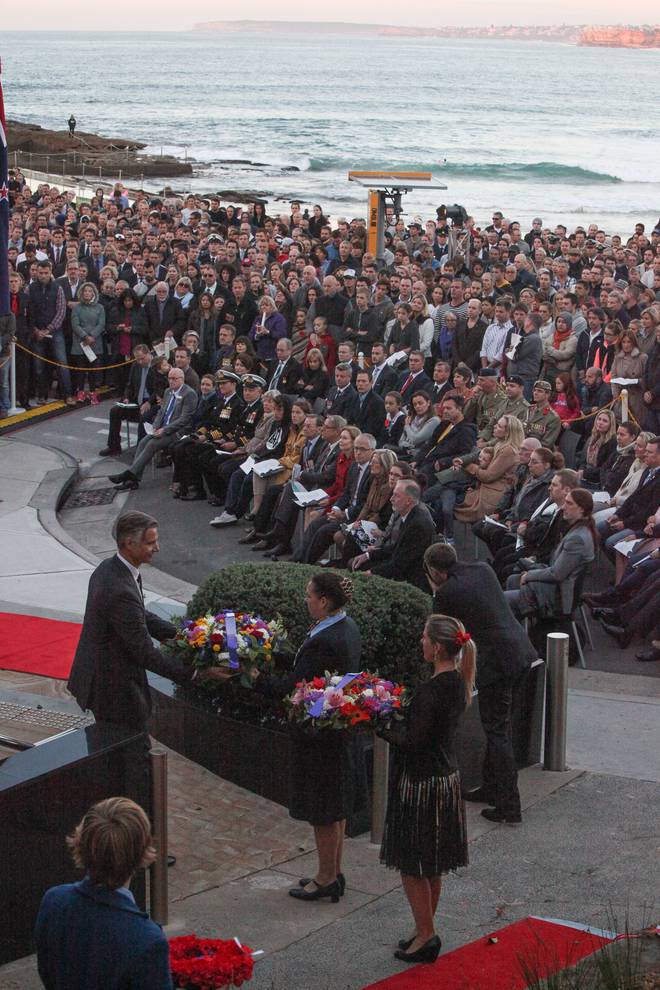 1.45pm
'This is a place of immense sacrifice'
The latest from Kurt Bayer in Gallipoli.
The Anzac service in Gallipoli is set to start as 100th anniversary commemorations finish up around New Zealand.
All 10,500 pilgrims were now inside the Anzac Commemorative Site at the Gallipoli peninsula.
Many had slept at the site overnight and early today Turkish time organisers shuffled the large crowd to fit extras in as they arrived.
"This is a place of immense sacrifice so if the only sacrifice you have to make is shuffling up so your compatriots can fit in, that's great," one official said.
1.42pm
Our #GallipoliFlashback series on Twitter is getting some good feedback.
1.30pm
An Anzac Day Last Post ceremony has been has been held at the Menin Gate memorial in Belgium.
Every night since 1928, the Last Post has been played at Menin Gate in memory of the lives lost in World War I, with the exception of 1940-1944 when the town was under German occupation.
The New Zealand Defence Force (NZDF) said in true Anzac spirit a tri-service Catafalque Guard conducted their formal duties with the Australian Defence Force Federal Guard and a waiata was performed by the NZDF Maori Cultural Group.
New Zealand Minister of Defence Gerry Brownlee laid a wreath on behalf of New Zealand alongside Australian Minister of Foreign Affairs Julie Bishop.
NZDF said hundreds of Belgium locals attended the Anzac ceremony at Menin Gate and it was an example of how well respected and remembered New Zealand and Australian servicemen were on the Western Front.
The names of New Zealand troops who died in Ypres on the Western Front are recorded on the Menin Gate.
Over the last week, past and present servicemen have been acknowledging the continued support and recognition during their commemorations held at every New Zealand battlefield and memorial to the missing on the Western Front.
"The courage, comradeship and commitment shown by New Zealand servicemen on the Western Front remain the foundation of the Defence Force today," Chief of Navy Rear Admiral Jack Steer said.
"It's also fitting that we share this moment with out Australian counterparts at such an important time in history."
NZDF said Belgium and France were significant in World War I commemorations because of the number of Anzac lives lost on the Western Front.
More than 12,000 New Zealand soldiers are buried and memorialised in Commonwealth War Graves cemeteries in Belgium and France, which the contingent have visited over the past week.
1.23pm
1:12pm
The NZ Herald and NZME. news teams have spent long hours on our Gallipoli coverage. Some of us are here:
12:55pm
The latest from NZME. reporter Kurt Bayer in Gallipoli
With just under two hours before the Gallipoli dawn service programme officially begins, all 10,500 pilgrims are now inside the Anzac Commemorative Site. The compact arena, with temporary stadium-style seating, is packed to capacity, with little room to move.
12:46pm
Our #GallipoliFlashback: Real time sequence of events during the first day of the Anzac landing is sober reading. On approaching the shore, Capt. Alexander McColl is recorded as saying: "Absolutely magnificent scenery. Everyone greatly excited"
12:33pm
Anzac address: Sir Jerry Mateparae, Governor-General
12:15pm
The latest from Anna Leask in Gallipoli
It is 3.15am and people are still filing into the Anzac Commemorative Site at Gallipoli.
The Dawn Service is set to start in two hours and the emotion building around the crowd is almost palpable.
Everywhere you look in the crowd you can spot a teary eye, a tissue being raised to dab a tear, a face full of reflection.
There is definitely a feeling of anticipation, a feeling that all of us here are about to experience something probably indescribable.
It's cold, but no one is complaining. It's crammed, but people are happy to be here.
Because, as they keep telling us, the Anzacs endured worse than one night on this rugged terrain.
12:07pm
Are you following #GallipoliFlashback on Twitter? @nzherald is using the power of social media to recreate the opening hours of the Gallipoli campaign. Live now.
11:50am
NZ Herald photographer Alan Gibson has snapped some shots of the crowds in Gallipoli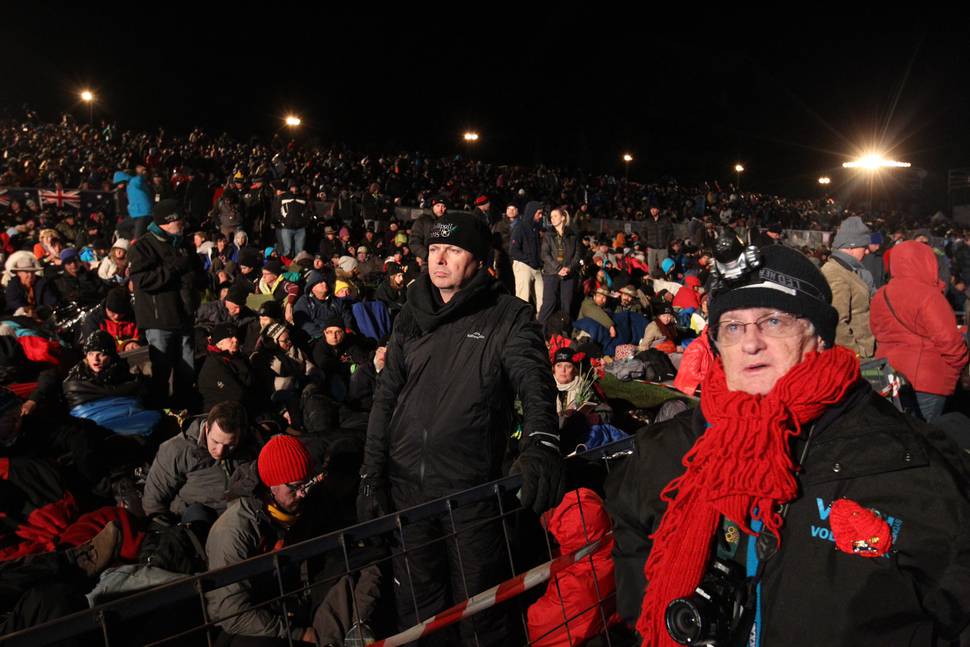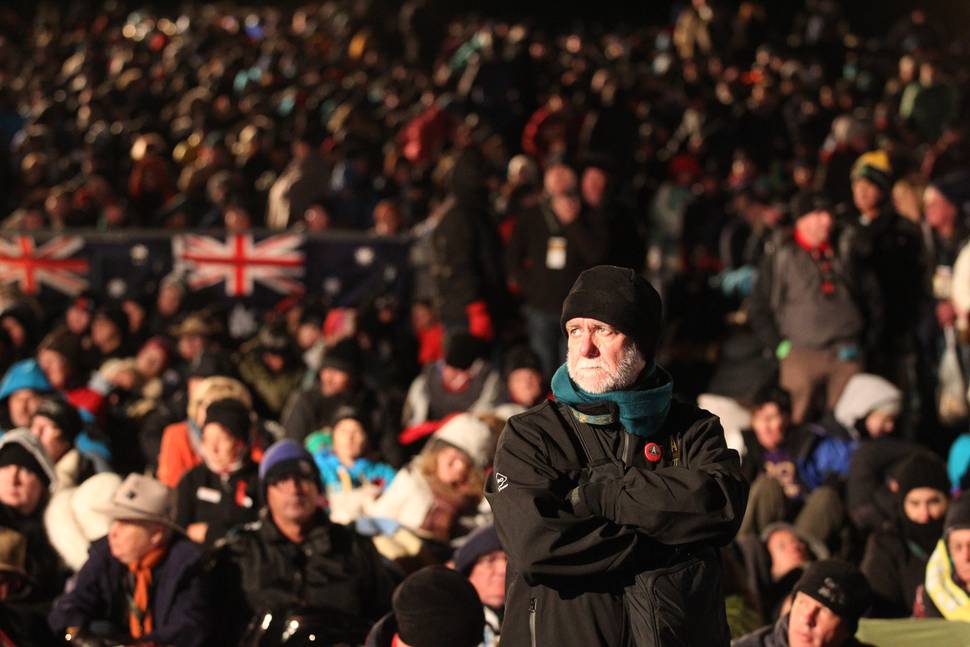 11:35am
This is the latest from NZME. reporter Rebecca Quilliam in Wellington
Once again Wellington's Pukeahu National War Memorial Park is packed with crowds commemorating Anzac Day at the National Commemorative Service this morning.
The bells at the Carillon were played by carillonist Timothy Hurd as the crowd waited for the service to begin at 11am.
As officials paid their respects at the Tomb of the Unknown Warrior, the Peace Bell tolled six times to the hushed crowd.
In his Anzac Day address, Governor-General Sir Jerry Mateparae said the gathering was not to glorify war - "but rather to remember the men and women who served their country, and especially those who made the ultimate sacrifice".
After World War I, the remains of so many young men lay, often in unmarked graves, on the other side of the world, he said.
"Our memorials were, and remain, shrines for the nation's grief, erected as places where bereaved families and communities could go to pay their respects.
"And this tradition continues today, all around New Zealand and throughout the Pacific, as we remember our family members who have served in times of war - and we wear their medals and a poppy with pride."
On the centenary of the Gallipoli landings by Anzac troops, the "gallant generation" were acknowledged and their loss was mourned, he said.
"On that day in Gallipoli, 100 years ago today, New Zealand suffered between 600 and 700 casualties.
"By the end of the Gallipoli campaign, 2779 New Zealand men had lost their lives. Australia lost 8709, France lost 9798, Canada lost 49 New Foundlanders, British India lost 1358, the United Kingdom lost 34,072, and Turkey lost 86,692."
Those statistics became "painfully real" when the stories of the individuals were known, especially like the brothers who went to war, Sir Jerry said.
"Brothers like the three Holz boys who signed up on the same day. Ernest, William and Allan were sons of a German immigrant. Allan, 24, and Ernest, 33, were killed at the same instant, and their brother William, 30, was wounded at the same time from German shell fire in Pont-de-Nieppe in France on 13 June 1917."
It was the wives and mothers who bore much of the brunt of war, he said.
"The statues of Hinerangi and the mother and children inside the Hall of Memories evoke both sorrow and the strength and resilience needed to keep those home fires burning.
"It is memory of that precious warmth and comfort that sustains our servicemen and women."
The World War I centennial commemorations were prompting New Zealand families to take an interest in their past, and learn about their forebears' participation in war, Sir Jerry said.
"My message to veterans here today is to pass on your stories. And my message to their families is to record these stories in some way, so that your young people can carry the torch of remembrance into the future.
"The poppies we wear today are reminders that the focus of our remembrance must be on the men and women who went to war.
"They remind us of our duty to support the veterans who are still amongst us; and not to dwell on the rights and wrongs of particular campaigns and wars."
Youth representatives from Australia, Turkey and New Zealand also spoke at the service.
Kaitlyn Davidson from Australia read an excerpt from the poem Anzac Day, by Australian World War II veteran D Hunter.
Turkish representative Selen Soylemezoglu read a tribute by Turkey's first president and army officer Kemal Ataturk.
And New Zealand youth Sam Porta read a poem Spirit of Anzac, by Mike Subritzky.
The immediate past national president of the Royal New Zealand Returned and Services Association also spoke at the service.
It was on the morning of April 25, 1915 when New Zealand and Australian troops landed under fire at Gallipoli and in the battles that followed that traditions were formed, he said.
"On this day, above all days, we remember all those who served our nation in times of war."
His speech was concluded with the tolling of the Remembrance Bell.
Wreaths were then laid at the Carillon by officials including Sir Jerry, Deputy Prime Minister Bill English, Labour MP Grant Robertson, Turkey Ambassador Damla Yesim Say, and Wellington Mayor Celia Wade-Brown.
Also laying a wreath was Victoria Cross holder Willie Apiata, on behalf of all veterans and their families.
The names of 49 personnel killed on operations and recently added to the Roll of Honour, were read out by members of the New Zealand Defence Force.
The poignant moment was followed by the Last Post while flags were lowered to half mast.
11:26am
Planes drop 2779 poppies over crowd in Gisborne
There were tears, pictures held of relatives lost in the world wars, and shared stories of fallen family members today at one of the biggest Dawn Services the Gisborne district has seen.
About 2000 people gathered at the Cenotaph overlooking the junction of the rivers to honour those who gave their lives and fought for New Zealand 100 years ago at Gallipoli.
The Anzac Day Dawn Service opened with a prayer led by Salvation Army padre Lieutenant David McEwen, as representatives from the forces, veterans, council members and the people of Gisborne joined together to give thanks for the sacrifice of our servicemen.
"We live in a nation where we have freedom and truth. The Cenotaph is a symbol of many who fought for us," said Lieutenant McEwen.
"There will be many among the congregation today who have family members among those names. As we look at the soldier standing at the top of the Cenotaph, may we remember their sacrifice and may it always be an emblem we can stand before and be proud of it."
As the sun rose, so did a rainbow over the city.
There were gasps of surprise as Gisborne's two biplanes flew over the commemorative civic service later in the morning and dropped 2779 poppies over the crowd.
The poppies represented each of the New Zealand soldiers who died in the Gallipoli campaign. They were dropped from two Tiger Moths and fluttered down to the waiting crowd.
- Gisborne Herald staff

11:20am
'West Coasters have not forgotten'
A crowd of nearly 3000 stood silent at the Greymouth cenotaph Dawn Service to mark the 100th anniversary of the Gallipoli landings.
The crowd amassed in the early morning to the sound of Vera Lynn's We'll Meet Again.
Grey District Mayor Tony Kokshoorn said it was really humbling that so many West Coasters "have come to remember our fallen".
Mr Kokshoorn told the crowd of the first day of combat which saw 100 New Zealanders killed. He told the crowd of the rain, snow and wind the soldiers endured.
"One hundred years later, West Coasters have not forgotten."
Father Peter Costello said told a story of how his uncle had briefly stepped away from his post and returned to find his comrades had been killed by a bomb.
"I can see why, after what happened to uncle Barney, they never wanted to glorify war."
New Zealand Army captain Steven Jackson said it was a time to remember not only those who died, but also those who returned.
"They are and always will be, the sons and daughters of New Zealand. We will remember them."
At the Grey District Council, more than 300 white crosses have been laid out on the front lawn representing those from the district who died during or as a result of World War I.
- Nicholas McBride of the Greymouth Star

11:06am
Wellington wreath laying ceremony
Dozens of wreaths were laid at the cenotaph by dignitaries, community groups, schools and families.
Wellington Mayor Celia Wade-Brown laid the first wreath, followed by United Future leader Peter Dunne, on behalf of the Government.
Minister of Culture and Heritage Maggie Barry also laid a wreath alongside Labour Party MP Grant Robertson.
Many divisions of the Defence Force, including the Air Training Corps, New Zealand Maori Pioneer Battalion and the Royal New Zealand Artillery Association contributed wreaths.
They were also joined by the Holocaust Centre of New Zealand, the New Zealand Sikh Society, St Johns, the Wellington Free Ambulance, the Salvation Army and the Buddhist Peace Group.
School groups including Khandallah School, Rongotai College, Scots College and St Patrick's College also laid wreaths.
Rounding off the groups were wreaths from families including the Wareham, Bakers and Rush families.
The Last Post was played at the conclusion of the ceremony.
- Rebecca Quilliam in Wellington

10:49am
In case you missed it, here's British rock legend Mark Knopfler performing a moving guitar version of the Last Post.
10:36am
New Zealand Defence Force performing a haka after the last post ceremony, under the Menin gate in Ypres
10:21am
Sports teams from New Zealand and Australia are paying tribute to the Anzacs on Twitter
10:10am
9:53am
Herald photographer Jason Oxenham has filed photos from the Auckland War Memorial
9:43am
Update from Anna Leask in Gallipoli
A steady stream of people continue to pour into the Anzac Commemorative Site. The temperature is mild and skies are clear.
The reflective programme is well underway and attendees are filling in the time before the Dawn Service watching Gallipoli and World War I documentaries. Many people are sleeping but organisers have now made an announcement for them to wake up, squeeze in and allow more attendees into the site.
"We will do this again and again. We will be at maximum capacity," an official told the crowd.
"This is a place of Immense sacrifice so if the only sacrifice you have to make is shuffling up so your compatriots can fit in that's great."
The atmosphere in the crowd upbeat despite the sombre occasion and long journey to the service site.
Attendees are now being let into the site in stages. The next group are set to enter at 2am. The site cannot hold all 10,500 attendees overnight so some will only be let in just before the start of the Dawn Service.
It is estimated there are 8000 people already seated.
9:40am
A timelapse video at the Auckland War Memorial - Steven Harrison
100 Years | Anzac Day

These are a couple of Timelapses I shot at the Auckalnd War Memorial Museum one was from around Anzac Day last year and the two were from a couple of nights ago. Happy Anzac Day. Lest We Forget.

Posted by White Cloud TimeLapse on Friday, 24 April 2015
9:33am
Hundreds pack Muruika War Cemetery at Ohinemutu, Matthew Martin of the Rotorua Daily Post was there
One of the largest crowds in recent memory gathered in Rotorua for this morning's Anzac Day Dawn Service.
Hundreds packed the Muruika War Cemetery at Ohinemutu to pay their respects to the New Zealand and Australian service personnel who sacrificed their lives, and those who returned, from the Great War - World War I.
The crowd at the scared site on the shores of Lake Rotorua, standing shoulder to shoulder, spread right back past the wharenui of Tamatekapua.
The City of Rotorua Highland Pipe Band led the parade of veterans and service personnel on to the cemetery grounds before Rotorua veteran Piwiki Heke welcomed all who had assembled for the memorial service.
Mr Heke said the crowd "exceeded all expectations" and was thankful a big screen had been set up behind St Faith's church so everyone could watch the proceedings.
9:24am
Senior reporter Anna Leask is reporting from Gallipoli
- the place where her great-great-uncle Frank Woodhouse died.
"As I stood looking at his name on that plaque, my mother's maiden name and a name that is part of the fabric of my life, I was overwhelmed. It was surreal to see it there, on that monument so far from home.
Frank Woodhouse was killed in action at Gallipoli, aged 18.
There were a few tears - sadness mixed with absolute pride - and the gravity of what happened to Frank hit home."
READ THE REST OF ANNA'S ACCOUNT HERE
9:20am
Prime Minister John Key has arrived at ANZAC Cove and has met Aussie and Kiwis who are 'overnighting' awaiting the Dawn service. He laid a wreath and said Gallipoli is 'embedded in our DNA' and to the memories of our fallen 'thank you and proud of them'.
Watch the video here
9:15am
NZME. reporter Rebecca Quilliam is at the wreath laying ceremony in Wellington
Several hundred people have arrived at the Cenotaph near Parliament grounds this morning for the Wellington City Council's citizen's wreath laying ceremony.
9:05am
Tributes from you, our readers
. Or tweet or Instagram your Anzac Day photo with @nzherald and the hashtag #YourAnzacDay
8:57am
Wanganui Chronicle photographer Stuart Munro attended the Dawn Service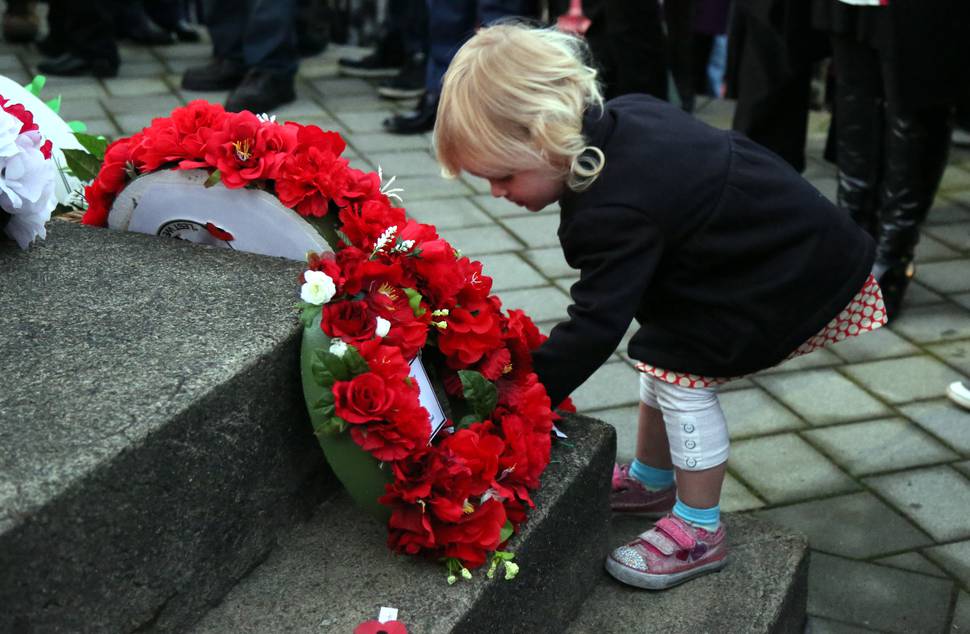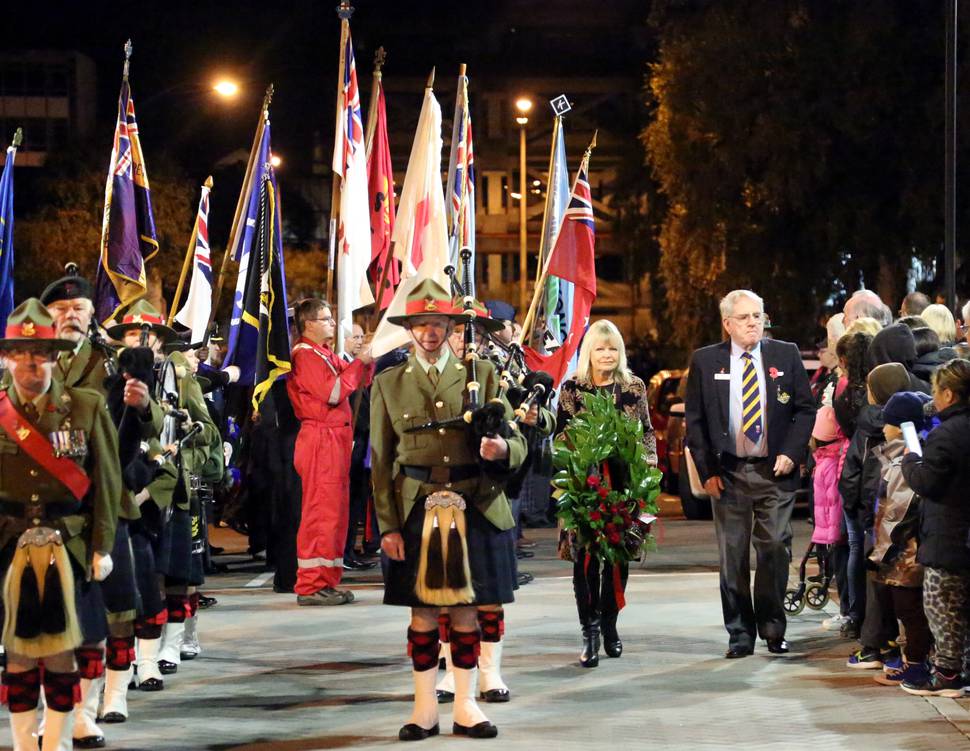 8:50am
New Zealanders and Australians around the world are taking to social media to commemorate Anzac Day
8:32am
Queens Garden in Dunedin 'full to capacity' - Otago Daily Times reporters
It is estimated 18,000 to 20,000 people attended the Dawn Service at Queens Garden in Dunedin.
The area surrounding the garden and cenotaph was full to capacity as were nearby streets, as much larger than usual crowd gathered to mark the centenary.
"While you wait, think of those waiting on ships about to go ashore at Gallipoli 100 years ago," the crowd was told as it waited for the service to begin.
Other services around the city are set to be held during the day, including at Mosgiel at 9.30am.
In Queenstown, up to 3000 people gathered before 6.45am for the resort's dawn service.
Barely a breath of wind blew off Lake Wakatipu during the short service at the Memorial Gates on Marine Parade, finishing as the sun rose over the Remarkables mountain range.
The Queenstown civil service will begin at 10am with a parade from the Memorial Gates to the Queenstown Memorial Centre, while the Arrowtown civil service will begin at 10.30am at the Arrowtown Athenaeum Hall before a parade to the war memorial for the laying of the wreaths.
About 3000 also turned out for the dawn service at the World War I monument in Thames St, Oamaru.
It was the biggest turnout for decades, reflecting the interest in the centenary of the Anzac landing at Gallipoli and World War I.
Parking around central Oamaru was at a premium from as early as 6am, with then service starting at 6.30am.
Other services were being held at monuments throughout the district, including the main parade and service at 10.30am.
- Otago Daily Times

8:27am
Newstalk ZB reporter Emily Murphy was at the parade in Christchurch
The man who led the Anzac Day parade in Christchurch is 102 years' old.
Bill Mitchell was out front this morning, flanked by soldiers on horseback.
Other veterans marched behind him.
One veteran explained his pride at be able to lay a wreath this morning.
"Especially because I've got an uncle who was killed at Gallipoli. He's on one of those crosses up there. He was a very brave man and it's great to be here today for the 100."
Gunshots rang out from Christchurch's Cramner Square as thousands commemorated the terrible cost of the Gallipoli campaign.
As the sun rose over Cramner Square the crowd stood in silence to reflect and remember the many young lives that were lost.
Children jumped on parents shoulders to get a better glimpse of the ceremony. As the crowd dispersed many stayed behind to hear stories of their relatives.
8:23am
Herald photographer Jason Oxenham was at this morning's Dawn Service in Auckland
8:15am
Remember to care
Help us raise funds for the RSA
#PinAPoppy and honour the memory of those who have gone before by caring for those still with us. Donate and pin a poppy on your social profile to show your support for the RSA.
#PinAPoppy and Show Your Support
Text "PINAPOPPY" to 4662 to donate $3 and receive your digital poppy. Or donate online

8:10am
Thousands attend Wanganui Dawn Service
Up to 15,000 turned out for the Anzac Day Dawn Service in Wanganui this morning.
Traffic backed up on the Dublin St Bridge and CBD roads beforehand as at least four times the usual crowd made their way to the War Memorial forecourt.
An estimated 10,000 to 15,000 gathered for the service at the War Memorial, the new location for this year's service.
Reverend Rosemary Anderson led proceedings while Ohakea Air Base Commander Nick Olney spoke about the Anzacs' landing at Gallipoli being the birth of New Zealand.
"At a time when a developing New Zealand had multiple concepts of identity ... Gallipoli [brought] these disparate groups together. A national conscious arose," he said.
Among the crowd was WWII veteran Graeme Randall, who was impressed with the crowds.
"It just shows people are taking more notice," the former field engineer said.
He said it was important to remember those who had died in wars "so our conscience won't let us repeat it".
7:53am
Kiwis across the nation have remembered #youranzacday
7:42am
NZME. reporter Kurt Bayer has spoken to Australian pilgrims in Gallipoli
"Got my jandals on, bro," Prime Minister John Key was told by an Australian pilgrim to Gallipoli.
Mr Key, who was given a private tour of the famous First World War battlefields this morning, returned at dusk as Anzac Cove began filling up for the centenary commemorations.
Shannon Sharpe from Umina Beach, NSW was wearing his jandals on his way into the venue around ten hours before the dawn service.
"It's all I own - I don't own shoes," he said.
He is one of 10,500 people attending this year's landmark commemorations.
Unlike the other Anzac pilgrims, Mr Key won't be roughing it overnight on the peninsula, where the temperature will drop into single digits.
He will return before the service starts at 5.30am.
It was a "privilege" to attend the commemorations as prime minister, Mr Key said.
"When I came here and spoke in 2010, the memory of that speech will stay with me forever. I remember the waves rolling in behind me, it not being as cold as I expected - in fact, I didn't wear a jacket from memory that year. You could just feel the raw emotion from people that were there and what it meant to them."
7:36am
Herald on Sunday photographer Michael Craig
has filed photos from the ANZAC Day Dawn Service, Soldiers Memorial Waikumete Cemetery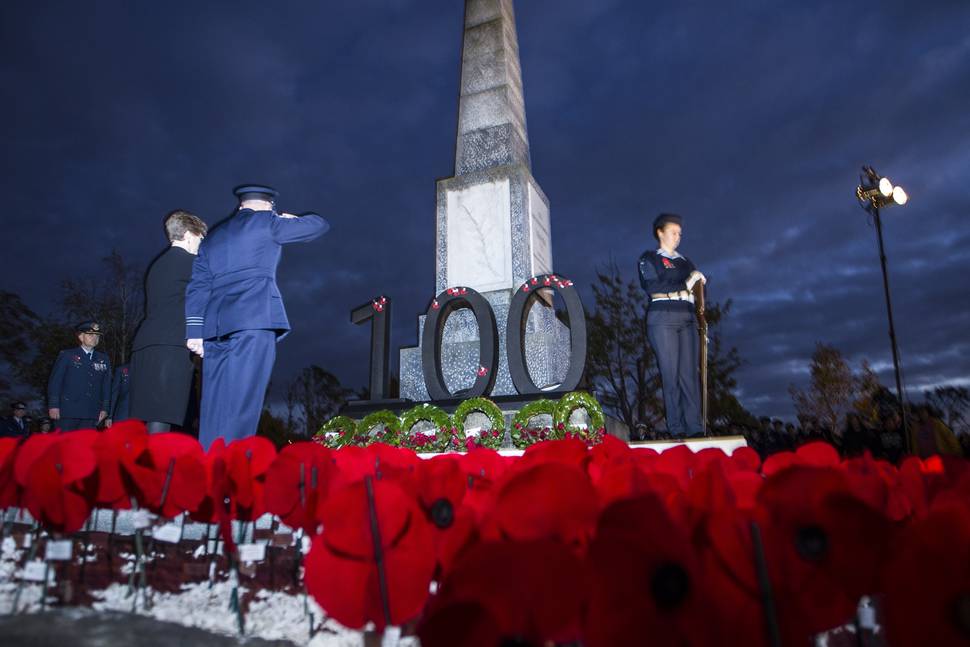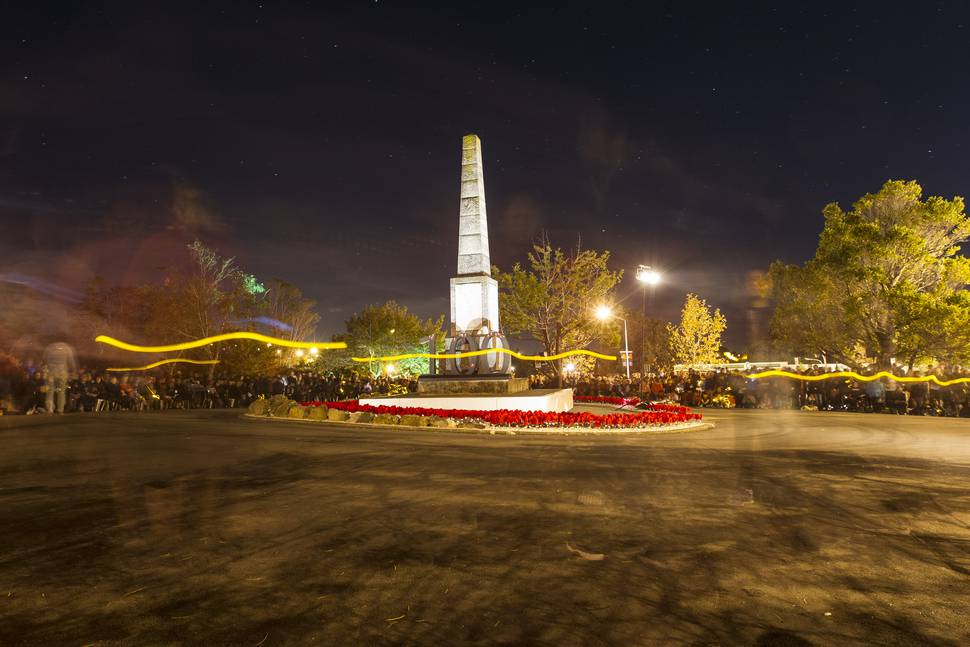 7:25am
Night falls in Gallipoli ahead of the Dawn Service. Herald senior reporter Anna Leask has spoken to attendees:
It is now just after 9pm at Gallipoli, pitch black and 14C. In just a few hours the 100-year anniversary of the Anzac landings will be marked.
Kiwis travelled for hours and days to get here, mostly on packed tour buses. They will now wait outside on the exposed peninsula for dawn to break, and the commemorative service to begin.
Neil Sharpe and Sheree Thomsen were among the first to arrive. Cloaked in a New Zealand flag, Ms Thomsen, from Hastings, told the New Zealand Herald walking into the hallowed site was "surreal".
"It was poignant, it was emotional," she said.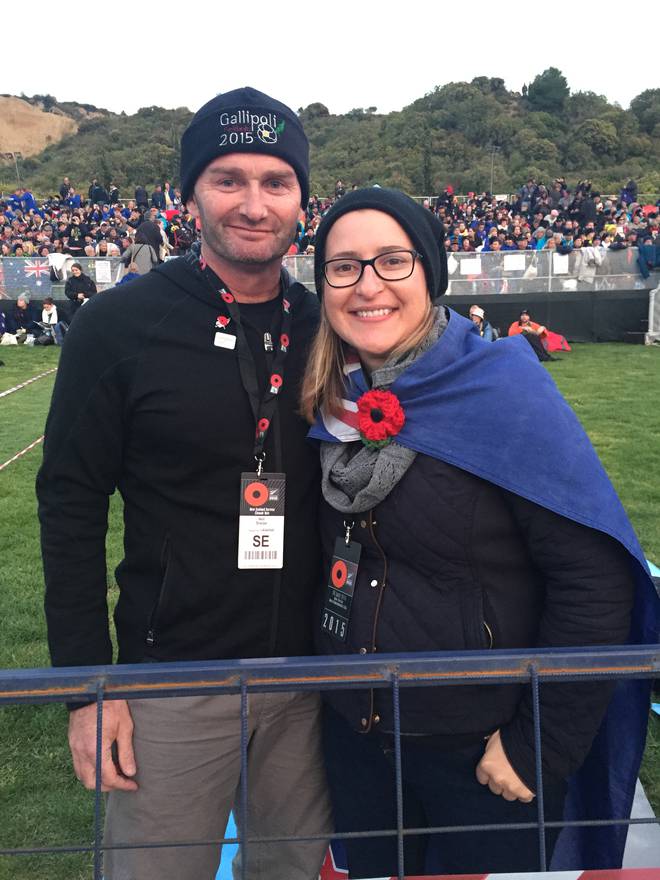 Warkworth pair Karenza Harris and Chris Murdoch were rugged up and ready for the chilly night ahead.
Mr Murdoch served in the Navy and said he couldn't really explain what it was like to be at the Anzac centenary.
"It's not something you can really look forward to, it's hard to. It is going to be one of those really emotional journeys ... as one of the tombstones we saw said 'deeds, not words.' That was so cool."
Ms Harris said she got teary while visiting the Beach Cemetery on the way to ACS.
"We walked around and just saw all the rows of graves ... you get shivers."
7:20am
Auckland NZME. reporter Sophie Ryan has talked to attendees of the Dawn Service
Billy Graham, 72, served 21 years with the Royal New Zealand Navy and comes to the Dawn Service every year to remember those he served alongside.
This year he left home in Warkworth about 3am to get to the service.
"I thought it was fantastic. It means it will keep it alive," Mr Graham said.
He said he was pleased to see the range of different ages in the crowd.
He has been a member of the RSA since 1965.
7:17am
Australian dawn services are underway:
7:02am
The sun rises in Auckland
7:00am
Commemorations in Gallipoli
Herald senior reporter Anna Leask is in Gallipoli - she says security is tight for today's commemorations
A three-hour security sweep began at Gallipoli overnight ahead of today's Anzac Day commemorations.
A convoy of black vans converged on the Anzac Commemorative Site (ACS) last night NZST to sweep the area for bombs or any other devices dangerous to proceedings or attendees, VIPs and dignitaries.
Big screens at the media centre, about 500m from ACS, have been live streaming the site but were blacked out as the sweep began. The words "sinyal yok", Turkish for no signal, are displayed.
Earlier, thousands of Turkish troops and gendarmerie - the local paramilitary police - were deployed across the peninsula. Some are armed with machine guns.
Snipers have been spotted in the scrub around the main commemoration areas - ACS, Lone Pine and Chunuk Bair.
Soldiers and police with high security roadblocks are also positioned along the 25km route from Anzac Cove, near ACS to Cape Helles where the Commonwealth and Ireland memorial service will be held in a few hours.
Prince Charles and Prince Harry will attend that - and the other main services.
It is understood 4000 local troops will be bolstered by security forces from Australia, New Zealand and the UK.
Low-flying helicopters have patrolled the peninsula with warships stationed in the Dardanelles.
Mounted police have also been spotted, increasing in number over the last few days.
Australian Veterans' Affairs Minister Michael Ronaldson told News.com.au that he was very satisfied with security arrangements.
"There is going to be a very, very significant Turkish security presence here, there will at least be 4000 Jandarma (gendarmerie) and a number of Australian Federal Police have been here for a number of months now, so both the Turkish and Australian and New Zealand authorities are working very closely," he said.
"In some respects I don't think anyone will leave on Saturday and not thinking there is an appropriate level of security, there might be some that say there was too much, but I would much prefer to err on the side of caution with these things."
- Anna Leask in Gallipoli

6:53am
Veterans and service personnel march out
The Court of Honour has now emptied with the crowd applauding as the veterans and current service personnel marched out.
Members of the crowd clustered to the large crosses of the cenotaph to pin their Anzac Day poppies in remembrance.
This was the 76th Dawn Service at the Auckland War Memorial Museum.
- Sophie Ryan in Auckland

6:46am
Time for tea and Anzac biscuits
6:38am
6:30am
The Anzac Day messages:
Full text of the official Anzac Day message from New Zealand Prime Minister John Key:
"One hundred years ago, the newly formed Anzac forces landed at what we now know as Anzac Cove on the Gallipoli Peninsula.
These men, who left New Zealand and Australia compelled by a sense of duty and adventure, could not have been aware of the immense challenges and horrific conditions they would face at Gallipoli.
Nor were they aware of the remarkable legacy they would leave.
The repercussions of the First World War sent shockwaves through our small nation.
It was a time when New Zealand, then a member of the British Empire, began to play its own role on the world stage.
A century later, we stand proud as a modern multicultural nation as we remember the sacrifice and fortitude of our forebears.
This year thousands of New Zealanders and Australians will mark the 100th anniversary of the Anzac landings at dawn on the Gallipoli peninsula.
Turkey's welcoming of these visitors is testament to the possibility of building lasting peace, and ultimately friendship, out of conflict.
Over the next four years there will be a wide range of commemorative events around the world.
In New Zealand, our legacy project is Pukeahu National War Memorial Park.
With the Park now open, we have a national focal point at the heart of our capital city where we can go to honour and remember all those who have served our nation.
It is fitting that the first country to place a memorial at Pukeahu is Australia. The strength of our unique relationship, galvanised at Gallipoli, has helped our two nations play significant roles in the promotion of peace and security internationally.
Last year New Zealand gained a place on the United Nations Security Council for the first time since 1994.
This is a huge honour, allowing us to further our commitment to building stability and maintaining peace worldwide.
Today we remember and acknowledge the service and sacrifice of all New Zealanders who have served in military conflicts. The values of courage, comradeship and commitment shown on the battlefields of the First World War remain the foundations of our Defence Force today.
As we honour this Anzac spirit, 100 years after it was forged, we can be proud of those who served then, just as we are proud of those who serve today."
Full text of the official Anzac Day message from the Governor-General of New Zealand Sir Jerry Mateparae:
"On 25 April every year we gather to remember our nation's fallen, as well as the brave men and women who have served in all conflicts in both combat and peace-keeping roles.
We have been marking Anzac Day for 99 years - longer than most people's lifetimes - and our world has seen several generations of change since 1915.
What has not changed, and what observance of Anzac Day helps to affirm, are the qualities we prize: courage, compassion and comradeship - qualities which were displayed by our troops on the Gallipoli Peninsula and by our armed forces in subsequent conflicts.
On this day in 1915, a century ago, New Zealand and Australian troops disembarked at Gallipoli, onto a narrow beach flanked by steep cliffs.
Just hours into the campaign, as their comrades fell all around them, they realised how perilous their mission was. It was the beginning of an eight-month ordeal, an experience which was to be a turning point in the history of this nation.
Visiting Gallipoli today, it can be hard to imagine how that serene landscape was beset by the noise, terror and confusion of battle.
While we are fortunate to live in a time of relative peace, on Anzac Day we can reflect on the impact of conflict on our communities, and on our brave servicemen and women.
It was a privilege and honour for me to open Pukeahu National War Memorial Park in Wellington last week.
Pukeahu is a place of contemplation, where generations of New Zealanders will go to honour those who have served their country and to learn more about our history of military service, in war and in peace.
With more young people attending Anzac services each year, I am confident that the torch of remembrance is burning brightly, and will be passed on to future generations.
In this way, we can be assured that the significance of Anzac Day will not fade, and people will continue to gather in towns and cities throughout New Zealand and across the world to commemorate our nation's fallen and to remember the sacrifice of those who went before us.
Ka maumahara tonu tatou ki a ratou - lest we forget."

6:30am
Auckland, Wellington commemorations end
The national anthems for both New Zealand and Australia were sung to mark the end of the commemoration.
6:22am
Anzac memorial vandalised in the UK
6:20am
Queensland, Australia
6:20am
Wellington Dawn Service
Sir Peter said it was a "great honour and privilege" to be on New Zealand soil to mark the day.
At this hour nearly a century ago, soldiers were waiting to go ashore at Gallipoli, he said.
They were all ordinary people, he said.
"Some were so young they hadn't even finished school.
"By the end of the day, they had lost their innocence. They were soldiers," Sir Peter said.

"Together they had become Anzacs, the proudest of terms, the mightiest of labels."
That bond remained today, he said.
Wreaths were laid at the Tomb of the Unknown Warrior by Sir Jerry, Sir Peter and Turkey's Ambassador Damla Yesim Say. The last post was played as flags for New Zealand and Australia were lowered to half mast.
The crowd then hushed for a minute's silence before the flags were raised to masthead.
- Rebecca Quilliam in Wellington

6:00am
Photographer Sam James has sent us these images from the
Wellington Dawn Service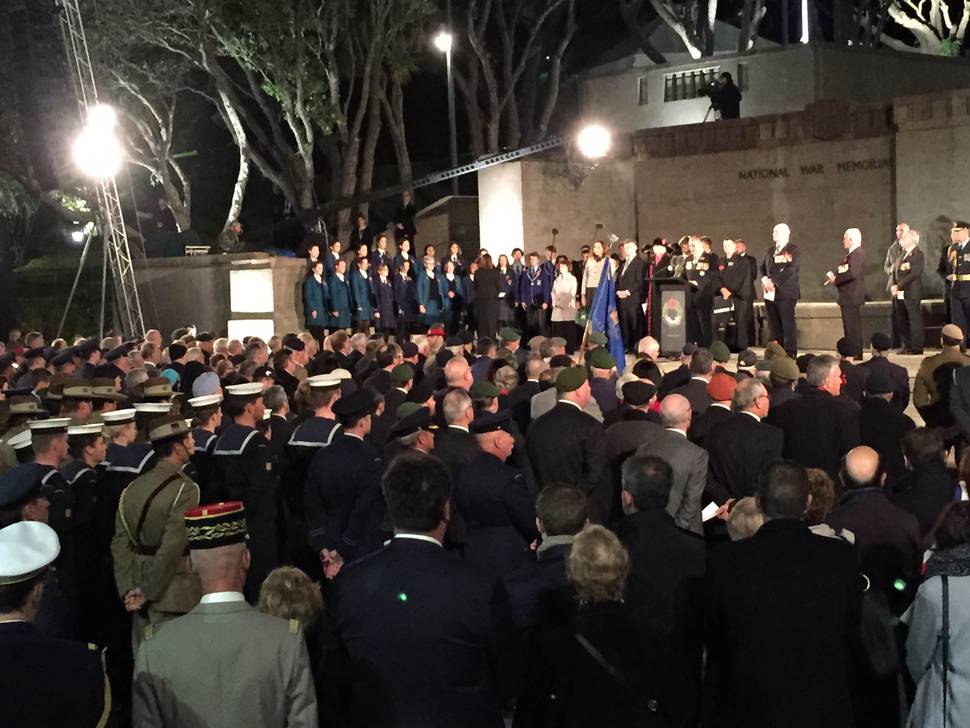 5:47am
Auckland Dawn Service
Veterans and current members of the Defence Force and other service personnel have marched on to the Court of Honour.
Kerri Perham and her family have come to the service this morning to remember and honour family.
Ms Perham said she has been to Gallipoli for the Anzac Day commemorations and has always attended a Dawn Service.
"My Grandfather fought in World War II and got medals... So many people died in the war... I just want to remember that and I hope it never happens again."
Her mother was marching today as a member of Customs.
The Court of Honour is now full and the Dawn Service is beginning.
Rangitoto College student representatives Chloe Mann and Callum Knight delivered the Anzac Ode of Remembrance.
The crowd of tens of thousands echoed the words "we will remember them".
Auckland Mayor Len Brown addressed the crowd.
Mr Brown said New Zealand's population was just one million when 100,000 people went to war, meaning one in 10 people left their homes, jobs and communities to fight.
When we consider the names on the memorials or the crosses on the field, let us not remember just them, but the families that lost them and the fledgling close-knit communities they came from."
The Last Post rang out, and a minute of silence has been held, just as the first rays of sun were seen on the Auckland horizon.
The memorial poem Poppies and Pohutukawa has been read and a rousing karakia read.
The hymn Abide with Me was sung by the Auckland Youth Choir and Saint Kentigern's premier choir.
Chaplain Colin Mason of the Royal New Zealand Navy lead prayers.
"Tears of grief and sorrow still flow," he said."We acknowledge with gratitude those veterans that are with us today."
Mr Brown and the students from Rangitoto College laid a cross on the Court of Honour in memory of the Unknown Warrior before the Australian and New Zealand national anthems.
Two helicopters from the New Zealand Air Force performed a flyover.
The Iroquois helicopters have been used for 50 years by the Air Force but would be retired in July.
- Sophie Ryan in Auckland

5:41am
Wellington dawn service
The dawn parade was led by Governor General Sir Jerry Mateparae and Australia's Governor General Sir Peter Cosgrove.
They were accompanied by the Wellington Returned and Services Association president Lieutenant Colonel Ron Turner (retired).
Also among the crowd were deputy Prime Minister Bill English, Labour Party MP Grant Robertson, representing the opposition and Victoria Cross holder Willie Apiata.
The sound of marching soldiers echoes around the park.
The marchers include hundreds of veterans, Defence Force personnel and children, who fill the space in front of the Carillon.
A lone piper, on a ledge halfway up the Carillon, pipes to the crowd.
- Rebecca Quilliam in Wellington

5:40am
Photographer Alan Gibson has sent us this live pic of the
crowds in Gallipoli
5:25am
Bagpipes begin at Auckland War Memorial
The bagpipes have begun at the Auckland War Memorial Museum for today's Anzac Day Dawn Service.
Thousands of people have been gathering at the museum from as early as 4.30am.
All generations of New Zealanders have gathered today, from the very young to those older.
A light breeze stirs the flags on the cenotaph at the front of the museum where the service will be held as the sun comes up at 6am.
One family who had an early start to attend the service is the Simmonds family from Waitoki, South Auckland.
Grant Simmonds said this was the first time he and his wife and two children had attended the Dawn Service at the Auckland War Memorial Museum.
"We wanted to bring the little ones along," he said.
Finn, 9, and Renee, 5, had been asking lots of questions in the lead up to the service, Sarah Simmonds said.
"It's also about family, and remembering my great-uncle, great-aunt and grandmother," Mrs Simmonds said.
"There's been lots of questions about family and the Maori Battalion."
Finn said he had learnt about Anzac Day in class at Waitoki School and had held a memorial at the school grounds by the flag.
Both children were rugged up warm and eager for the service to start.
"We live in the most beautiful place in the world and it's because of these people that we can do that, so we come to remember that," Mr Simmonds said.
- Sophie Ryan in Auckland

5:20am
Thousands pack into Wellington's Pukeahu Memorial Park
Thousands of people commemorating the 100th anniversary of the Gallipoli landings have packed into Wellington's Pukeahu Memorial Park for the dawn service today.
Amongst the dignitaries invited are filmmaker Sir Peter Jackson, politicians and military personnel.
The weather is calm and mild, with just a slight breeze.
- Rebecca Quilliam in Wellington

5.10am
Aucklanders are travelling to the dawn service, with traffic beginning to build-up.
Those already at the Auckland War Memorial are sharing their photos on social media
5.00am
Good morning. Welcome to the Herald's Anzac Day live blog. We will be covering dawn services around New Zealand and the services in Turkey, and around the worl