Finance Minister keeps excitement to a minimum while negotiating fiscal tightrope.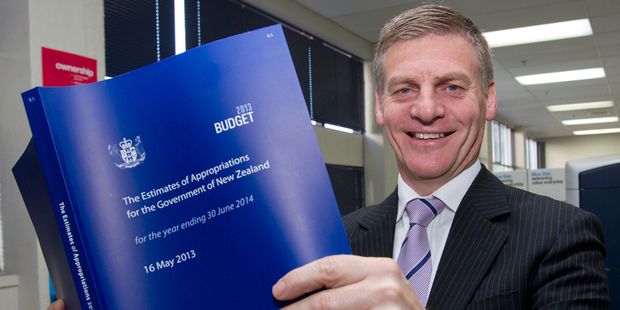 For a brief moment I thought Bill English might finally succumb and display a little of the obvious "derring do" of that other great tightrope walker Charles Blondin when he unveiled his fifth Budget in Parliament yesterday.
But the Finance Minister's latest public dance on the fiscal tightrope was the predictably cautious affair we have come to expect.
Good.
With the predicted Budget surplus for 2014/2015 looking dangerously close to a margin for error at just $75 million (the result of unexpected spending of another billion dollars or so for the Canterbury earthquake rebuild), English's determined grip on the fiscal tightrope looks a relatively sane stance.
The Budget did what it set out to do - demonstrate the National-led Government is continuing to get the government's books back into balance after the turmoil of the global financial crisis; sprinkle some cash about to help engender confidence in innovative businesses to have a go; and begin the complex and difficult task of tackling some hard issues like ensuring New Zealanders can access affordable housing.
Pursuing the partial privatisation of Meridian Energy will enable the Government to realise a significant amount of cash on top of the $1.7 billion it raised from the Mighty River Power float to invest in major assets like the Christchurch hospital rebuild; KiwiRail and irrigation projects without having to take on additional borrowing.
English has forgone an element of taxation creep to fund a planned major reduction in the ACC levy rate, which has been so crippling to smaller businesses.
There are some big issues, which defy easy solutions. The NZ dollar remains at a persistently high level, pumped up by an inflow of capital seeking safe haven status.
Corporate balance sheets are much stronger, but the economy still needs to be rebalanced. English would steal a march on his political opponents if he took a more hard-nosed approach through using taxation policies to direct investment into productive areas of the economy.
There still needs to be a more fundamental rethink of KiwiSaver. But switching off Government contributions to the NZ Super Fund (again) to pay down debt is a prudent step.
Boring or not, English has made a decent fist of walking the all-important fiscal tightrope since he became Finance Minister again in late 2008.
People forget just how difficult those times were. New Zealand had already been in recession ahead of the global financial crisis and the fiscal outlook was dire (something Labour's current leadership team overlook when they run the obvious furphy that they left the books in good shape).
If you want to see what "excitement" can look like, take a look across the Tasman where Australian business has fallen deeply out of love with Julia Gillard's Labor Government.
Treasurer Wayne Swan now presides over a A$19 billion plus budget deficit; the result of not tackling welfare spending and the refusal to axe earlier clear giveaways like Peter Costello's baby bonus, and, the big drop in corporate taxation revenue. Tony Abbott's Liberal Party is expected to face tough times when it wins the September general election.
This presents English with the opportunity to take a much more strategic and competitive approach heading into 2014, market New Zealand as a stable, business friendly place to set-up operations and provide more jobs here. Time for a few balletic jumps next time, please.