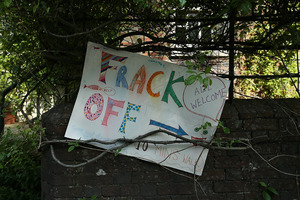 British Prime Minister David Cameron says Europe is "missing out big time" on fracking and Britain will be making a "big mistake" if it shuns shale gas extraction.
Cameron said hydraulic fracturing - a controversial extraction method - could bring cheaper gas prices.
A test drill in the countryside of Sussex, southeast England, has attracted a protest camp of hundreds, becoming the focus of a national campaign against the technique.
Cameron said Europe's take-up of the technique compared unfavourably with the US, where fracking has created an energy boom.
"In the whole of the European Union last year, 100 shale gas wells were dug. At the same time in the US there were 10,000," he told an audience in Darwen, northwest England.
"The EU has about three-quarters as much shale gas as the US so we are missing out big time at the moment and I want to make sure that Britain does not miss out."
Last month, French President Francois Hollande ruled out shale gas exploration during his term in office.
Fracking has also been the subject of fierce debate in Germany, where Chancellor Angela Merkel's conservatives dropped plans in June for a draft law on the technique amid concerns by some coalition allies.
Britain reckons fracking could increase its energy security and create thousands of jobs.
It also believes the US shale gas boom shows it could reduce energy imports - which have reached record highs in Britain - and bring down household fuel bills.
Fracking involves using huge amounts of pressurised water mixed with chemicals to crack open shale - sedimentary rock containing hydrocarbons - to release natural gas.
Environmentalists have warned that chemical-laced waste could contaminate fresh water resources.
- AFP