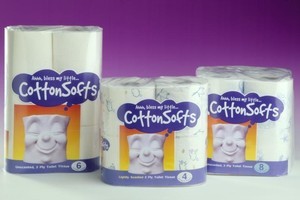 Toilet paper maker Cottonsoft is refusing to provide Greenpeace with a copy of the test results it claims prove that its products do not contain Indonesian rainforest fibre, as the environmental group alleges.
The company, which is a subsidiary of manufacturing giant Asian Pulp & Paper (APP) and has operations in Dunedin and Auckland, says it has no faith in Greenpeace to engage fairly, constructively and in the interests of its 130 staff in this country.
Greenpeace New Zealand executive director Bunny McDiarmid said the company's refusal was "a joke".
"Surely the point of doing testing is to be able to release results and be transparent about what the testing facility found," McDiarmid said.
"When we did our testing [of Cottonsoft's products] we released all the results and put them up online."
Cottonsoft said it would discuss the test results with the environmental group if it agreed to meet representatives of the company.
"Since Greenpeace's attack we have ... made repeated requests to them to meet to hear their views and present our evidence for the ethical and environmental soundness of our products," said corporate affairs director Steve Nicholson.
McDiarmid said the organisation had never declined to meet Cottonsoft representatives.
In August Greenpeace said independent testing done in the United States showed Cottonsoft products contained fibre from Indonesian rainforests - the habitat of the endangered Sumatran tiger.
Cottonsoft denies the claims, which it says have damaged its brand and endangered the jobs of its New Zealand staff.
Last month the company commissioned Australia's Covey Consulting to conduct tests on three of its products. Cottonsoft said the results showed they contained hardwood species - acacia and eucalypt - and softwood material, including spruce and Douglas fir, which were "standard pulpwood plantation species".
McDiarmid said it was not clear whether the testing had looked for mixed tropical hardwoods - rainforest timber.
And fibre sourced from Indonesian acacia plantation areas was often environmentally problematic, as they were often housed on former rainforest land that had been cleared, she added.
Cottonsoft's products include Tuffy paper towels, Paseo, CottonSofts and KiwiSoft toilet tissue.