New leaked papers reveal officials fear that a new bulk catering contract for the nation's district health boards could cost more, with the risk food quality might decline. Joanna Mathers and Kate Shuttleworth ask the question on everyone's lips: Could hospital food get any worse?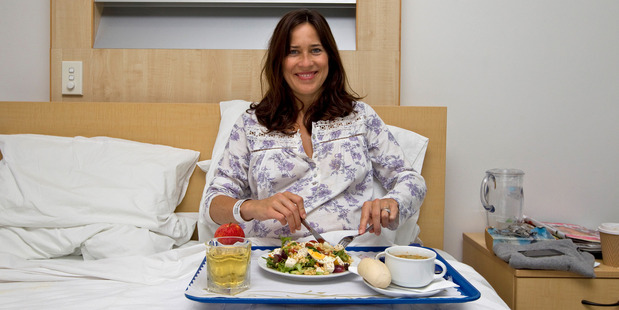 It was cold. It was wet. It was congealed. Apparently it was an omelette. It went straight in the bin. I was admitted to Auckland Hospital last year with pneumonia. The nurses were lovely, the doctors charming and informative. I was impressed by the set up. But then my meal turned up.
Even though I was hungry, I couldn't bring myself to eat it. So I spend a starving night tossing and turning, with hunger pangs adding to my aches, pains, temperature and uncontrollable coughing. It was a classic case of hospital food gone wrong.
New mum Brodie Reynolds had a different experience at Birthcare this week. "Dinner tonight was a tofu and pinenut salad with olives, cherry tomatoes and bean sprouts. I could feel it doing me good."
She gave birth to daughter, Stella Rose, on Tuesday at midnight. She is staying at Birthcare, a private maternity hospital that services Auckland Hospital. And she is loving the food.
"It's healthy and fresh," she says. "And it's appetising."
But Reynolds' experience of hospital food has to be set against the background of a private hospital. When the three government-subsidised days run out, Birthcare patients pay between $520 and $550 a night for an additional stay.
When vegan Lindsey Ray was admitted to Waikato Hospital with a post-birth haemorrhage after delivering her baby Zaedyn Tai in late 2011, she was offered "a cold piece of toast" and seven hours later offered a soggy sandwich that she couldn't eat as it contained dairy.
The very words "hospital food" elicit a knee-jerk reaction of disgust in many, calling to mind congealed gravy, sloppy spuds and eggs the texture of kitchen sponges. An image of a green-speckled yellow cube - ostensibly a "parsley omelette" - served at Auckland Hospital went viral last year.
These horror stories are likely to be part of the reason proposed changes to the way in which hospital food is prepared and delivered have stuck in the collective craw.
Health Benefits Limited (HBL), a crown company charged with investigating cost-cutting options for the provision of food in hospitals, was last week forced to confirm plans to change the way hospital food is produced, as part of its bid to save district health boards $700 million through reducing administrative, support and procurement costs.
It proposed that all hospital food be created at two hubs (in Auckland and Christchurch), with perhaps a third if necessary, and distributed countrywide. That information was leaked to APNZ, the Herald's wire agency. Labour jumped straight on it. Health spokeswoman Annette King claimed patients in public hospitals faced being fed "TV-style, reheated dinners, transported hundreds of miles". The possible closure of 50 kitchens was also mooted, as was reduction in food quality.

Today, leaked papers reveal the new nationwide catering deal could come with high implementation costs. That risk is acknowledged in a 93-page HBL report, again leaked to APNZ.
It also indicates there is a risk the successful tenderer could use its monopoly position to hike prices in the long term, not to mention the likely public fury that may be directed at Health Minister Tony Ryall.
And, yes, the report says the quality of the food could decline - a possibility that HBL admits would have a "major" impact on implementing the new hub kitchens. "All risks are believed to be manageable at this stage," the report says.
The report went to health board bosses on March 27. It forecast the move would save between $100m and $175m over 15 years.
HBL has already suggested its preferred provider is Compass, which has begun visiting DHBs across New Zealand. There are currently 60 kitchen production facilities, mainly located within hospital campuses and owned by the sector. Three-fifths of the country's DHBs already have their meals produced by Spotless or Compass, which operates in hospitals as Medirest.
Compass Group, the world's biggest catering firm, provides four million meals a year to seven of New Zealand's 20 DHBs, including Waitemata and Counties-Manukau and the Meals on Wheels service.
Compass also provides three lion meals to New Zealand Defence Force sites, universities, secondary schools and some aged care facilities. Depending on the DHB, they provide food service only, or an integrated service that runs from menus to delivery of food. Food production also differs from site to site. Some food is cooked on site fresh and some is prepared off-site and heated on-site.
In a written statement, Compass says its dieticians work with DHB dieticians to make sure nutritional standards are met. The company regularly carries out patient satisfaction surveys and that "it would be fair to say there are many positive comments made every month".
Complaints are treated seriously and, in isolated cases, full reviews are made. The parent company was recently drawn into the horse meat scandal in the UK , when horse DNA was found in products sold as beef.
Australian-run catering company Spotless provides food to another eight of the country's DHBs and to some private hospitals, including Southern Cross in Auckland. The remaining five DHBs (including Auckland and Waikato) use their own catering services.
According to Annette King, Compass may be about to get more work. "They have been given the green light as preferred provider to expand their service to each of the country's DHBs, with a 15-year contract."
But HBL spokesperson Mark Reynolds says it is too early to talk about preferred providers and job cuts as several ideas are being considered. "We can'tmake these public yet but we have full transparency with the unions and the DHBs," he says. "We think we will be able to save up to $10 million if we make changes to the current system."
Quality will be maintained or enhanced where possible, Reynolds says, with new food standards put in place for all DHBs.

DHBs all employ nutritionists and place a lot of importance on the nutritional value of their food. But it seems the subject of hospital food is still a touchy one.
The Herald on Sunday approached a number of DHBs, asking to sample their hospital meals. Counties-Manukau (catered by Compass), Waikato (which does its own food), and private hospital Ascot and Birthcare (neither of which is closed their caterers) were happy to provide food for a tasting (see above) but Auckland Hospital refused.
Auckland Hospital does its own catering and, because of large patient numbers, up to 60 per cent of the food is pre-cooked, chilled then reheated. The remaining 40 per cent is served fresh. General operations manager Ngaire Buchanan says meals are supplemented with soups, fresh salads, sandwiches, baking and desserts.
Waitemata DHB (which uses Medirest for catering)has a "cook serve" meal policy. Vicky Campbell, manager of nutrition and food services, says meals are cooked fresh onsite by the contractors then delivered to the patients.
So how do hospital meals compare with meals from other institutions, such as prisons?
Department of Corrections figures reveal that prison meals cost on average $4.50 a head, compared to around $10 in hospital. For breakfast, that buys prison inmates two Weetbix with milk, three slices of toast with spread and a cup of tea; for lunch, three sandwiches, a piece of fruit and tea; for dinner, sausages with gravy, potatoes and two vegetables, a piece of fruit and tea.
By comparison, North Shore Hospital's menu includes the choice of soup and bread, a savoury wrap, and macaroni cheese for lunch.
Dinner options include apricot chicken, vegetable and tofu stir fry, both served with mashed potato or steamed rice. There is also a choice of desserts - either peach fruit cream with passionfruit topping, stewed fruit or fresh fruit.
So hospital food could be worse - but experts says it could be so much improved if DHBs just invested a little thought.
The thought of reheating frozen food may sound unappetising but dietician and MasterChef winner Nadia Lim says that's a misconception. Modern food technology means frozen food can have just as much nutritional value and flavour as fresh food, she told RadioNZ.
Lim hopes a change of food policy in hospitals may lead to improvements in quality.
"Even if food is frozen and stored for a period of time, given a little imagination it could be better than it is now."

Read more:
• Hospital kitchen takes the cake
• Review of hospital food

- with APNZ