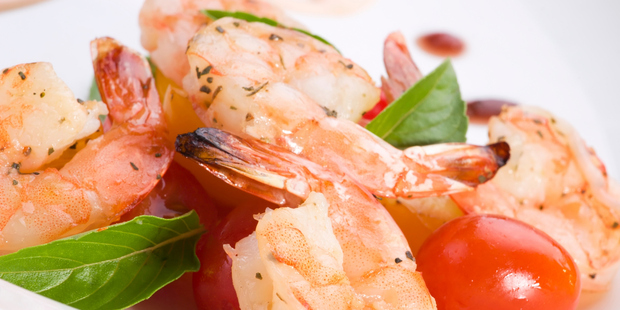 The smorgasbord of prime restaurants across the Gold Coast are a medley of formal dining rooms and sandswept eateries where a dinner is never far from fresh seafood.
Our first taste of the local cuisine was at Coolangatta's Cafe d'bar, nestled up to the New South Wales border and overlooking Duranbah beach. Like a good bach, a good beachside restaurant is one where you don't feel bad about dragging a bit of sand in. Along with generous, well-priced portions, d'bar offered stylish twists on classic summer meals. We opted for the d'bar signature burger ($21) - a juicy, beef-filled sandwich, complete with traditional trimmings - and Tasmanian beer-battered snapper ($20). Both came with double-fried thick-cut chips, and were more than we could scoff down on a sweltering Sunday afternoon. Lunch was washed down with two zesty pina colada frappes ($8.80) - the taste of the Gold Coast in a glass.
Further north, Oskars on Burleigh, a distinctly upmarket establishment, with views out over one of the area's most popular surf breaks claims it is close enough to the water for patrons to throw out a line- and chef Marty Kollrepp's menu is clearly inspired by the food the ocean provides.
We enjoyed a succulent entree of prawns, with deep-fried coconut and macadamia nuts in a fresh curry mayonnaise ($30.50). My partner chose a yellow-fin tuna steak, with creamy garlic potato and salsa verde ($49.50) while I opted for the beef wagyu ($48). This came out perfectly cooked but dominated the plate and would have benefited from more of the well-matched mushrooms and red wine jus.
Keep travelling north and you'll hit Broadbeach, fast becoming a trendy dining spot and sprouting great new restaurants in the process. We chose the month-old Social Eating House and Bar and after a delightful night out, it's easy to see why the place is striking a chord amongst locals. We shared a board of Spanish and Italian meats ($35), mixed olives ($10), cured kingfish with shaved fennel ($22.50), roasted Swiss Brown Mushrooms ($15) and roasted king prawns in garlic in herbs ($25). The only disappointment was we didn't leave enough room for dessert.
If you find yourself among the luxurious launches of Mariners Cove at Main Beach, you'll be spoilt for choice. The area is home to some of the most expensive hotels on the Coast, with premium restaurants to match. Glass, on the water's edge next to Marina Mirage shopping centre, has spectacular views of boats coming into moor. With platters of oysters, king crab, snapper, calamari, and scallops, or buckets of prawns with lemon soy, and ginger aioli, it's best to come with an big appetite. Be sure to try the delectable entree of Crystal Bay scallops with prawn toast and sweet corn puree ($30). If you're not dressed for fine dining, head along to Peter's Fish Market, where a feed for two comes in at less than $25.