Crown claims former finance bosses knew deals between sister companies broke rules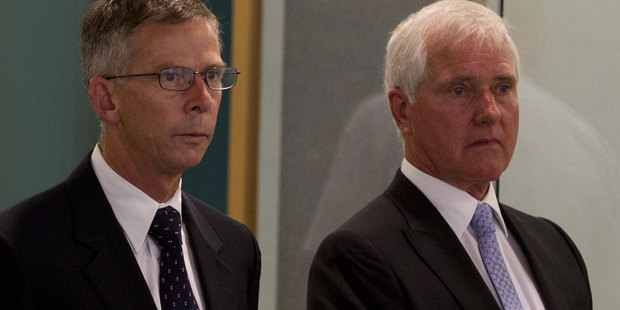 A number of "grossly imprudent" transactions between Dominion Finance and its sister firm were "a cash grab" so the now-failed company could meet its obligations to investors, a Crown lawyer said yesterday.
Former Dominion Finance Group director Robert Whale, former chief executive Paul Cropp and an accused with name suppression have pleaded not guilty to theft by a person in a special relationship in charges brought by the Serious Fraud Office (SFO).
The five-week trial of the men in the High Court at Auckland is winding up and the Crown presented its closing arguments yesterday. The defence is due to begin summing up on Monday.
The SFO alleges the trio knowingly and deliberately breached the requirements of Dominion's debenture trust deed or that of its sister company, North South Finance.
A debenture trust deed dictates the terms and conditions between debenture holders (investors) and the company accepting the funds.
Some of these breaches allegedly occurred through a series of related-party transactions where $11.9 million went from North South to Dominion.
Through a mechanism called a security-sharing agreement and in exchange for the funds, North South took an interest in an "already defaulting or problem" loan which Dominion had already given out, a Crown lawyer said in court last month.
In his closing address yesterday, Crown lawyer Brian Dickey said these were "not genuine transactions" and happened at a time when Dominion "desperately needed cash" to pay investors.
"DFG's sister finance company had cash, and DFG took it in order to meet its obligations as they fell due," Dickey said.
"In this sense, the [security sharing agreements] were not genuine transactions. They were not done out of any sense of benefit to NSF, they were purely and simply a cash grab by DFG from its sister finance company." He said there was also "planned and actual" concealment of one key transaction and that trustees and auditors were lied to.
Dickey said some of the transactions in question at the trial were a "very serious departure from intentionally strict terms" of the North South Finance trust deed. The consent of North South Finance's trustee had not been sought, he said.
"The participants could not risk seeking consent in case they did not get it, which would have exposed DFG as a failed or failing going-concern business," he said.
"Consent, if sought, should or would not have been given as NSF was not in the business of propping up its sister finance company, especially by advancing large sums of money against poorly performing loans."
Dominion Finance
* Dominion Finance Group and North South Finance were sister companies and operating subsidiaries of the NZX-listed Dominion Finance Holdings.
* Both offered property and commercial loans.
* North South went into receivership in July 2010 owing $31 million to 3900 debenture holders, who are expected to get back between 65c and 70c in the dollar.
* DFG went into receivership in September 2008 owing almost 6000 investors a total of $176.9 million.
* Receivers estimate that debenture holders will recover between 10c and 25c in the dollar.