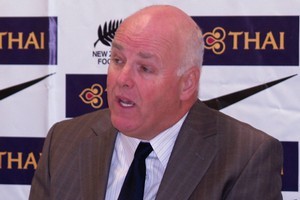 With Australia's 2022 Football World Cup jeopardised following the suspension of Oceania's Fifa representative, New Zealand could miss out on the benefits our neighbour hosting the event would bring.
Oceania's representative Reynald Temarii was suspended from all "football related activity" by Fifa for one year after he was caught offering his vote in exchange for a $3 million football academy in Auckland in a sting by a British newspaper.
Mr Temarii has indicated he will appeal the decision.
Football New Zealand chief executive Michael Glading said it is disappointing the region, and therefore New Zealand, will have no say in who will host the 2018 and 2022 World Cups.
"I guess it is a consequence [of Mr Temarii's actions] we will have to accept and move on," he said. "There are 210 nations in Fifa and for the first time not all of them will be represented.
Oceania's vote was as good as guaranteed to be cast in favour of Australia's bid to host the event. The first round of secret ballots are on December 2.
Australia is the only candidate running to host either the 2018 or 2022 World Cups who has no representation on the Fifa executive committee.
"Without a doubt, I think the Aussies will be more disappointed than us," Mr Glading said.
"Whether our vote would have had a bearing on the result remains to be seen.
"It will be interesting to see whether the December vote will go down to one vote.
Australia hosting the tournament would be "hugely beneficial" for New Zealand, he said.
"It would be amazing for us.
"I think the particular impact would be that teams would come here for warm up games to get used to playing in this part of the world."
"Some teams would decide to base themselves in Auckland or Wellington beforehand. It would be fantastic."
Mr Glading said as most of the host cities would only be three hours away from New Zealand, more Kiwis would be able to attend the event.
"It would be great for this part of the world."
Qatar, the United States, Japan, and South Korea are also bidding for the 2022 World Cup. The US hosted the tournament in 1994, while Japan and South Korea co- hosted the event in 2002
"I would have thought the US would be Australia's strongest competitor, having already held one before," Mr Glading said.
"Of course its purely speculation. It all comes down to the strength of the bids. And there is a lot of politics too.
"Talking to Australians this week they feel their chances are 50/50. I hope for them they do [get it]."
A spokesperson for Football Federation Australia said they "don't have any official comment today".
Mr Temarii was also believed to have been supporting England's bid for the 2018 World Cup.