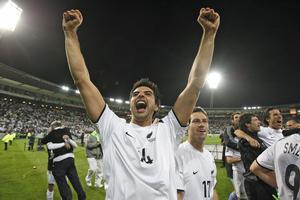 It's hard to imagine a more grievous misreading of the national mood.
The New Zealand Rugby Union decides to run newspaper ads taking a far-from-subtle dig at the national football team, the All Whites.
The advertisements, publicising a TriNations test, more than a month away, between the All Blacks and South Africa pictured a sweaty Daniel Carter fending off a Springbok under the boldly capitalised words "the exact opposite of a friendly match with nothing at stake".
The reference was plainly to the match between Serbia and the All Whites - which the New Zealanders had, very much against the odds, won 1-0 the previous day.
And technically, the wording was correct: it was a "friendly" match - football teams don't play test matches; all meaningful clashes are held within the framework of a properly constituted tournament.
But as an exercise in missing the point, the ad was outstanding.
For only the second time in the nation's history - and the first time more than a generation - our national football team has made the finals of the world's pre-eminent sporting competition.
Even before the kick-off whistle blows - on Tuesday at 11.30pm New Zealand time - for the first match in the All Whites' campaign in South Africa, they have excelled themselves.
Their very presence in the tournament is a cause for considerable national pride.
It is a shame the NZRU did not see fit to join in the cheering.
The cheap shot is doubly unworthy coming as it does from the governing body of a code whose national representative side has conspicuously failed to deliver at their corresponding quadrennial tournament since the inaugural one in 1987.
Even the most diehard All Whites fan will share the bookmakers' view that the team is very long shot to progress to the second round.
But they go into battle in the most-watched sporting event in history with the good wishes of the country.
They have done us proud and will do us prouder. None of us - least of all the NZRU - should forget that.