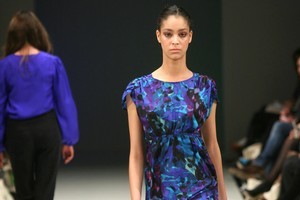 Teresa Brady's Winter 2012 collection for Sable & Minx featured some of the designer's signature draped dresses in a streamlined colour palette of olive green, pale pink and tan with wintry florals featuring on flattering dresses.
What Brady does well is pinpoint the right colour palette for her market, ensuring her customer always looks good.
For the second part of the show, the designer showcased her more directional line, Brady, co-designed with Rebecca Batley-Alder.
Described as a line targeted at a free-spirited, independent woman who knows what she likes, the collection featured turquoise coloured jersey and silk dresses as well as a standout black column gown with leather panel work.
OUR ONE-WORD REVIEW: Flattering.