Each week intrepid reporter Rachel Grunwell will try out a new form of exercise to bring you the lowdown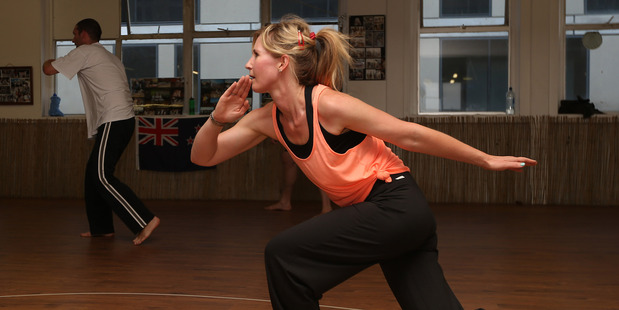 What is it? A blend of dance, martial arts, gymnastics, acrobatics, ritual and music from Brazil.
What's needed? Stretchy pants, comfy top, bare feet.
The experience: My husband asks what challenge I'm about to tackle and I don't know quite what to say. Capoeira is so many things rolled into one ... so I tell the bloke I'm off to do a dance-y thing from Brazil.
I head to downtown Auckland, up a multi-level building and take in a sea view. There's a martial arts class on one side, capoeira on the other, separated by punching bags.
Many here wear white and coloured ropes around their waists, showing their level of expertise. There are 15 belts, the ultimate white for a grand-master.
I'm not the only rookie, dressed casually. A girl is here for a Christmas gift, one guy is an ethnomusicology tutor from Auckland University, another is from the corporate world.
I expect a room full of Brazilian bodies; I find a melting pot of European, Asian, Maori and Brazilians.
Teacher Mestre Junior has more than 21 years' practice in this art form, learned from his father, Mestre Pop.
He greets everyone warmly and then gets us all warmed up. We lap the room, running forwards, backwards, sideways, and we sweat within moments. The commands to change direction are foreign, so I follow the leader. I'm at the back of the pack, but soon we change direction and I'm leading (yikes).
The following menu of movements tests my mental agility as much as my physical strength, balance, flexibility and co-ordination.
In pairs, we head down the length of the room doing tasks including being on our hands and feet while crouched low, which is already one heck of an all-body workout.
In fact, the ethnomusicology tutor later confided that just 30 minutes into the 90-minute session: "I thought I was going to die". Well put.
One repeated signature move of capoeira (called ginga) is having legs shoulder-width apart and rocking back and forth, with a kind of swing. While doing this, I incorporate arm movements as if I'm trying to defend myself from an attack with arm positions across my face. I try to dodge and escape an (imaginary) kicking opponent. I'm in constant motion, making it hard for this attacker to hit me.
But then, it's all handstands and cartwheels across the floor. Hard yakka.
The pairings swap frequently, so I meet lots of people. Like all the beginners here, I'm always paired with someone with experience. This is helpful for learning techniques. But it also creates a friendly vibe.
One thing I really enjoy is kicking a punching bag. We're told to do it mostly in slow motion, with control, and it's non-aggressive - but with lethal intent. Talk about satisfying.
To finish is a game or "Jogo de Capoeira", in which everyone forms a circle (called a roda).
Some play instruments: a pandeiro (like a tambourine) and a berimbau (a single-stringed instrument), and Mestre Junior teaches a song.
Then pairs of dancers (capoeiristas) show off their dancing prowess in the roda in time with the music. It's a freestyle whirlwind of dance, pretend attacks and defence manoeuvres.
The dancers appear to almost collide, but the skill is in showing that you could get the other person - if you wanted to.
I tell Mestre Junior later that it almost looked like one guy was break-dancing in the roda.
But he corrects me and tells me break-dancing is actually like capoeira, which has been around for much longer. The dance goes back to the 16th century, when African slaves were brought to Brazil.
When they were not working, they danced, which was really a cover for the slaves amassing strength so they could try to escape and fight for freedom.
So there's a richness in the make-up of the moves of this dance, but also a richness in its history.
How much? $20 casual visit. Membership $25 weekly (up to four classes available a week ).
Worth it? This is an incredible work-out - I could barely walk for three days afterwards. You'd make friends here, for sure.
Try it: Beginners' and intermediate class 7pm-8.30pm Mondays, Au Capoeira school, 106-108 Quay St, Downtown Auckland
Rating: 10/10