Three stylish women, frequent visitors to France, share their favourite Parisian haunts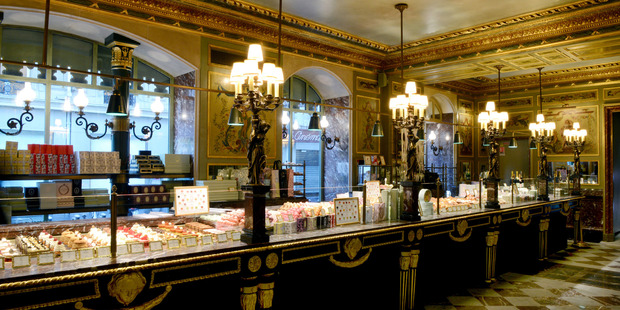 JENNIFER COLE
Owner of Ponsonby boutique Adorno, which stocks French fashion brands including Isabel Marant, Carven, Vanessa Bruno and Barbara Bui.
Tuilerie Gardens
Paris to me is about beauty, art, history and style. When I arrive here after 24 hours in the air I book into my hotel in St Germain and head for one of my favourite places, the Tuilerie Gardens. This peaceful haven, with its statues by Rodin, Dubuffet and Bourgeois, never fails to put me in Paris mode. From the gardens, you can contemplate the genius of Pei's glass pyramid juxtaposed against the buildings of the Louvre.
Mariages Freres
30 rue du Bourg Tibourg
I am a great tea-lover. At this iconic French tea house that dates back to the 17th century you can choose from the widest range of tea flavours in the world.
Le Bon Marche Rive Gauche
24 rue de Sevres
Everyone's favourite department store. Here you can get an overview of some of the top labels such as Lanvin, Demeulemeester, Chanel, under one roof. It is a great place to people-watch and see the effortless elegance of the French woman.
L'eclaireur
12 rue Malher
The ultimate shopping experience, located in the Marais. A vast collection of not only edgy, up-to-the-minute styles but also up-and-coming talent. The store is unusual, with individual collections housed out of sight. On request they appear from inside the wall.
Jardin du Palais-Royal
Breathtakingly beautiful and serene. A quiet refuge in the heart of Paris. Surrounded by 60 arcaded buildings that house restaurants and shops including Rick Owens, a favourite of mine.
Hotel Le Bristol
112 rue du Faubourg Saint-Honore
A trip to Paris for me has to include a visit to Hotel Le Bristol. Featured in Woody Allen's recent movie Midnight in Paris, Le Bristol was a favourite haunt of the Roaring 20s crowd. A visit to the spa La Prairie is the ultimate indulgence.


FLEUR INSLEY
Marketing manager of L'Oreal LuxeDivision.
The Lancome Institute
29 rue du Faubourg Saint-Honore
Of course, when you land in Paris is nothing more luxurious and relaxing than to wipe the jetlag away with a beautiful facial after a 24-hour flight.
Rue du Faubourg Saint-Honore
The most stylish street to shop in Paris, every major fashion house is along here - my sort of heaven! From the French brands of Saint Laurent, Louis Vuitton and Chanel, to many other global fashion houses.
Galeries Lafayette
40 Boulevard Haussmann
Possibly the most beautiful department store outside New Zealand, this upmarket French department store is located in the 9th arrondissement of Paris. It has a beautiful dome made of coloured glass which has been the centrepoint of the store since 1912. I love to shop for my kids here, they have the most divine French brands and a selection of the major luxury fashion brand childrenswear collections to pore over.
Enfants Rouges Markets
39 rue de Bretagne
These are Sunday antique markets with everything from old-fashioned toys and art work to silverware, crystal and, of course, fresh food - cheese, bread, seasonal fruit and more.
Angelina
226 rue de Rivoli
Angelina is the perfect place to spend a leisurely Sunday morning, or kick off a girls' day out. They serve the most amazing epicurean delights along with officially the world's best hot chocolate. Those who know me well, know I am not a coffee drinker and am always in search of a good hot chocolate - it is pure decadence.
Laduree
75 avenue des Champs Elysees
The home of the finest macarons and treats. At their largest store in Paris, near l'Opera, they have a champagne bar that serves Laduree Champagne to sip at elegantly while you devour the most divine macarons.
"Sightseeing"
Love Lock Bridge - Pont de l'Archeveche
Being a Kardashians fan - I'm not ashamed to admit it - I just had to go and see the bridge Kourtney Kardashian recently visited with her son Mason. Placing a lock on the bridge symbolises everlasting love for those whose names that you write on your "love-lock" and attach to the bridge. I went in search of theirs but there were too many to look through! The strangest thing is there are no street vendors cashing in on the popularity of this custom, so be sure to bring your own lock.
Tour Eiffel
Of course no visitor to Paris, would miss out the Eiffel Tower - the city's most impressive icon and beloved spot. The beautiful grounds are the perfect place to sit on a Sunday afternoon, eating a fresh baguette and some beautiful cheese, taking you into a beautiful summer's evening where the lights on the tower twinkle every hour, on the hour.


MEREDITH LEE
Owner of European Antiques & Furnishings, a specialist dealer in 19th and 20th century European antiques with a focus on French antiques.
Laduree
75 avenue des Champs Elysees
For an exquisite edible feast, head to Laduree for lunch, and to prolong the experience take away a selection of the best macarons. My favourite macaron has to be the salted caramel. Expect a queue - but it is well worth the wait.
Art Nouveau architecture walking tour
To walk off that lunch take a self-guided walking tour. My favourite to date has been the Art Nouveau walk in the 7th arrondissment, not far from the Eiffel Tower. The most jaw-dropping example is the building by Jules Lavirotte, which earned him first prize in the Parisian Facade Competition in 1901.
Porte de Clignancourt flea markets
I have to have an antique fix wherever I go and you can't miss out on visiting the largest and most famous flea market in the world. Take seriously comfortable shoes as it covers an astonishing 7ha. Tourist prices for sure, but I can't think of a better way to spend a day.
Astier de Villatte
173 rue st-Honore
Located in a shop in the 1st arrondissement that was once occupied by Napoleon's silversmith, Astier De Villatte is filled with handmade ceramics mostly produced in Paris. I'm currently coveting the antique feet collections - namely Apollo's foot! Looks lovely displayed on top of a stack of design books.
Tombees du Camion
17 rue Joseph de Maistre
Off the tourist track, this shop is full of small bizarre and quirky vintage objects. As an avid collector I cannot stop at just one of anything, so this shop is my idea of heaven - without costing an arm and a leg. What is great is they are small enough to pack in your bag for the trip home.
- VIVA