He's no star on the slopes, but Andrew Potter finds his feet in St Anton's bars.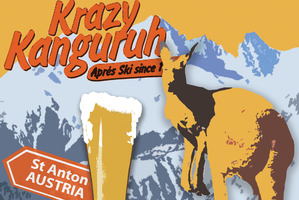 I am an average skier, but my apres-ski is world-class.
As such, the Austrian resort of St Anton, in the Tyrol, is an ideal winter holiday destination.
The village has a few great bars, but the best are up the mountain so around 3.30pm, after a punishing day on the slopes, we slide into one of the most famous, the Krazy Kanguruh.
I'd heard a lot about this place from my ski buddies.
It sits on the Galzig run and I can actually hear the pumping music blasting across the piste before I see the bar.
One of the Krazy Kanguruh's owners is Austrian two-time slalom world champion Mario Matt. But as we arrive the only thing he's weaving between are well-lubricated patrons in his rapidly filling venue.
We head straight to the sun terrace, which offers a splendid view down the valley and of St Anton village below and - more importantly - has a great variety of local beers on tap.
I opt for a round of the Fohrenburger lager, which is native to the Arlberg mountain region where St Anton is located.
Fohrenburger's makers like to emphasise the quality of their ingredients, and we're tickled to discover it's bottled using alpine water from mountains not far from those we've just skied on.
It's a pleasing drop and, at 5.2 per cent, quickly has the ski boots tapping on the wooden floor.
As the sun starts to disappear and the temperature drops below -12C, the DJ throws on AC/DC's Thunderstuck. Some of our fellow drinkers climb on to the table tops to dance and look mighty precarious as spilled drinks rapidly turn to ice.
It's not surprising that many Europeans, especially the British, greatly look forward to their post-skiing pitstop, and seem to treat it as a sport in itself.
Time for another round, and this time we try the Erdinger Weissbrau, a tasty German wheat beer made in accordance with strict Bavarian purity laws, which are famous for leaving you hangover-free should you overdo it.
The Kanguruh is heaving so we decide to check out another of St Anton's famous apres-ski spots, the Mooserwirt, a short blast across the piste away. Rapidly discarded skis and snowboards litter the entrance like pick-up sticks, but we're able to squeeze around an outside table and order toasty gluhwein, ("glow wine" or, more simply, mulled wine) to warm us up.
The Mooserwirt is a very popular place and plays some of Europe's cheesiest techno and many patrons double fist-pump the air as racy versions of Austrian Oompa Loompa classics blast through the giant speaker system. Mooserwirt patrons help hoover up 2500 litres of beer each afternoon during ski season, which is said to be a European record.
Another Austrian beer, Mohren Brau, proves pleasing, but by this stage it is getting very dark and extremely cold so we decide to head home. But not before the obligatory round of the notorious Jager bomb, created by mixing the potent German liqueur Jagermeister and the Red Bull energy drink, owned by the reclusive Austrian Dietrich Mateschitz.
Although there is an access road to the Mooserwirt and the Krazy Kanguruh, most customers we see choose to ski home.
This isn't without its problems. The British Government recently said up to a third of skiers under 25 who were hurt suffered their injuries while under the influence. It also warned the effects of alcohol increase at altitude and make a drinker less aware of the cold.
We take it slow and gingerly navigate our way down in pitch darkness. Other skiers can be heard falling and laughing. One guy clatters into a piste marking sign.
We make it down in one piece and begin planning for the next day.
The apres may be excellent, but everything before also makes the trip worthwhile, with St Anton offering some of the best skiing in Europe.


ONLINE: stantonamarlberg.com, mooserwirt.at, krazykanguruh.com